Whether you are new to sewing or a seasoned seamstress, having a great sewing machine is an essential part of enjoying this hobby. Sewing machines come in a variety of sizes and options, from small portable machines to larger commercial sizes. Sewing machines also have different features depending on the make and model, so when considering a purchase, be sure that you know what features that you will want and those that you might not need. Browse this list of best buy sewing machines to get a better idea of what is on the market today.
Brother CS5055PRW Sewing Machine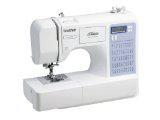 If you love Project Runway, this is the machine for you. This limited edition Brother sewing machine features 50 built-in stitches with 5 styles, an LCD display screen for easy use, 87 stitch functions, an easy needle threading system and more. This machine is perfect for someone relatively new to sewing, or someone who wants to sew a variety of different fabrics. A low price-point also makes this machine desirable for someone that only sews occasionally and doesn't want to invest in a more expensive model. Brother is known for their durable machines with advanced technology and quality parts.
SINGER 7258 Stylist Model Sewing Machine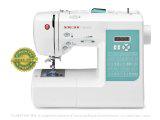 The Singer sewing machine line contains classic machines that are great for sewers with all levels of experience. These reliable machines are known for being durable and easy to use, with quality parts that keep them sewing for years. The Singer 7258 model comes with 50 built-in stitches with multiple stitch functions, one-step bobbin replacement, quilting stitches and stretch stitches. This machine also comes with accessories to sew zippers, buttons and more. The Singer 7258 model is a great value with a relatively low price, making it an affordable option for someone looking for a standard Singer machine.
Brother XR9500PRW Sewing Machine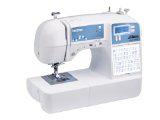 The Brother XR9500PRW machine is a mid-range sewing machine perfect for sewing enthusiasts that want more stitches and more options than a standard machine. Brother sewing machines are often praised for their durability, quality of parts and expert craftsmanship. This model features 80 built-in stitches with multiple stitch functions, a wide work area for larger projects and accessories for complicated jobs like quilts and large garments such as pants or dresses. An LCD screen makes this machine easy and fun to use.
Brother PQ1500S High Speed Quilting and Sewing Machine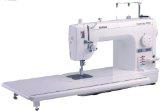 The top-of-the-line Brother PQ1500S sewing machine is a sewing enthusiasts dream come true. This expert machine is made with the same high quality parts and craftsmanship as all Brother machines, but with a few extra bells and whistles. The Brother PQ1500S model can sew up to 1,500 stitches per minute, making it great for big projects like quilts. This heavy-duty machine also has a push-button automatic thread trimmer, needle threader and positioner. A knee lever and feed dog adjustment add to the functionality of this machine. The Brother PQ1500S is perfect for a quilter or sewer that will use the machine for more advanced projects.