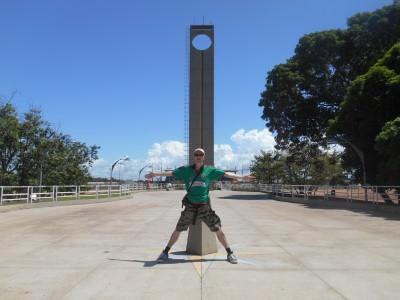 Standing in both hemispheres in Macapa, Brazil.
First things first – Macapa in northern Brazil is not a backpacker type place. However it is a really really cool raw Brazilian city to check out and we totally loved touring the city – special moments were crossing the Equator on foot and visiting the Fort. I mentioned there before in my Top 4 Sights in Macapa post. From Macapa we headed up towards Oiapoque on route to French Guyana. First though – in a city without a backpacker vibe or hostel, where do you stay? Answer – Hotel Mais!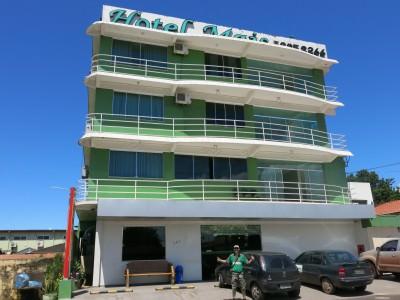 Where to Stay when you travel to Macapa: Hotel Mais.
A few cool things about Hotel Mais that we loved and I recommend you to stay here.
1. Friendly Staff
The staff don't speak much English but a mix of Portuguese and French between us and we communicated well. They gave us all the details we needed to see the city – get to the bus station, see the monument on the Equator etc.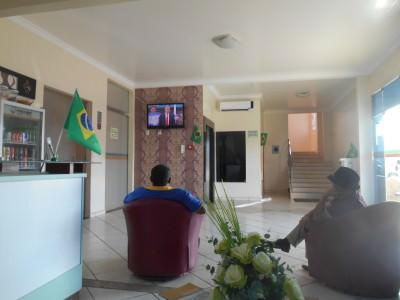 Lounging with the staff in Hotel Mais
2. Excellent Breakfast
Breakfast is included and is such a great range. From fruit to cereals to yoghurt. Then there's toast, cakes, sandwiches, rolls. Not to mention the usual range of tea, coffee and soft drinks/juices.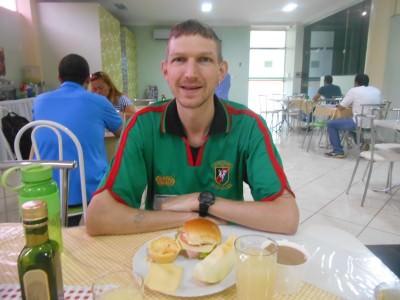 Great breakfast in Hotel Mais, Macapa, Brazil.
3. Location
Hotel Mais is VERY handy for the airport, just 1 kilometre away! Ideal if you're flying in.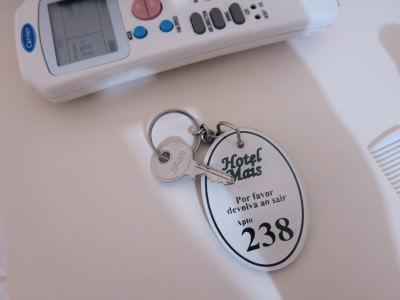 Hotel Mais is close to the airport.
4. Hot Showers, Cosy Rooms
What you really need in northern Brazil is a hotel with a hot shower and a cosy room. Thankfully Hotel Mais has it.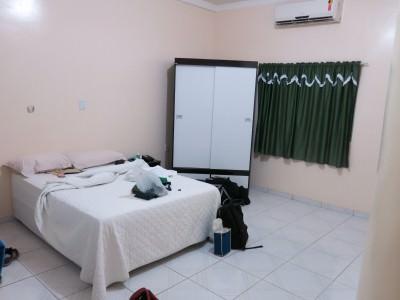 Our cosy room in Hotel Mais, Macapa, Brazil.
5. Wifi
Having Wifi is a must for me these days and I was pretty pleased that Hotel Mais provides a decent free Wifi in the rooms. We were in room 238 which worked fine!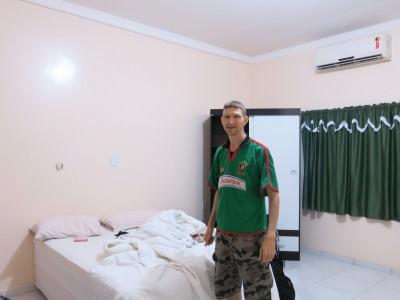 In our room which also had free WiFi.
So if you're ever wondering where to stay in Macapa – Hotel Mais is the best place to stay!
A video from Hotel Mais, where to stay in Macapa:

Join 13,000 Monthly Readers! If you enjoyed this article and LOVE travel and SAVING money, get e-mail updates from Don't Stop Living – a lifestyle of travel! (It's Free)

Jonny