A heaven amidst hills, a heaven in a place not heard of by many- that is Colonel's Resort in Bir, Himachal Pradesh for me. When words fall short to describe a place, when you're missing the place to an unimaginable extent after being back for more than a month, when a resort tells you how your stay at a place is all about how it makes you 'feel'.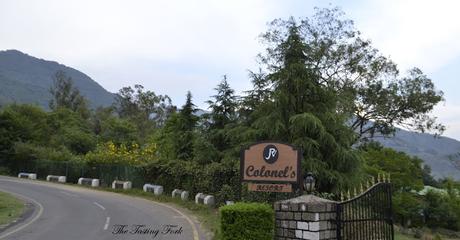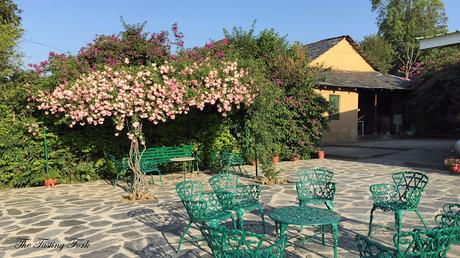 A resort in the main town of Bir, Colonel's Resort is run by Colonel and his wife. They have two dogs, Dash and Frisky, and these are the four beings that will take your experience here to a whole new level. The credit of course also goes to their sweetest and most humble staff, who are always there to take care of your needs and ever-so-smilingly.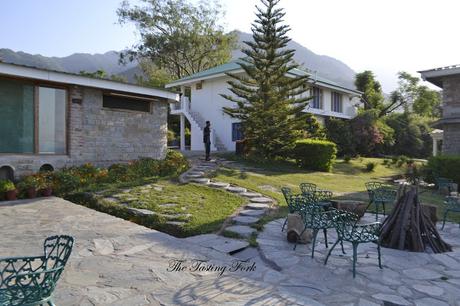 The resort:
The resort is spread across a huge piece of land. They have 3 different sections devoted to the rooms, one section devoted to the kitchen and restaurant, a huge field with stables next to it, a very big lawn that acts as the front courtyard (and a really big one at that) for one section of the rooms.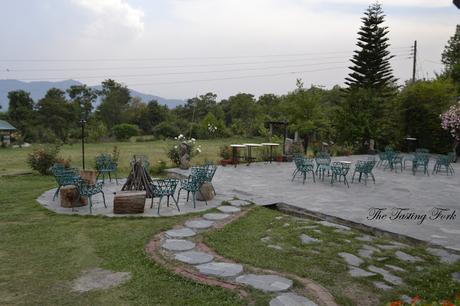 The moment you enter through the gate, on your left you see the big courtyard-cum-garden and right in front of the gate you see only the green field and the forest behind it. Till wherever the eye reaches! To the left of the path which leads to the field, you see one section of the rooms, and to the right is the kitchen. As soon as you enter and turn left, there's a small parking area, which when you cross, you come to the courtyard and the rooms that are cottages.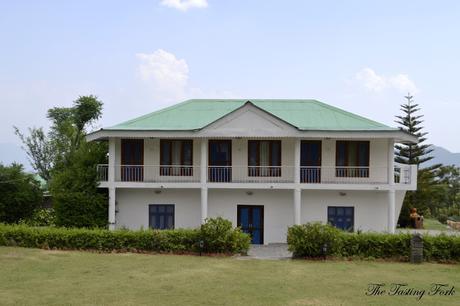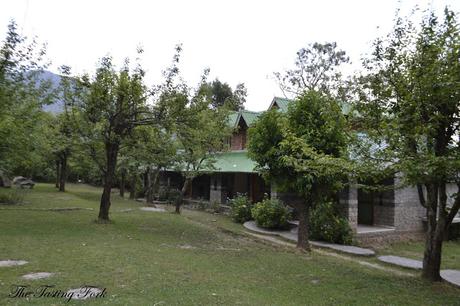 So there are three types of rooms here- cottages, and rooms of two kinds. The cottages are the most superior category that also have a private sit out with each. There's a newly constructed section at the resort for rooms that overlooks the green field, and there's one section that has the base category rooms.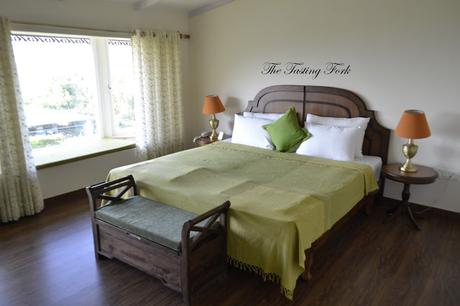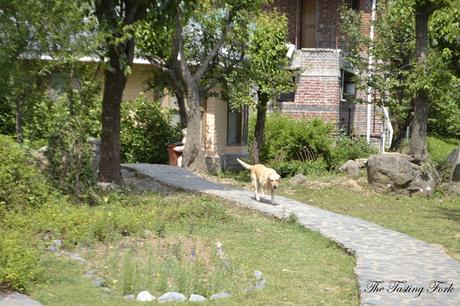 Now I don't know how to put any of this into words, but no matter which category of rooms you take, the experience of the resort is the same for everyone. Of course the room makes a lot of difference, but we need to understand here that even their base category rooms have a certain aura and charm about them, a charm that's indescribable.There are a lot of living beings you will find in Colonel's Resort. One morning while walking towards the restaurant for breakfast I saw a bird and a chameleon wrestling. Yes, that really happened. The day I checked in I saw at least 5-6 kinds of birds outside my room. The place is so close to nature that you won't be surprised to find the kind of creatures that you do. And you'll be happy, you'll be excited, you'll be jumping in glee to see things that you don't get to see in the cities.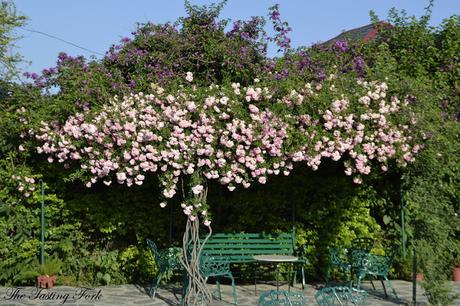 The colonel's wife, an extremely sweet and pretty lady, has decorated the entire resort and is the brains behind all the colours, the combinations, the mixing and matching, the aesthetics. One of the gazillion things that bring you closer to nature here are the flowers. Aunty has chosen and sowed all the seeds and planted all the flowers herself. As she says, and as we truly agree with her, it's a labor of love, and it shows in every single corner of the resort.

My room: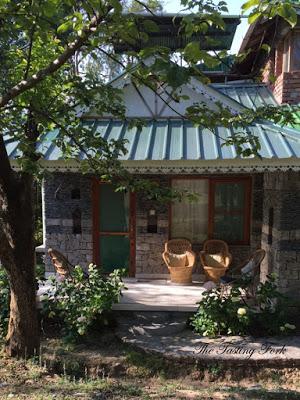 I stayed in one of the cottages, and mine was the one in the extreme end. It's called 'Dhauladhar', named after the range of mountains that surrounds Bir. There are two cane chairs placed outside the room, and you can sit over here and enjoy your morning or evening cup of tea, you can sit here and relax, maybe get inspiration for your art if you're an artist (be it of any kind). You can sit here and admire the scenic beauty, or simply soak in the quiet and enter a state of nirvana. All you hear is the chirping of the birds and the sound of nature, and it is so so peaceful.
The moment you enter this room, you see a big comfortable bed with a quilt that instantly reminds you of the hills. One that is not velvety soft but has that warmth about it, both literally and figuratively. On the left is a study table and right next to that is a very cute sitting area. The ones that have a portion of the wall hollowed out and installed with windows. We sat here for an uncountable number of hours at night, and twice or thrice even during the day, to just look out of the window and see the mountains. With cushions in both this area and on the bed, it gave the place a very warm and homely vibe.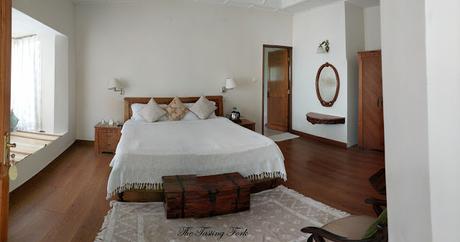 There's a television, a cupboard, two chairs with a table, a very cute old-fashioned mirror, and a wooden flooring to complete the deal about mountain places. I repeat- I cannot explain what I felt being here, it can only be felt. These warm humble things were what made this room even more mesmerizing. There are no phones in the room and no concept of room service here. There's water filled in a jug and kept with two glasses on your bedside, and while leaving the resort or when you go for any meal, tell them to re-fill it for you.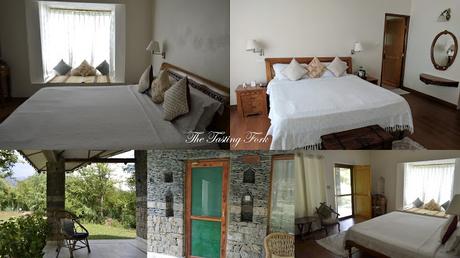 The washroom is huge! You get toiletries like soap and shampoo, but you have to get your own toothpaste and toothbrush. They'll provide it to you if you ask for it, but it's better to just carry it yourselves.
The food and the restaurant:
You can take two kinds of packages at Colonel's Resort- one with breakfast which is by default included in your room rate, and one with lunch and dinner. Because Bir doesn't have as many options to eat at night as places shut down by then, and also because the routes are not well-lit, I will recommend eating inside your hotel/resort, wherever you stay, to avoid coming back in the dark.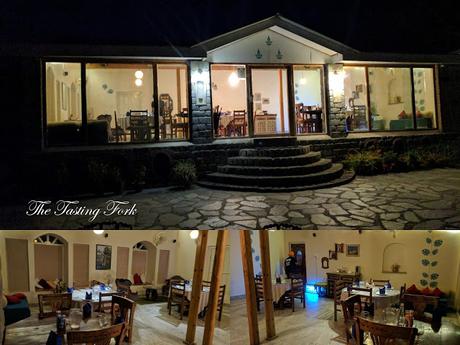 Colonel's Resort usually has buffets for all the meals, but when they don't have as many guests residing with them, they prepare the food for you and serve it for you on your table. My dinner on day one was an affaire only filled with deliciousness and love. Love, because of the variety they made only for the two of us. Our table was set with Dal, Chicken, Mushroom Matar, Rice, Chapati, Salad, Kadhai Paneer and another dish that I can't recall. Now I had a notion in my mind before coming on this trip that I will have to eat out a lot, and my stomach will go for a toss as a result of all that junk eating. But Colonel's Resort was a true true blessing. The food was all homemade, with no excess oil or spices, but it was finger-licking good. It was so crazy in taste that we looked forward to every single meal of ours there in those 3 days of stay.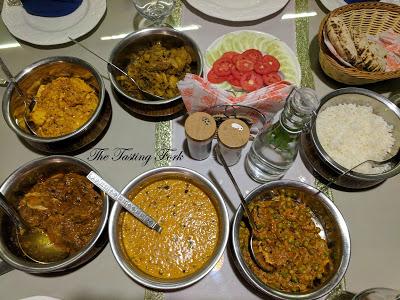 Imagine sitting inside a restaurant that's shaped like a hut, with stones used to make it and a rugged look. Double doors leading you inside and the view from the restaurant is that of a field and of the forest behind it, and then the Dhauladhar range in the backdrop. The same scenario at night turns into a sky full of stars, silence and the nature, and you enjoying your dinner in a dimly lit quiet ambience with music playing in the background.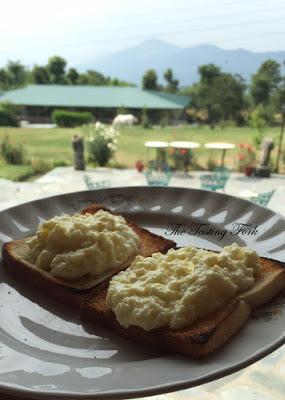 My breakfast over here was paranthas, cereal, hot and cold milk, freshly cut fruits, fresh guava juice, condiments like butter, pickle, a relish made of beetroot, eggs on order, and so on. This sounds very humble, and humble it was, but when you talk about the taste, it gets a complete 10/10! On one day I had aloo parantha for breakfast and on one I had gobhi parantha. On one day I had scrambled eggs on toast, and the other day I had omelet. The best scrambled eggs ever had. Period. The paranthas- my sister doesn't eat anything apart from paneer parantha and is a very fussy eater, but she hogged on these paranthas like anything, and I think this alone was enough for me to know how phenomenal they must taste. Had cold coffee too which was just as amazing as the rest of the spread.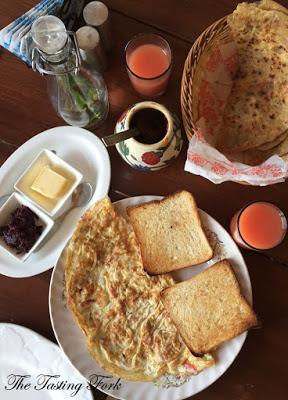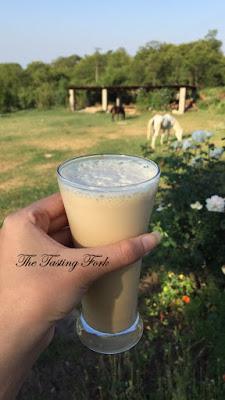 The restaurant has an outdoor seating area where you can sit and enjoy your drinks in the evening or even enjoy your morning and evening tea/coffee. This outdoor seating area is beautiful! With decorative chairs made of metal, logs of wood acting as tables, one of the tables ready with a bonfire to be lit up whenever the weather is good, it's just too blissful. There are several wine and beer shops just down the road, so you go and get yourself a nice bottle of wine locally produced, come back to Colonel's Resort, and enjoy this with some snacks that the chefs prepare. This is what my sister and I did. We had wine sitting under the stars, saw fireflies and were completely numb by this experience, and enjoyed some very rustic Chilly Chicken.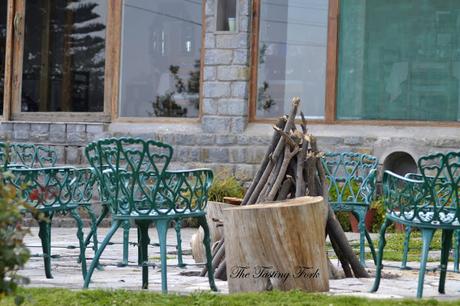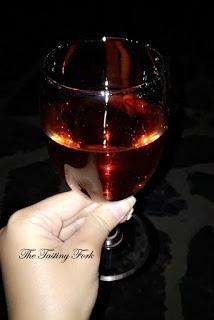 Dinner after this was Matar Rice, Sookhe Kaale Chane, Chicken Masala, Tinde ki Subji and a dessert. Soulful homemade food at its best!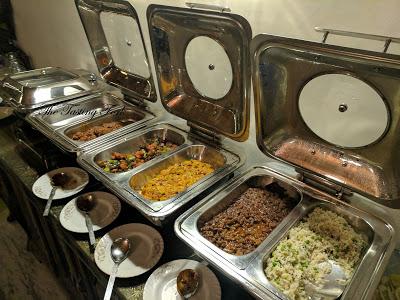 The hospitality:
The resort has staff who live in Bir itself, and they aren't any trained professionals from hotel management colleges, but they're the locals who're so warm, so pleasant, so welcoming and so so kind.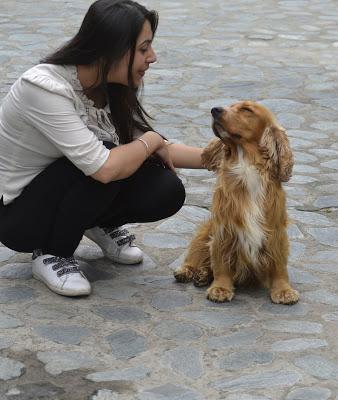 What forms a major part of the hospitality are the two dogs here- Dash and Frisky. Dash is a younger male dog and Frisky is an older female dog. They're both so so so loving that it's almost impossible to leave them and come! For a person like me who is shit scared of dogs, by the end of those three days I was hugging and kissing both Dash and Frisky. They come and play with you, they keep their head on your lap, on your feet, they want to be loved by you all the time and it's super cute!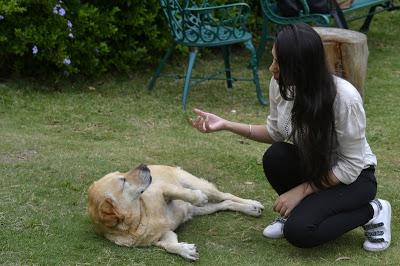 The Colonel goes for a morning walk into the woods I have been talking about, and he's more than happy to take his guests along with him for this walk. You must must must wake up early and go with Colonel for this walk at least once! The treacherous routes yet the gorgeous sky, the mountains and the green land, the walk through the village behind, seeing people start their day, with Dash leading the group and stopping every few seconds to turn around and see if we were coming or not. One of the defining experiences at Colonel's Resort!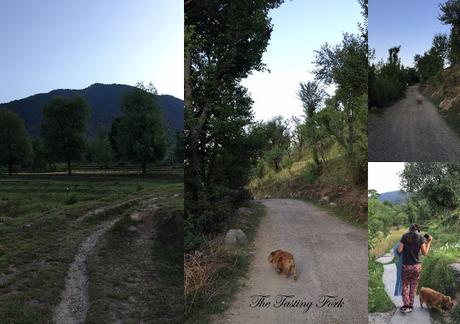 On one of the nights aunty sat with us throughout the time we were there outside the restaurant enjoying our wine, and talked to us about so so many things! It wasn't like coming to a resort, it was like coming to a friend or a family member's place and chit-chatting with them about things. That's how hospitable both Colonel and aunty are.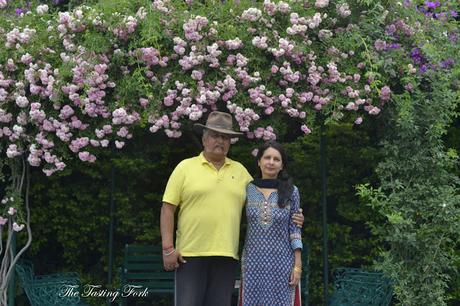 I have left a part of my heart in Bir and I am going to keep going back to Bir and stay at Colonel's Resort every year. At least that's what the agenda is! For anyone who's looking to have an experience that's close to nature, close to love and warmth, wanting some peace and quiet, delectable food and the warmest hospitality, and all this amongst a setting that's unbelievably gorgeous, then Colonel's Resort is the place for you. Just catch a bus from Delhi for Bir, and go explore this town and this resort. You will come back with a lifetime full of memories that are going to be impossible to explain to people when you're back. I didn't come back from a resort with owners, I came back from a place where the people and their 2 cute dogs are always going to be like family.
How to make reservations: Send your query to colonelsresort@gmail.com

Connect with me on:

Twitter: @sahibagursahane
Instagram: 

@thetastingfork


Facebook: 

www.facebook.com/thetastingfork

 Snapchat: @thetastingfork