A reader recently asked me where to shop for rainbow fashion after being inspired by my rainbow-striped Breton shirt. If you're desiring a wardrobe to show your Pride or because you love rainbows and color, I gathered together some of the best rainbow fashion for you. Much of this Pride apparel also support LGBT+ causes.
"I'm a stripes/Breton addict and have also been looking for bright, colorful tops to cheer me up in the pandemic. Seeing [your] rainbow stripe top gave me a thought...would you ever do a post rounding up rainbow clothing to support LGBT causes? I have a queer child and would love some clothing that is both bright and cheerful and also does good for this community."
When searching for the best places where to shop for rainbow fashion, I found that some of these items below give back to LGBTQ+ organizations; when they do I will state that and what organization they are supporting with your purchase. Many of the retailers featured below are LGBTQ+ owned; I too will share that information when applicable.
Where to Shop for Rainbow Fashion and Pride Fashion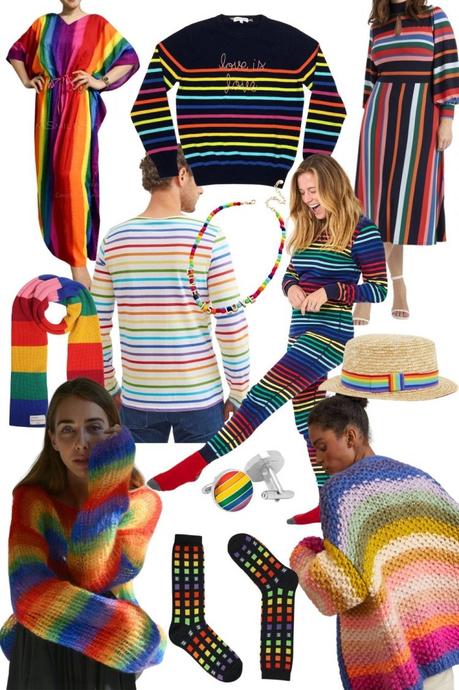 Rainbow-striped Caftan: This rayon caftan available at Etsy fits up to 3XL and gets great reviews for fit and vibrancy.
Long-sleeved Rainbow Stripe Midi Dress: Made from a stretch matte jersey, this plus-sized dress from ELOQUII is travel- and work-friendly.
Rainbow Stripe Scarf: This knit scarf from Kurt Geiger London comes with a patch that shares the definition of kindness on it.
Rainbow Love is Love Necklace: Zinc and enamel beads with brass trim collar necklace from Baublebar is 14″ in length with a 3″ extender and says "Love is Love" with gold letters between the rainbow-colored beads.
Straw Hat with Rainbow Band: Keep the sun off your face and show your pride at the same time with this straw hat from ASOS.
Rainbow Mohair Sweater: Another gem from Etsy, this sweater gets rave reviews for quality. While it is one size, custom orders are welcomed.
Rainbow Cufflinks: Round cufflinks edged in silver from Cufflinks, Inc. add a splash of color and a pop of Pride to your workwear.
Black and Rainbow Socks: Walk, run, or skip with Pride wherever you go with these socks available at the Human Rights Campaign boutique. 100% of every purchase of these Rainbow Block Socks fuels HRC's fight for LGBTQ equality.
Rainbow Cardigan Sweater: This rainbow-striped handstitched sweater from Anthropologie is one size and gets rave reviews for vibrancy and softness.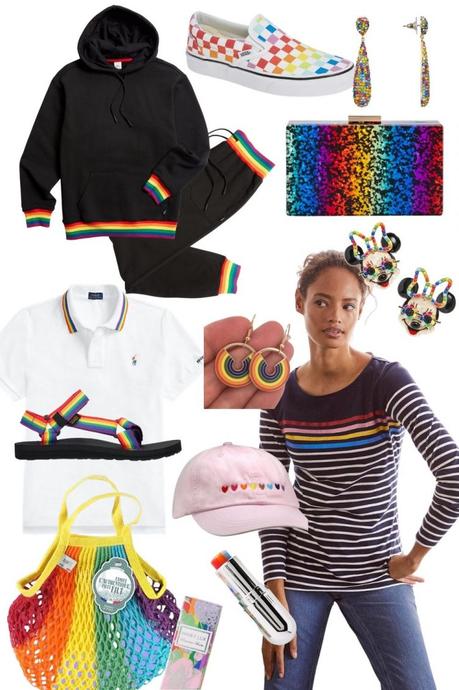 Rainbow-Tipped Joggers and Hoodie: TomboyX is a sustainable and ethical fashion brand that offers gender-neutral underwear, loungewear, socks, and more. This hooded sweatshirt and matching joggers are available up to 4XL and a portion of each purchase is donated to the cause of your choice.
Rainbow Crystal Drop Earrings: These 2″ long sparkly earrings from Nina will add glam and color to any ensemble, from your favorite denim jacket to a cocktail dress.
Rainbow Glitter Clutch Purse: Rainbow-inspired glitter makes a showy statement across a rectangular clutch from Olga Berg styled with a swanky golden chain that offers a cross-body option.
Pride Rainbow Drop Earrings: Made with hard enamel, these nickel-free rainbow earrings from Dissent Pins are bright and colorful but subtle enough for everyday wear. Available in 24k Gold Plated or Silvertone and 50% of profits from these earrings are donated to T.A.K.E. Resource Center (Birmingham, AL), The Ali Forney Center (NYC), and Trans Lifeline.
Rainbow Minnie Mouse Earrings: Celebrate in color with this extra-special take on Disney's Minnie Mouse from Baublebar. These glossy studs boast a rainbow pavé bow and rainbow daisy sunglasses.
Long-sleeved Breton with Metallic Rainbow Stripes: This 100% cotton knit Breton from Boden adds a pop of shine with its color. Available up to US size 20/22.
Pink Cap with Rainbow Hearts: This hat features a row of hearts in the colors of the rainbow on the front along with the "Love is Love " message and the Human Rights Campaign logo on the back. Each hat is made from 100% garment-washed cotton twill and features a mesh lining and an adjustable tuck-away leather strap. Available in pink, gray, and white. 100% of this purchase fuels HRC's fight for LGBTQ equality.
Rainbow Mesh Market Tote: This 100% cotton and machine-washable French market tote from Otherwild is made in Normandy by a company who's been doing it since 1860. Otherwild is a queer-identified woman-owned store, design studio, and event space in Los Angeles.
Rainbow Lip Balm: Achieve your perfect shade with this pH-sensitive balm from Winky Lux, formulated to work with your skin's natural pH levels to create your own customized shade of pink. Featuring a rainbow of color in each tube, it's a playfully cheery addition to your beauty routine.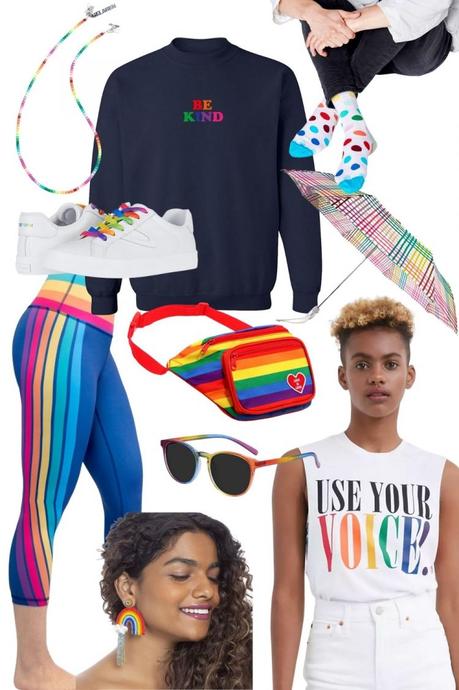 Rainbow Beaded Mask/Glasses Chain: With clips as well as elastic loops at the end of this beaded chain from Gelareh Mizrahi, this can work to secure your face mask, glasses, or sunglasses with color and style
"Be Kind" Sweatshirt: This cotton fleece crew from The Phluid Project is available up to size XXL. The Phluid Project is a gender-free fashion brand that is grounded in purpose and humanity through fashion, community, education, and activism.
Big Dot Socks: This special-edition Pride sock from Happy Socks is 86% Cotton, 12% Polyamide, 2% Elastane, and 100% fun.
Tretorns with Rainbow Laces: Yes, Tretorns are back and are a great choice of trendy sneaker for grown women. Add some color and Pride with this version that has rainbow laces andlogo at midfoot.
Rainbow Gingham Umbrella: This travel umbrella from Kate Spade is 38.5″ in diameter, has an auto-open feature, and comes with a storage bag.
Retro Rainbow Athletic Leggings: Miami Fitwear is one of my favorite places to shop for size-inclusive activewear. Focusing on leggings, this woman-owned company makes all its products in the USA. Available in three lengths up to 4XL.
Rainbow Stripe Fanny Pack: This striped belt bag from Torrid has a heart-shaped patch on the front that says, "Love is Love."
Round Rainbow Sunglasses: These highly-rated lightweight gender-neutral sunglasses from Eye Buy Direct can be made prescription as well as polarized.
Cloud and Rainbow Earrings: These beaded and Swarvoski crystal statement earrings from Deepa Gurnani are 4.5″ long and each pair is handmade.
Pride Month is June and many retailers offer rainbow and Pride-related merchandise at that time; I will be sure to update this post prior to Pride Month. In the meantime, do you have any suggestions for this reader on where to shop for rainbow fashion and Pride fashion, especially that gives back?