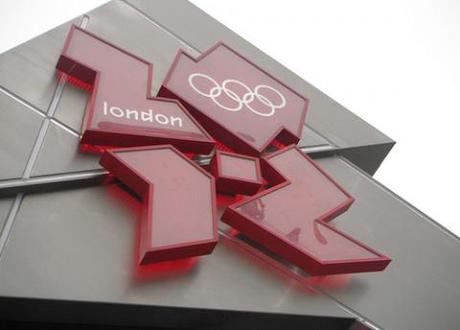 The London 2012 logo. Photo credit: Ben Sutherland, http://flic.kr/p/9wtYrg
This week, the riots have forced a number of high-profile sporting event cancellations. The international football, on Wednesday, between England and Holland at Wembley, the venue of the Olympic soccer final, has been postponed, alongside two Carling Cup football ties in London. The weekend's start of the new Premier League season remains hanging in the balance.
Dame Kelly Holmes, the double Olympic champion, tweeted: "A bloody disgrace, a minority of hooligans are sending out bad message for the rest of the country. World eyes 2012!"
What if this happens again in 50 weeks time? Richard Williams of The Guardian expressed concern about what would happen were similar disturbances to break out again in London's poorer suburbs in 50 weeks' time, on the eve of the Olympic Games. He reminded that the showpiece arenas of the Lee valley Olympic Park, which is the main stadium, as well as the velodrome and the aquatics centre, are "only a short BMX ride from Hackney's Mare Street, and not much further from Tottenham High Road." Williams noted that the games will take place during the school holidays, and the weather could well be warm: two features of this week's riotous events.
If you got a bit uneasy when walking past a gang of hoodies before, imagine how you'll feel now, said Colvile.
The Daily Telegraph's Robert Colvile forecast troublesome long-term problems for London caused by the riots. He suggested community tensions will take years to disappear: "If you got a bit uneasy when walking past a gang of hoodies before, imagine how you'll feel now. Add to that a feeling that you can't rely on the police to protect you – that the only people you can rely on are those of your race/class/profession/locality – and the streets just got that bit meaner." Colvile also forcast casual crime could rise now that criminal gangs have "worked out quite how thin the Thin Blue Line really is." Colvile reminded that policing "rests on a confidence trick – the idea that it's not just wrong to break the law, but that you've got a decent chance of being caught."
Johnson: Don't cut cops. Writing in The London Evening Standard, London major Boris Johnson reminded that "in less than 12 months we will welcome the world to a great summer Games in the greatest city on earth – and by then we must all hope that we will look back on these events as a bad dream." Johnson insisted "it can be done. But it will be hard, and we will have our work cut out." Johnson, no stranger to courting controversy, told BBC Radio 4 Today that he disagreed with Tory plans to cut police budgets. The Mayor said that the case for police cuts had "always been frail" and that "this is not a time to think about making substantial cuts in police numbers." Commentators interpreted it as another attempt by Johnson to position himself as a future leader.
Organisers insist everything will go swimmingly. Organisers have fallen over themselves to reassure the world London will be right and ready in a year. The British Olympic Association director of communications, Darryl Seibel, told The Guardian, "It makes an Olympic Games and a Paralympic Games all the more important. We need a reason to come together. What better city to do it in than London." In a statement, the International Olympic Committee said: "Security at the Games is a top priority for the IOC. It is, however, directly handled by the local authorities, as they know best what is appropriate and proportionate. We are confident they will do a good job in this domain." Tom Jenkins, the European Tour Operators Association executive director, felt that the images of looting would soon fade. "I don't think the rioting will impact the Olympics," he said. "The Olympics is, overwhelmingly, a domestic event. British people won't be put off from visiting the Olympics in Stratford because a year earlier shop windows were broken in Hackney."