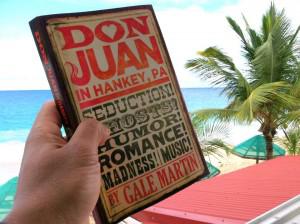 DON in St. Bart's c. of Luis Sanchez
My new novel based on the greatest lover in the history of the Western world gets around. Truth tell, he's a much bigger road warrior than me, but then, you know how those international opera stars trot around the globe.
First DON JUAN IN HANKEY, PA went to beautiful, tropical St. Bart's, mere days after he got fitted for his cover and spine.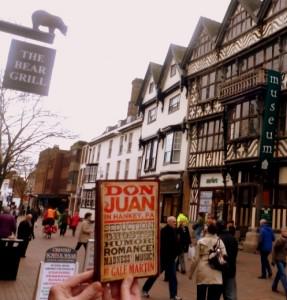 Don Juan in Stafford, England c. Ann Lander
Then DON traveled to Staffordshire, England, to be steeped in history and culture.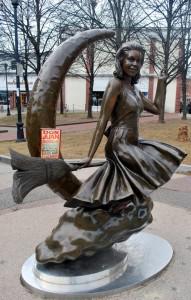 DON in Salem, Mass. c. of Linda Orlomoski
Then DON jaunted back across the pond to visit New England–historic Salem, Massachusetts to be precise where he encountered one of television's most beloved witches.
Oh, and the list of his travel adventures grows every day:
Yosemite National Park
Columbus Circle, New York City
Daytona Beach, Florida
Shanghai, China
Florida's Gulf Coast

DON catching the rays on Florida's Gult Coast c. Dawn Leas
Today, April 2, DON JUAN IN HANKEY, PA is at the ends of your fingertips or right on the ends of you paws for all you Kindle owners of the two-footed and four-footed variety.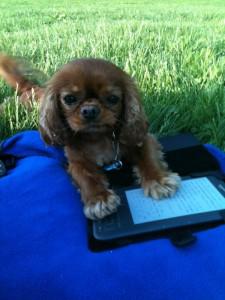 Ruby the pup reading DON on a Kindle c. basso James Harrington
All day today, Monday April 2, DON is a free download. He's already received 27 reviews on Amazon with a combined 4.9 rating out of 5.0.
Wait until Ruby gets to the parts about the dogs–that will get her tail waggin'.
DON could be resting comfortably in the palm of your hand in a few clicks today.
So be like Ruby and grab him while he's free.
(That would be today.)