Today is a guest post written by Ronald J. Curell. Ron is retired, and is a carpenter, father,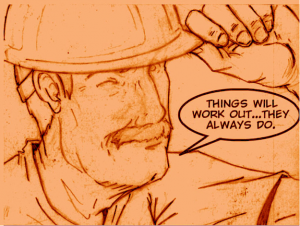 Ron Curell
grandfather, and a hardware worker.
Sometimes your wife will sign you up for doing a job that you didn't know about! But let me back up and start at the beginning…
Eleven years ago I bought a wooden airplane swing from a friend who had built 10 and was trying to sell them.  I don't think he did as well as Howard Hughes with the wooden airplane business.
At the time, we had three 1-year-old grandchildren, two years later we had three more – so for many years we had three of everything, three 4-year olds and three 2-years olds at a time or three 6-year olds and three 4-year olds … you get the picture.  Needless to say, the wooden airplane received lots of use all summer long – miles and miles of nonstop flights to everywhere.
Fast forward 10 years and it has been tough on the plane, you place two 9-year olds on the thing, boys I might add, and you have dog fight, sideways spinning  or all the way around and back as fast as you could go. The rope would be wound so tight that they could hardly stay on the seat without bending over and then, let her go……round and round and round…the plane structure held and so did the rope.
Now the children are bigger and they do still like to ride, but they are too "busy" lots of the time.  We still have a 5-year old and a 3-year old, and that 2-year old who spend time going around the world in the biplane.
I have to do minor repairs some years just to keep it flying, and a good coat of paint is in order every several years.   Now we do take it down each winter and store it in the hanger for the stormy weather; but each spring I soon hear, "grandpa, can you put up the plane?"
This year was no different – flying high and dog fighting its way through summer with an occasional pilot falling asleep at the controls (Don't tell the tower). But one day after a real heavy log of flying, my oldest daughter said, "dad could you build us one of those planes?" She had a 3-year old pilot in training.
What is the only answer a father/grandfather could say? "Sure."
A few days later, with a quick measure and an "in the head" blueprint, off to the lumber yard for material.  The day after I picked up the materials, my daughter called and said, "we are coming over tomorrow."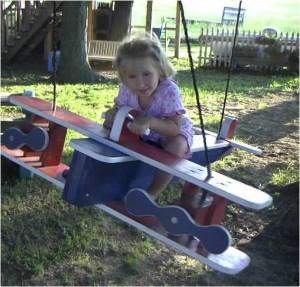 Early the next morning, the saw horses were in place, wood unloaded, every tool I owned laying about, cordless screw guns charged to full, tool belt ready (been retired for a while), and work commenced.   I would go to the plane hanging in the tree for a measurement number and then back to the work area and cut.
After several trips to the old airplane our 7-year old who was riding it said, "You cannot take the plane down – I need it."
I said, "I'm not taking it down, just getting some numbers."
Relieved she said, "Oh, that's okay."
A couple hours later, the new plane hung in a tree in our back yard, and the kids from next door were checking it out. They were "flying the bugs out of her"—one bug was when the little one got on and I gave it a push, and she was not hanging on tight, off into the grass she went!
Soon the 3-year old arrived and the fun began. We took her out and showed her the new plane and she wouldn't get on it, no way, no how.  She ran out front and rode the old one, but not the one that was to be hers.   Why she wouldn't ride was a mystery at first, but later that night my daughter said she learned the reason. Her daughter didn't like the fact it was not painted.  They were going to take it home and paint it themselves.  Which they did and it now hangs in their yard and she has flown around the world nonstop.
The next morning, my wife and I were sitting out in the back yard having coffee and enjoying the morning when the 2-year old from next door came walking around from the side of the house, she did not stop to say good morning – ran right to the tree where the new plane was.
"Where is it?" She asked.
"Where is what?" my wife asked.
"The new airplane," she said.
"Mia took it home, it was hers," my wife answered.
"Tell her to bring it back," she said.
"But it was for her, but don't worry grandpa will build you a new one for here," and my wife had to add, being this little one was going away for a couple weeks, "he will have it finished before you get back."