Podcast: Play in new window | Download
How often should you restring your racquet? Once a month? Once a year? Ever? In this episode of the Tennis Quick Tips podcast, I'll tell you why it's so important to restring your racquet at the right time and then I'll give you my best tips for knowing when it's time to restring your tennis racquet. You can listen to this episode by clicking on the media player above or by listening in with your favorite podcast app. You can also subscribe in iTunes by clicking on this link: tennisfixation.com/itunes.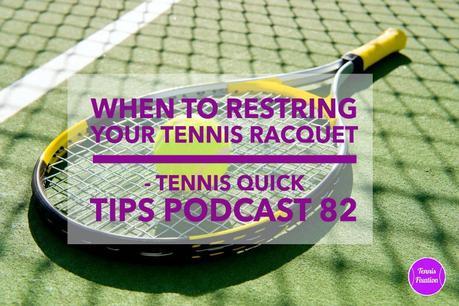 SHOW NOTES:
How often do you restring your racquet? Many of the ladies I know have never had their racquet restrung. That's right. Never. I guess they haven't yet broken a string and don't realize how their worn-out, shaggy-looking strings are negatively impacting their strokes.
But that's not you and me, right? If there's any little thing that will make us even 1% better tennis players, we're going to do it. And that includes restringing our racquets as often as necessary to make sure we're getting as much spin and pop on every one of our strokes as possible. So just how often do we need to restring?
The "Rule of Thumb" on Restringing Your Tennis Racquet
Well, you may have heard the rule of thumb that says you should restring your racquet as many times per year as you play per week. So if you play three times a week, you should restring about three times per year. I think this is probably a pretty good rule and, if you don't want to think too much about restringing or aren't even sure when is the last time you had your racquet restrung, you could follow this rule and be fine.
However, I myself really try to restring my racquet when it's appropriate. I have two racquets in my tennis bag and so restringing them based on the number of times I play each week doesn't help me too much. That's because I often favor one racquet over the other. You may recall back in Episode 43, called All About Tennis Racquets, I told you how to choose the racquet that's right for you and how I went about selecting my own new racquet. And then, just a few weeks ago in Episode 80, called How I Prepared For And Played My USTA Singles Tournament, I revealed that I finally got around to buying a second one of these new racquets. Before that, I was carrying around my new racquet and one of my old racquets and just hoping I never had to rely on that old racquet in a match. Anyway, I have been favoring this new second racquet lately so I know the strings on it will wear out well before the strings on my first racquet.
Best Clues to Look For When Deciding to Restring Your Tennis Racquet
So, rather than following some rule of thumb that doesn't really apply to my situation, here's are the clues that I look for, and that you should pay attention to, to know when to restring a tennis racquet:
The appearance of the strings - The easiest way to know when it's time to restring is by noticing how your strings look. If your strings are fraying or look shaggy, the strings are starting to come apart and you're not going to get as much spin or power when you hit the ball. When your strings get ratty-looking, it's definitely time to restring.
The sound when you hit the ball - If you notice that the sound is not normal or what you're used to when you hit the ball, it may be time to restring. When your strings get worn, they will not be as springy and you may first notice this just in a change of sound on your strokes.
The feel when you hit the ball - Because your worn strings are losing or have lost their springiness, you may notice a dull or dead feeling when you hit the ball. The ball just doesn't pop off your racquet the way you're used to, especially on your groundstrokes. You might feel like you have to hit the ball harder just to make it go the same distance it used to.

The length of time since you last restrung - As I said, I don't think that the rule of thumb on restringing according to how many times you play per week applies to me and it may not apply to you either. But you might feel that you need to restring just because it's been so long since your racquet has had new strings. This could be especially true with a racquet that you haven't played with in quite a while. And while the strings on that racquet may look fine, you'll get so much benefit out of new springy strings that it could be worth the pretty reasonable expense.
Now, if you've decided that, hey, it's time to restring but aren't sure exactly how to go about that, be sure and check out these Tennis Quick Tips episodes that will tell you everything you need to know about stringing your racquet:
RESOURCES AND LINKS FROM THIS EPISODE:
SHARE, SUBSCRIBE AND REVIEW:
Thanks so much for listening and being a friend of the Tennis Quick Tips podcast. Please feel free to share this episode with your tennis pals by sending them to:
And I hope you'll consider leaving a review of the show as it really helps it to be found by other like-minded tennis players. You can listen in, subscribe or leave a review by going to:
MY FIRST TENNIS MINI-COURSE: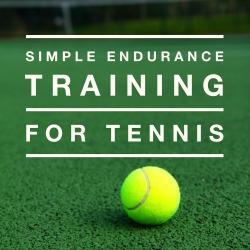 If you're really interested in building your endurance and fitness for tennis, I know you'll like my very first tennis mini-course, Simple Endurance Training for Tennis. For more information or to join the course, just visit:
GET A BETTER SERVE FAST!
And if you're interested in getting a better serve - fast! - get my free ebook, 10 Quick Fixes to Improve Your Serve: No Lessons Required.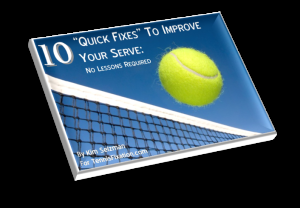 By applying the 10 simple tips to your serve that I give in this ebook, your serve can become a tool that you can use to gain control of points. It can become more powerful, more accurate, and something you're actually proud of. Just enter your email below and you'll get instant access to this free ebook as well as weekly updates with all of my best tennis tips!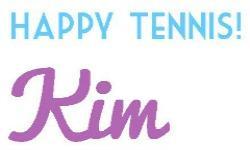 © Kim Selzman 2015 All Rights Reserved