Podcast: Play in new window | Download
Isn't it fun playing doubles? You have the best partner in the world. You both play the same way, following the same strategy. You never disagree on what your tactics should be or who should have got that ball down the middle. And you never, ever disagree on calls.
If that's how your tennis doubles goes, you're very fortunate. Because for the vast majority of us, we often have disagreements with our partners during our doubles matches. So, what do you do when you and your partner disagree on a call? What if one partner calls a serve in and the other calls it out? Is it a let? Do you just replay the point? Is there any kind of rule on this?
I bet it's no surprise to hear that not only is there a rule, but I know about it because I've been in this situation. In this episode, I'll address a recent comment from "Anne" about this difficult situation. I'll tell you what the tennis rules have to say about this and, hopefully, how you can avoid "doubles purgatory" when you get into a disagreement on calls with your partner. You can listen to this episode by clicking on the media player above or by listening in with your favorite podcast app. You can also subscribe in iTunes by clicking on this link: tennisfixation.com/itunes.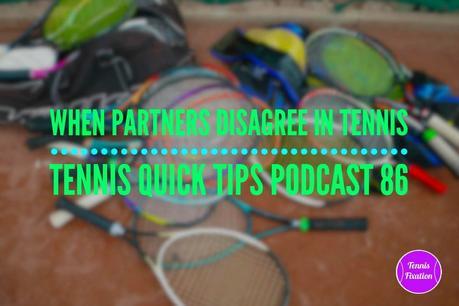 SHOW NOTES:
I recently received a comment from "Anne" on a post I put out back in 2013. The post was called "'Weird Tennis Rules': When You Disagree on Calls with Your Doubles Partner" and addressed the situation where, for example, you call a serve in that your partner called out. So before I get to Anne's comment, let's talk about what the rules have to say when this happens.
While the ITF Rules of Tennis don't address this situation, The Code does. It states, in Section 14:
Partners' disagreement on calls. If one partner calls the ball out and the other partner sees the ball good, the ball is good. It is more important to give opponents the benefit of the doubt than to avoid possibly hurting a partner's feelings. The tactful way to achieve the desired result is to tell a partner quietly of the mistake and then let the partner concede the point. If a call is changed from out to good, the principles of Code Section 12 apply.
And Code Section 12 tells us that if we call a ball out but then reverse our call because we become uncertain or realize the ball is good, then the point goes to our opponent and is not replayed.
So, putting Code Sections 12 and 14 together, we end up with the situation where, if one partner calls the ball out and the other calls it good, the ball is considered good. And those partners will lose that point.
Now, here's the comment that Anne left on my post:
This is really bad advice for someone just starting out playing at nice clubs. Disagreeing with your partner on a line call is the fastest way to "Doubles Purgatory." It's just "not done" unless maybe you play on public courts or something. Whoever is closest to the ball makes the call. Their partner supports the call even if they saw it differently. Good luck finding someone to play with you in future.
This is such a good comment because it points out the exact dilemma presented if you follow Code Section 14. That is, you're in danger of pissing off your partner. So what are we to do if we want to avoid "doubles purgatory" and be supportive of our partner?
Well, in my several years of playing tennis I can tell you I have only been in this situation once. Here's what has happened to me. I played a doubles match where my partner was receiving and called a serve out. But I was standing on the service line and I saw, with no doubt whatsoever, that the serve was in. I was 100% sure. So I immediately said, "No, it was good. Your point," giving the point to our opponents (it was a second serve). My partner was, of course, unhappy but I knew I was right about this and I told her so. I explained to her what The Code says about partners disagreeing on calls and told her that the serve was definitely in so we had to give them the point. We're still on speaking terms so it all worked out.
And I would still make this call today. Because I really have a thing about following the rules to the letter. I think if I hadn't done this, I would feel like I was cheating and would have a very hard time continuing in the match.
But I do believe it is extremely important to support your partner in a doubles match. And I would never reverse a call my partner had made unless I was 100% sure she was wrong. If I was 99% sure she was wrong, I would not reverse her call. And I feel good about that and don't view it as cheating.
So the bottom line for me is that I believe you should apply Code Section 14, as well as all of the other Code sections and rules of tennis, in every match you play. No, I do not want to be the unsupportive partner that no one wants to play with. But I also want my tennis matches to be fun and fair. The tennis rules have to be followed for that to happen for me.
Now, for this week's Happy Tennis Month giveaway! To make sure you are supportive of your partner and communicating well, I've put together my top tips for doubles communication. You can get this tip sheet, and sign up for weekly Tennis Fixation updates, by clicking on the big purple button below. And next week, I'm having a giveaway that I know you'll want to be a part of and you need to be on my weekly update list to get in on that. So click the purple button below to get the download and to get on the update list!

RESOURCES AND LINKS FROM THIS EPISODE:
SHARE, SUBSCRIBE AND REVIEW:
Thanks so much for listening and being a friend of the Tennis Quick Tips podcast. Please feel free to share this episode with your tennis pals by sending them to:
And I hope you'll consider leaving a review of the show as it really helps it to be found by other like-minded tennis players. You can listen in, subscribe or leave a review by going to: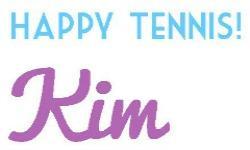 © Kim Selzman 2015 All Rights Reserved