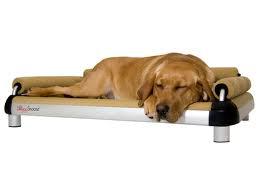 Have you ever posed this question to your vet? Or, posted it to an online forum? Maybe you were concerned about changing your adult dog's food to one specially formulated for his age needs.  Or, perhaps you've been searching the local shelters to adopt a dog but you have reservations about owning a dog over a certain age. Whatever your reason may have been for asking, did you get the correct answer?  Probably not.  There is an underlying and very common misconception implied by the question itself.  That is, that age defines a dog as a senior.
If you put 10 dog experts in a room (professional breeders, hunters, vets, shelter managers, etc.) and ask, "when does a dog become a senior?" you will very likely get ten responses citing a definite age point.  You will hear 5 years, 7 years, 9 years or others. Among veterinarians most will claim 7 years of age to be the defining number.  Perhaps one of the ten will give the right answer which is, unlike people, there is no determinant age at which a dog becomes a senior.
A dog's health, needs, mobility, etc. don't change with a date on the calendar. Simply because your dog "Brutus" turns 7 on his birthday today doesn't mean he has suddenly changed. Dogs don't retire, don't collect Social Security and don't order off the senior breakfast menu at IHOP.  Age, while one of many factors, is not what defines a dog to be a senior.
Ok, so what does determine a dog to be a senior?
There are numerous factors that, when taken together, affect when a dog's life shifts from adult to senior. Here are four fundamentals that will hopefully answer the question and erase the senior dog age misconception for anyone reading this:
Number One: Breed Effect.  Generally speaking, small and toy breed dogs typically age at a slower pace than large and giant breeds.  Thus, a Toy Poodle may not display "senior" behavior or age related conditions until age 11 or 12 while a Great Dane may start doing so at age 5 or 6. This age spread between breeds is due partly to actual breed traits and the physiological effects of those traits, and partly to differences in how small vs. large breeds are treated and cared for. There are a few exceptions, such as the Pug.  This small breed often suffers breathing problems from sinus and tracheal disorders which can manifest into premature aging and disease of the heart, lungs and other vitals, causing them to become "seniors" before other breeds.
Number Two: Parental Effect.  If a dog's parents suffered specific genetic diseases i.e., arthritis, dysplasia, diabetes, etc. that shortened their lives, then the dog may inherit the same health issues resulting in his own premature aging and shortened lifespan. He will have "senior" needs well before healthy dogs of the same breed.
Number Three: Environmental Effect.  This includes a whole host of factors that can shift a dog from adult to senior status. Everything from diet and body weight, to living conditions and treatment, to injuries, parasites and acquired diseases, to psychology (the dog's and his owner's) will impact the dog's physical and mental condition thus affecting his aging process.  How the dog is raised, fed, treated and cared for by his owner influences his aging in either a good or bad way.  For example, small breed dogs very often enjoy the benefits of a pampered indoor life, whereas large breeds are often subjected to rigorous work and exercise, outdoor living in hot or inclement weather and excessively high fat and protein diets.
The very worst environmental effect that will turn a young adult dog into a premature senior is an abusive owner.  There will be more on the subject of abuse in future articles, but suffice it to say there is no punishment severe enough for any animal abuser.
Number Four: Age Effect.  Yes, age is a factor affecting when a dog becomes a senior, but it is not the defining factor that most people wrongly believe it to be.  Age is, in fact, a minor factor in relation to the three above categories.  If a dog receives excellent care and habitat conditions from birth forward and suffers no genetic disorders, major injuries or acquired illnesses, then he will be able to delay the onset of his senior years and outlive many within his own breed as well as other breeds.
Lastly, in regard to when a dog becomes a senior, dogs are indeed like people. After all, what makes one person at age 70 look and behave like they are 50 or younger while another at age 50 looks and acts like they are 70 or older?  Simply put, it's all about good genes, good living, good health, and good food for people and dogs alike.  The only difference is that people need a calendar to define for them when they become a senior, dogs don't.
Wayne Morrison has an M.S. in Animal Science with over 40 years experience in raising cats and dogs.  He is the co-founder and administrator of a website business providing visitors with ideas for everyday living.  For more information about dogs and dog products, please visit Woodmors.com/dogs.