Wheels of Wish by Bibhu Datta Raut take you back by 800 years
Wheels of Wish by Bibhu Datta Raut is woven so well in a web of mystery and suspense
Bibhu Datta Raut created a magnetic effect in Wheels of Wish
Wheels of Wish
by Bibhu Datta Raut is a hooking story woven so well in a web of mystery and suspense. The story takes you back in Time by 800 years. Bibhu has a generated power of creating a magnetic effect in his story. That power forced to stay hooked to the book till I finished it. It is good to see a well researched and structured story like this. The story and characters evolve well as you move along the story while engrossingly turning the pages. If you are at the center of a pendulum, on one side you witness an era of 1120 AD in Puri, State of Kalinga. And on the other side you are in modern day Odisha during 2008.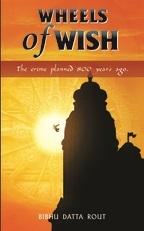 Wheels of Wish
by Bibhu Datta Raut is a suspenseful story of rape and attempt of murder of a young lady, Roohani, who is running an NGO. The convict is none other than Roohani's lover and a reputed investment banker settled in the US. It starts in present day era when the victim, Shashank, is caught red-handed with enough evidences to prove that he raped Roohani and has murdered two security guards. The case goes to the courts with a strong conviction that it will not take long for law to declare it decision against Shashank as all evidences are against him. More so because the defending lawyer is one of the most successful and capable lawyer of the city. And against him comes an unknown rookie to defend the victim. The story takes a lot of twists taking you back to the Kalinga kingdom and a lot of things happening during that era, and then bringing you back to the current state.
There is a deep connection between the State of Kalinga and what happened during those era, and the current day Odisha State and what is happening in this period. All these connections and a lot more is revealed by the time you are close to the end of the story of
Wheels of Wish
by Bibhu Datta Raut. The suspense and mystery is maintained well. The story moves well in a very structured and interesting manner. The sequential twist between current era and the era of 800 years back is kept well balanced. Overall, it is an interesting read with an insight on lost history of Odisha/Kalinga. I would rate it 4 on a scale of 5 on the basis of its hooking story, well kept pace, curiosity, suspense and mystery.