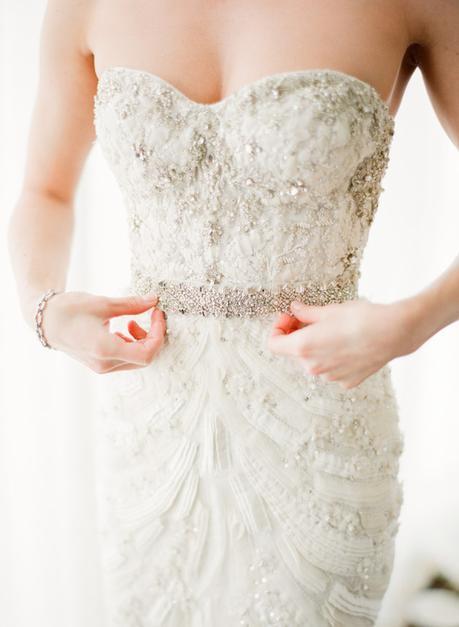 In the weeks following my engagement I consumed a lot of champagne, got back-to-back-to-back manicures, and logged an embarrassingly large amount of time on Pinterest. In the midst of that I caught a nasty bug, forcing me to spend more than a week couch- bound, doing little more than watching Bravo and you guessed it: more Pinterest. While perusing the boundless supply of wedding blogs, pin-boards, and websites that the Internet has to offer, I stumbled upon the most incredible wedding gown!
I've never met a bride who's beauty didn't take my breath away. I LOVE brides and seeing them in their beautiful gowns is thrilling! That said, in my all years as a wedding attendee, I've rarely seen a dress that I could imagine for myself; leaving me skeptical that I would find one. So when I thought that I may have virtually found a dress that seemingly had it all, I needed to see it to believe it (and as soon as humanly possible).
I'm a freak of nature and said YES to my dress after trying on a mere eight gowns, at the first boutique I visited, sixteen months prior to my wedding. It wasn't the dress that I'd originally seen online, but that dress lead me straight to THE dress. When I found my dress, it was so special that it almost brought a tear to this cold hearted, wedding gown disbeliever. The experience itself is nothing short of surreal, and is both nothing and exactly what you'd expect. Therefore I wanted to discuss what the shopping process is really like, and share few tips with y'all on finding that perfect dress.

Wipe away any expectation that resembles Say Yes To The Dress

: Unless you are actually going to Kleinfeld's, your experience will likely be nothing like the popular television show.  Trust me, I went into my appointment with that fanciful idea as well. That was until I called to confirm. My first appointment was at a popular, yet independent bridal boutique. When I spoke with the boutique, I was told to wear modest undergarments because I would be changing in front of my shopping companions. That's right, they'd be IN my dressing room! Excuse me, that is not how it's done on TV! Luckily on the day of I had a large enough entourage that they gave me a private dressing room. My experience was wonderful, largely because I didn't have to prance around in my boy-shorts and Nubra in front of my grandmother. 


Start your shopping day off right

by eating a hearty meal, and follow it up with a lot of water. Everyone looks their best fully hydrated. Save the champs for the post- shopping celebration because an intoxicated bride-to-be is never a good look. Additionally, I wore a bit more makeup than usual, fluffed up my hair, and finished things off with some sparkly, but dainty jewelry. Nothing should distract from your wedding shopping experience, but those little details helped enhance it. 


Do your research and prepare your elevator speech

: The first question they ask upon arriving at a bridal salon is about the type of dress you are dreaming of. It's helpful to describe what you're looking for in a clear, concise sentence or two. Think of it as being able to explain your dress in the time it takes to ride an elevator. I believe that knowing the names of designers that I admired, styles and fabrics that I preferred, really served me well and set me on the right track to finding a dress so quickly.  Descriptive buzz words like "ethereal," "traditional," "embellishments," or "wispy silk" help paint a clear picture of what you want. For example, my consultant coined the term "back interest" for those dresses with a dramatic back. Between you and I that sounds like a code word for something else, but that's just me! 


Become besties with your consultant

: Joke around, let her get a sense of who you really are. She is helping you find what is perhaps the most important dress of your life! Mine served as the perfect cheerleader and ally, especially when some of my entourage's opinions start flying or when they were oohing and aahing over a blinged out gown that was so not me. 


Stay true to who you are, while remaining open minded

: Just because you are getting married doesn't mean you have to suddenly turn into a silk ruffle marshmallow bomb wearing princess. However, you'd be shocked at what looks so-so on the hanger, but dynamite on your body. These consultants know their dresses. I thought I was done shopping, with no dress to speak of, until the owner brought in one last dress to try. It was nothing special on the hanger, but sure enough, it blew me away.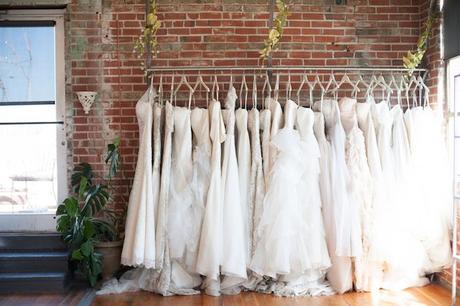 The clamps
: They pull a handful of beautiful dresses for you, and you can't wait to see your gorgeous (mid- wedding diet) silhouette in each one. Guess again ladies. Many boutiques carry each dress in only one size, to accommodate every bride in every size. It makes sense, but I was still dumbfounded when I found out that I wouldn't be trying on any dresses in my size. Yeah bridal runs small, but so what? My lovely consultant clamped and pinned each dress to death to give me a rough idea of what it would look like on the big day. In my mind this system is SO flawed, right? I would never shop this way for my regular clothes, let alone my wedding gown! But this is the process that's been done for years, so these people in the bridal world obviously know what they are doing. Your best bet is to find something that manages to look great when you're wearing more pins than a voodoo doll, because it will most certainly look phenomenal in your actual size! 
Accept that you probably will not be wearing white
: Shockingly, most people do not wear true white on their wedding day. That is because most people do not look very good in true white, present company included. I was pleasantly surprised to see how many gorgeous shades gowns come in these days, like champagne, blush, and even gold! 
Customization
: The right dress may not have it all, but it should have most of what you want. If you feel like a dress could be the one, but you're thinking of the small details that another dress possessed, ask about adding beading or sash to take it to the next level. I was very concerned (borderline obsessive) about keeping my bust in place, and my consultant assured me that they could add sufficient support to the dress to make me feel comfortable. If you can dream it, they can do it!
The train/ bustle debate
: I've been given the daunting task of bustling a friend's dress. That was an EPIC fail. While I was properly trained in this task, I was really feeling my spirits when I had to actually carry out my job... Our bride's sister had to step in and relinquish us of our duties as we left our bride's backside in total disarray. When you're trying on dresses and considering a long train, ask if it bustles easily. If not, then you may need to enlist the help of a responsible, non- drinker to help you on the big day.
You may not cry: It seems as though crying comes with the territory when wedding dress shopping. There is about as much Kleenex around these bridal boutiques as there is at a funeral home. I'm not a cryer (that is until an ASPCA commercial comes on, or I see a clip of someone in the military being reunited with their families. Then I'm a mess. But I digress.), and for that reason, seeing others cry makes me feel icky inside. So I sort of mentally prepared myself for the tears on this shopping trip. What's weird is that I did tear up once, but not for the dress I chose ultimately. The dress that wrung my single tear was an extremely sophisticated, Allure lace gown. I loved it, and quite honestly had never seen myself that way. That lone tear completely psyched me out, because isn't that a tell tale sign that you've found your dress? If it brings you to tears. When I was certain I'd truly found my dress (a different one) I was trying to push out tears like they were kidney stones! Excessively blinking too, in hopes of inducing a tear or two. That can't be normal.  As Carrie Bradshaw once asked herself, "Am I missing the bridal gene?" Or better yet, am I void of emotion? Definitely not, just ask my fiancé. The reason that I didn't cry at my chosen dress was because it just excited me so much! And I didn't want to take it off! So in the end, THAT is how I knew!