Roger Federer just won his 18th Grand Slam title this past week. He beat Rafael Nadal in the men's singles final of the 2017 Australian Open and I could not be more excited! I love Roger and he is truly my inspiration as far as on-court presence goes. In this episode, I'll tell the three lessons that I think you and I can learn from Roger winning his 18th Slam. We may never play like him, but that doesn't mean we can't try to act like him! You can listen to this episode by clicking on the media player in this post or by listening in with your favorite podcast app. You can also subscribe in iTunes by clicking on this link: tennisfixation.com/itunes.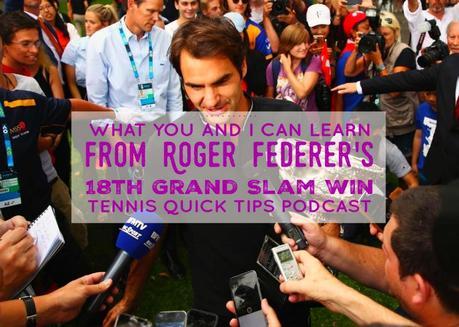 SHOW NOTES
It is just a few days since Roger Federer won his 18th Grand Slam when he took the 2017 men's singles title in the 2017 Australian Open. I could not be more excited! I am a huge Federer fan and these last few years, watching him get so close over and over again, I really thought there was no way he could pull off one more Grand Slam victory. But oh my goodness! The 2017 Australian Open - what an incredible match! I loved watching it and I really do believe there are things about that match, there are things about Federer's victory in that match, that you and I can look to and learn from.
Persistence and Perserverance
Roger Federer is 35 years old. By winning that Australian Open, he became the oldest man to win a Grand Slam singles title in 45 years! He did not have any reason to keep playing tennis until he was 35 years old. But the fact that it means so much to him and he continues to perservere is a huge testament to what a great player he is.
And I think it should also give all of us some encouragement and some heart to know that, if we too are persistent with our tennis, in continuing to play and continuing to try and improve, we too can keep playing until we're much older than we are now. That's my intent - to become that old lady on court who's still playing in her 70s, 80s, and definitely the fact that Roger keeps at it gives me inspiration for keeping at it too.
Hard Work
The next thing to point out about Roger's victory is that he did it despite the fact that it was not easy at all! He came into the tournament seeded at No. 17. That's not a really great position to start a tournament in. Because what ended up happening is that he had to play 3 five-set matches in his final four rounds of play to get to the final. Three five-setters!
He also had to play and defeat four Top 10 opponents to make it to the finals. He had to play and beat Tomas Berdych, Kei Nishikori, Stan Wawrinka and ultimately, Rafael Nadal. The guy did not have an easy road to the finals at all and yet he kept working really hard. That's a lesson for all of us. You have to work hard no matter how good you get, no matter how high of a level you get to. You have to continue to work hard at tennis. That's the nature of this sport. You're always going to be facing tough people because, as you get better, you're going to progress to higher levels and there's always going to be that next opponent.
Be inspired again by Federer's hard work, going through all of the things he did. Had he not made it to the finals, people still would have thought he had an amazing run. But to go through what he did, playing those five-setters, playing those Top 10 players, that says a lot about Roger Federer and it should be an inspiration to us too.
Calmness and Confidence
The final thing I think you can learn from Federer, in this final or in any match, is grace under pressure. What I try to relate to is Federer's ability to remain calm and confident in almost any situation. He is not a player who loses it out there on the court. He doesn't get overly excited but he doesn't get overly upset either. In fact, a lot of times, if you just tune into a match, you cannot tell from Federer's body language, how well or how poorly he's doing. He really remains calm.
And you could see that, when he finally, at the very end of the Australian Open final, when he won, he truly lost it. So imagine, up to that moment, he must have been having a lot of emotions. He knew he was one point away from winning his 18th Grand Slam title. And yet, he continued to keep it together right up to the very end. And seeing how overjoyed he was, it was amazing to me that he was able to keep calm right up to that moment when he had actually won the match.
And I think that's something that many of us need to learn when we're out on court. Not to let our emotions get the better of us. Not to give off body language that shows our opponents that we're upset with what's happening or that we're overly confident with what's happening.
I know there are some players that can get all pumped up and it works for them. But the vas majority of people, it doesn't work. And we do, I think, need to be more like Federer. Certainly the way he was in that Australian Open final.
Conclusion
So those are the lessons I took from Federer's victory in the 2017 Australian Open. I got up at 2 a.m. my time and watched very second of that match. It was so exciting and Nadal was also so phenomenal. Who knows if we will every see those two play each other in a Grand Slam final again?
In my mind, Roger Federer is definitely the greatest tennis player of all time. I hope he still has some great Grand Slam performances for us and I'm going to be watching this year, waiting to see those!
RESOURCES AND LINKS FROM THIS EPISODE
Here's a great episode with more information on what you and I can learn from watching the pros:
SHARE, SUBSCRIBE AND REVIEW
I would love it if you would take a minute to leave your review on iTunes. Just click here: Tennis Quick Tips on iTunes. It will help the show become more easily discovered by like-minded, awesome people just like you. And if you want to make sure you never miss an episode, be sure and subscribe on your smart device. You can click here to find the show in iTunes: Tennis Quick Tips on iTunes. Or you can click here to find the show in Stitcher: Tennis Quick Tips on Stitcher.
GET A BETTER SERVE FAST!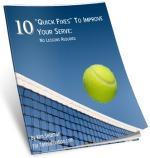 And if you're interested in getting a better serve - fast! - get my free ebook,
10 Quick Fixes to Improve Your Serve: No Lessons Required
.
By applying the 10 simple tips to your serve that I give in this ebook, your serve can become a tool that you can use to gain control of points. It can become more powerful, more accurate, and something you're actually proud of. Just click on the button below to get instant access to this free ebook as well as weekly updates with all of my best tennis tips!
Click Here to Get Instant Access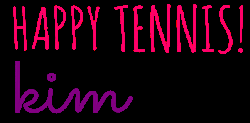 © Kim Selzman 2017 All Rights Reserved
Podcast: Play in new window | Download