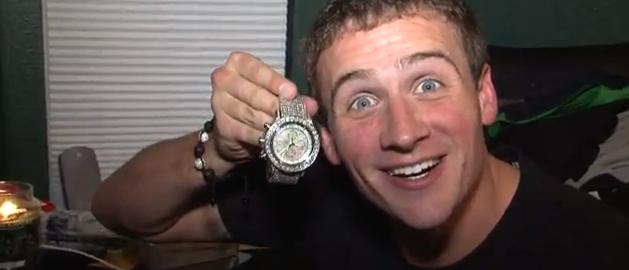 Let this be a lesson to all you belly floppers and future Olympians.
If there was ever an example of why you should never dive into the shallow end of the pool…it's Ryan Lochte.
Barely one week into his new E! series What Would Ryan Lochte Do?, the human block of wood who floated to 11 Olympic medals has already melted down the internet and caused a couple of Philly news anchors to completely lose their nutty on live TV.
All in the name of Swimming Awareness, of course.
Because that's exactly what he's hoping to accomplish by dating girls with big boobs, making up new words and putting his name on the bottom of a pair of sneakers.
Ryan=Right.
Lochte=Left.
Coincidence?  I don't think so.
Fueled by Haterade and alleged oxygen depravation, Ryan takes on life…and a seemingly endless barrage of riveting interviews…as only Ryan can do.
Think less Mensa IQ test and more Beer Pong.
Seriously.  Dude does Dbag like a Boss.
Not gonna lie.  I do love me a Hot Mess.
Jeah.
Wouldn't wanna be ya.
Or would I…?