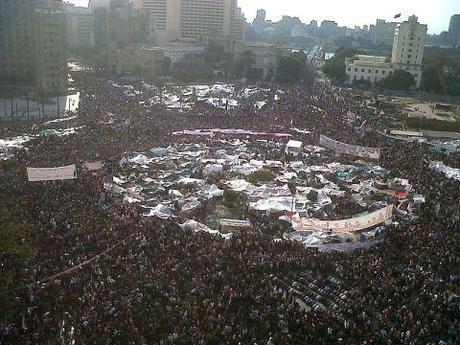 Civil society organizations have been instrumental in the evolution of Egypt's revolution since 2011. (Photo: Wikimedia Commons)
By Sally Roshdy, a CIPE-Atlas Corps Think Tank LINKS  Fellow serving at the Project on Middle East Democracy (POMED)
Revolutions do not erupt out of the blue – they are the result of citizens' accumulated disappointments and their disapproval with the status quo over time. In January 2010, this is precisely what happened in Egypt. Our revolution took place because many people – especially those in the civil society – wanted to do something about their political and economic frustrations.
The Egyptian civil society sector is an important part of Egypt's recent history. Prior to the revolution, they helped build awareness about the need for democratic governance. They also helped spread awareness about various human rights abuses taking place in Egypt. After the revolution, activists and organizations were instrumental in documenting what was happening on the ground, forming fact-finding committees, and seeking the release of the detained young people who participated in demonstrations. Civil society, therefore, played – and is playing – a crucial part during the democratic transition of the country, and is helping bring people to demand their fundamental right to a life of dignity, freedom, and social justice.
Freedom of association is an essential component of democracy. The more a country allows citizens to engage at the civil society level, the more democratic it is going to be. This, however, has not been realized in Egypt even after the country welcomed its first democratically-elected president. In fact, it seems to be reversing given the latest NGO draft law presented by the Ministry of Insurance and Social Affairs.
This draft has shocked those who were hoping the new government will introduce a new law that will support civil society activities in post-revolution Egypt. Instead of being supportive, the proposed draft law could potentially minimize what activities civil society organizations can engage in. Some activists are calling this draft even worse than the current governing laws for civil society organizations in Egypt. Following are some concerns regarding the proposed NGO law:
The bill stipulates the formation of a coordination committee that would oversee all activities done by international NGOs. This committee is supposed to include representatives from Interior Ministry and one from the National Security Agency, which foreshadows a desire of the government to involve security agencies in civil society work. Moreover, the draft gives the administrative representatives the right to arrest anyone for breaking the draft law.
The bill will increase the minimum capital needed to establish nonprofits from LE 10,000 (about $1,500 US) to LE 250,000 (more than $37,000 US). This has the potential to deprive the right for young people and less financially-sound qualified individuals from organizing themselves.
All associations, foundations, and federations subjected to this proposed law will be under the oversight of an Egyptian Central auditing organization, implying that civil society organizations will be part of a semi-government entity.
Civil society in Egypt may soon be forced to work in such a challenging legal framework. And this is alarming. Limiting freedom of association is a step backwards for Egypt's democratic transition.
CIPE Atlas Corps Think Tank LINKS Fellowship brings talented young professionals with strong research backgrounds to shadow researchers and experts at leading U.S. think tanks for six month. Sally Roshdy is part of the inaugural class, serving at the Project on Middle East Democracy (POMED).