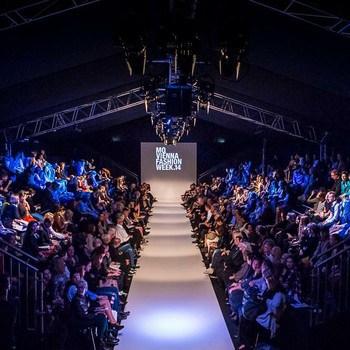 The seventh installment of the MuseumsQuartier Vienna Fashion Week will be held in the Austrian capital between the 7 th and 13 th of September. The designers who will display at the MQVFW will showcase their collections for the spring-summer 2016 season.
The event will take place in the famous MuseumsQuartier (Museum Neighborhood), which is a part of Vienna that concentrates several museums, where there is everything from the Museum of Natural History to temporary exhibitions of contemporary art.
Besides the over 40 fashion shows that will take place during the 7 days of the Fashion Week, there will be also many commercial booths open, where various brands will be displaying their products.
The MQVFW SS16 edition will contain various types of shows: from the classic womenswear shows, which will dominate the runway to 9 menswear shows from brands such as Verdandy and even to experimental shows, from designers like Alwa Petroni. Moreover, the HLMW9 Michelbeuern school of fashion design will also have a presentation on the last day of the week! On Attire Club we are always interested in seeing what the new generations of designers do and what they bring new to the table, so that will definitely be a highlight of the fashion week.
Vienna is a city known for attracting arts and artists, so we are definitely looking forward to seeing what the designers and fashion houses that will showcase at the Fashion Week will display.
Besides the numerous fashion shows and, of course, after parties, there will also be a film premiere that will take place during the FW. The Movie Home Less will premiere on the 12 September at 21.45.
For those who want to go the MuseumsQuartier Vienna Fashion Week Spring Summer 2016, there are tickets available for the shows, as well as for other parties and events. For the full lineup of the show, you can take a look at the schedule below: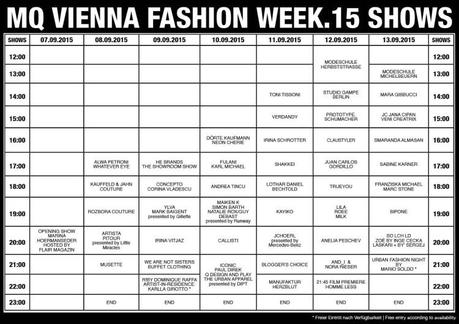 This Vienna Fashion Week looks promising and we are looking forward to seeing what the Austrian as well as the International designers will showcase.
Fraquoh and Franchomme
P.S. What kind of shows do you prefer during a Fashion Week? Share your feedback, questions or thoughts in the comments below! For more articles on style, fashion tips and cultural insights, don't forget to subscribe to Attire Club via e-mail or follow us on Facebook or Twitter!