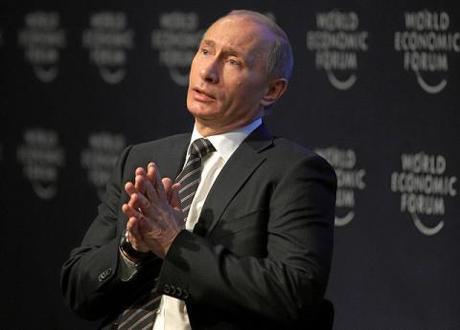 Russian PM Vladimir Putin. Photo credit: World Economic Forum, http://flic.kr/p/6jegY6
Vladimir Putin's confirmation that he will seek re-election as Russia's president next May has ended years of speculation about whether or not he'll wrestle back the top job. It is widely accepted that Putin will now be crowned Russian president (again) next May. The likely return of the ex-KGB man to the helm has spooked commentators in the West who consider it to be a giant leap backwards for Russia and for global security.
Current President Dmitry Medvedev assumed the presidency in 2008 as part of a carefully choreographed process that saw Putin, the president at the time, anoint Medvedev as his successor. It's widely understood that Putin has remained Russia's paramount leader while serving as prime minister.
Privatisation necessary but unlikely under Putin. Charles Clover of The Financial Times argued that Putin's return "puts a question mark over Russia's future, especially privatisation plans that could transform the economy from one mainly state owned to one with a more vibrant private sector in which competition could flourish." Clover noted that most economists see further reform as vital to avoid a repeat of 2009, when a global financial downturn hit Russia extremely hard and GDP fell 8 per cent, further than any other G20 country. However, Clover predicted that, "the tempo of reforms will be slower under a Putin presidency than they would have been under a Medvedev one." Clover insisted that "much will depend on the price of oil, which seems inversely correlated with Russian democracy and reform. A fall in the oil price could put pressure on the Kremlin to liberalise both economically and politically, much as it did in the 1980s and 1990s." On the subject of political liberalisation, Clover held out little hope: "Unless Mr Putin comes under unprecedented pressure, there is little hope for reform of Russia's authoritarian political system." Clover reminded that, in his first two terms, Putin brought parliament to heel, had several prominent businessmen exiled or jailed, and established direct Kremlin control over much of Russia's mass media.
"Political reforms are now off the table," said Igor Yurgens, head of Insor, a liberal think-tank and an economic adviser to Medvedev.
Petro-state Russia? Writing at The Los Angeles Times, Leon Aron, director of Russian studies at the American Enterprise Institute, said that "alarm bells ought to be sounding" at the prospect of 12 more years of Putanism. "Why? Because by every indicator – macroeconomic, political, social – the system that Putin forged in the early 2000s is all but exhausted and is driving the country toward a dead end. It must be radically reformed, or better yet, discarded. But how can it be gotten rid of with its creator back in control?"Aron argued that Russia has become hopelessly over-reliant on oil exports under Putin and "is headed toward becoming a petro-state, with all the problems such systems spawn: pervasive corruption, sharp income differentiation, a lack of social mobility, a decline in scientific and technological progress, and increased control of the economy by government monopolies." The writer insisted that Russia desperately needs to modernize, but doubted that'll happen under Putin. "Russia is entering rough waters, and the world will feel the turbulence", forecast Aron.
At least it forces an acceptance of reality. Writing at The Wall Street Journal, David J. Kramer and Christopher Walker, both of Freedom House, argued "there is also reason to welcome his not-so-surprising Kremlin homecoming: It will remove the fiction of Russian reform and modernization that the presidency of Dmitry Medvedev represented. This in turn should allow U.S. and European Union policy makers to see the country as it is, rather than as they would prefer to imagine it." The writers said the "the door is now open for a reset that focuses on the institutional realities – rather than the political stagecraft – of an entrenched authoritarian system. The sooner U.S. and European policy makers come to terms with the prospect of at least 12 more years of Putinism, and devise policies that can effectively deal with this challenge, the better for everyone."
"For ordinary Russians, civil-rights activists and anyone hoping to do business in the country under more favorable conditions, the next chapter of the Putin era will surely bring more bad news. It is time for the world's democracies to set aside wishful thinking and confront the challenges of an authoritarian leadership whose only plan for the future is to dig in its heels," insisted David J. Kramer and Christopher Walker at The Wall Street Journal.
Frosty Anglo-Russian relations set to freeze not thaw. The return of President Putin "will be bad news for Britain," insisted defence expert Con Coughlin at The Telegraph, who said it does not "bode well for the future of Anglo-Russian relations." Coughlin interpreted the Kremlin's official demand for Britain to extradite 43 Russian citizens who have fled to the UK to be "a blatant act of intimidation against David Cameron following his recent, inconclusive, visit to Moscow." Coughlin insisted that a "culture of gangsterism" continues to prevail in Moscow and accused the Kremlin of "bully-boy tactics" in its extradition demands.
Relax, it'll be a free and fair election! In a Russia Today piece entitled, "In defense of politics, Russian-style", the news organization quoted Konstantin Kosachev of the State Duma Foreign Affairs Committee: "The picture painted (by Putin opponents) implies that there will be no vote between the nomination and the inauguration of the two leaders for the offices of president and prime minister … Yet there is no question that the people will get a chance to make their choice. Alternative options, good or bad, are well-known. In any event, there will be a choice – for those who go to the polls."