You may have seen a few posts over the last few days about my little daytrip with The Boy to London. Well, in this post I've finally got around to showing you my outfit for the day.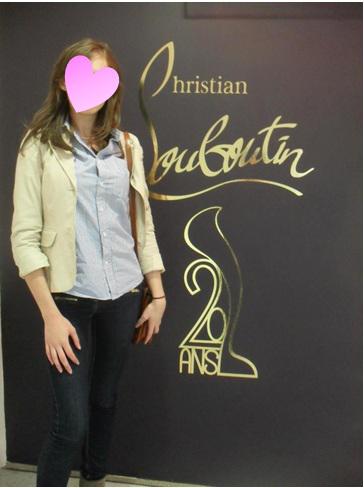 Here's me at the Christain Louboutin Exhibiton, Design Museum, London – well worth a visit. Of late, I seem to be going for a much smarter casual look, very oxfordian with blazers and shirts compared to my usual more relaxed style. This is one very typical example. You may have noticed it's a second outing for the linen blazer I rescued from the back of my wardobe last week – you can see the first outfit here.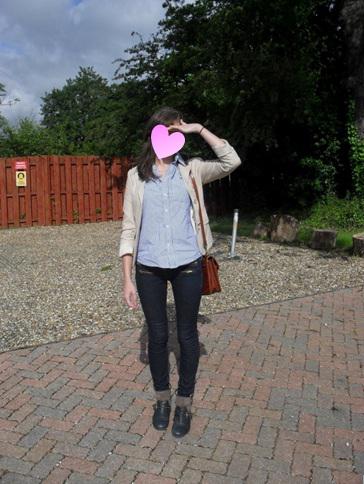 I think blazers or other light jackets are perfect for daytrips on non-rainy days as they are easier to carry around than big heavy coats and can easily be layered up (layers are key when you're going to be walking around all day) with cardigans (such as the white one I'm wearing underneath here which you can barely see) or hoodies – I quite like the hoody-blazer combination, so shoot me. I wore a blue and white-striped shirt. This is actually a small-size mans shirt from Primark a few years back. I find mens shirts are much nicer than womens and since I like to wear them loose, I don't have to worry about them fitting perfectly. I often steal them from The Boys wardrobe, he has some great ones which I think look much better on me haha.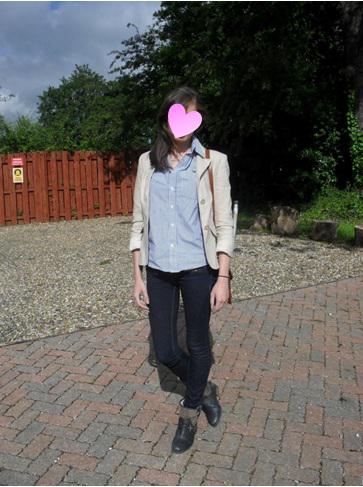 Again, here are my fave River Island gold-zip skinny jeans. Jeans are another must for days like this. On Saturday it was intermittently hot, sunny, rainy, cold – we had the full weather works. On my feet are my gorgeously comfy boots, also from River Island. This winter I invested in a few pairs of slouchy leather ankle boots and they seriously are a wardrobe must-have.
Lastly, I chose a satchel-type bag to complete this look. This bag is actually quite special so stay tuned for a post soon explaining just why.
All in all, we had a lovely coupley day (loves these, always need more) in London, which I just have to say is looking especially gorgeous at the moment!

J Cole – Can't Get Enough. I chose this song for you today. I really like this, but only ever seem to hear it played on Choice FM. Why is this?