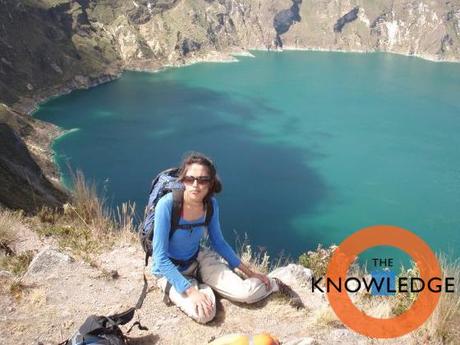 What's your best travel experience?
After my second year of university I travelled to Ecuador where I spent 3 weeks travelling before heading to the Amazon Rainforest for 2 weeks to carry out my second year research project.
I loved every single minute of the trip with highlights including Lake Quilotoa, surfing in Montanita, Humpback Whale watching in Puerto Lopez, a terrifying but spectacular bus ride through the mountains from Guayaquil to Cuenca and the nights out in Quito!
I was welcomed into the jungle by the Payamino tribe and trekked through amazing primary forest, discovered beautiful waterfalls and ate the most questionable food I think I will ever eat- I had no idea what to do with the chicken(?) claw floating in a bowl of hot water.
What did you take?
Obviously I tried to pack as lightly as possible but I managed to fit a surprising amount of stuff into my rucksack. This was mainly due to the fact I had packed all my clothes in two vacuum travel bags which were not only space-saving but also had the added bonus of making sure everything stayed dry.
For the jungle I brought a small lightweight hammock with a built-in mosquito net. Not only was it super comfy but it meant I was at safe distance from the ground and the bullet ants with which I had already had an unpleasant encounter with!
I also took spare camera batteries and memory cards so I could snap away without worry of running down the battery or taking up precious camera memory.
What do you wish you had taken?
I wish I had taken more time to learn some of the basics of Quechua, the language spoken by the tribe I stayed with in the jungle. I had my GCSE Spanish which was enough to get me around Ecuador but in the jungle this was of little use.
What frontier project would like to visit?
I would love to go any project in Madagascar as it's a somewhere I've always wanted to visit due its wealth of biodiversity.
What would you take there?
I'd definitely invest in a good underwater camera and a range of condiments and spices to add excitement to the staples of rice and beans 3 times a day!