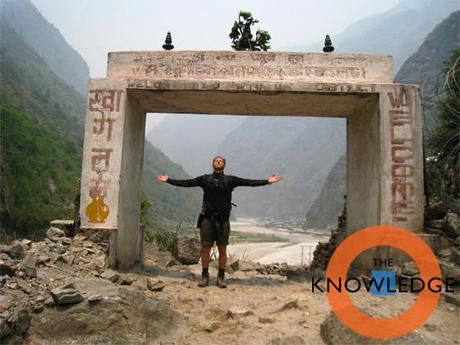 What's your best travel experience?
Probably my most memorable experience was somewhat of a nightmare at the time.  As with most travelling experiences, the challenging and difficult times are usually the funniest stories to tell your friends about when you get home, with this being a perfect example.
It all started in the rainy season of 2006 after hiring a moped for a few days and venturing off into relatively unknown rural Vietnam.  Myself and a few guys I was travelling with were keen to break away from the usual travellers circuit, to get off the beaten track and so headed off through rice paddies and down winding mud roads into one of the amazing National Parks south-west of Hanoi.  After riding the motorbikes for almost six hours, and with the light fading gradually, we were nearing our destination, the one (and only) guest house for miles around.
We were all hungry, but a few of the guys wanted to ride around some more, to watch the sun set and explore the local area before it got dark. On their return we attempted to order some food at the guest house, but were told by the suspicious receptionist that they couldn't cater for us as their was no chef.  Luckily, my friend informed us that we weren't to worry as he'd seen a restaurant just a 10 minute ride away from the guest house that he had seen only moments before, and we should all head there.
So off we went, and pulled into the scrubland car park surrounding what I can only describe as a heaving, popular restaurant.  We parked up our bikes next to the lines and lines of mopeds in the car park and proceeded to enter the rowdy mêlée of people.  All the tables were jam packed and we had to go right to the back to find the only free table.  We all looked at each other in amazement, "Wow this place must be incredible!  It's so popular!".  The waitress came over and obviously didn't speak a word of English, so we just pointed to the table next to ours and said "Same same".
The food came out and was incredible, but we hadn't been given any rice, so again we motioned to the waitress in a demanding fashion that we needed rice with our meal.  About five minutes later, a young girl approached our table and to our relief actually spoke a little English.  She uttered the following words so politely and so happily it took a while to sink in "Hello and welcome into my family home. We are so welcome to have you as guests of honour at my brothers wedding on this wonderful day".
Silence followed.  Shock.  And then slowly, as I looked around and realised that we were actually sitting in someone's bedroom, completely uninvited, and had just demanded food we all suddenly felt incredibly guilty.  We tried our best to make our excuses and leave and offered our hosts money in return but they wouldn't have any of it.  They wanted us to stay and they wanted to get us drunk. The evenings festivities continued with us being forcibly taken to the dance floor and being thrusted a microphone and expected to sing karaoke style over the top of some pretty hard Vietnamese techno, whilst at the same time being gyrated by young Vietnamese boys, who to our surprise have a tendency of dancing in pairs at really close quarters.
The complete and utter hilarity of the moment and the unbelievable welcoming that we were given, as complete strangers was one of those really special unique moments that make travelling so special, when international relations are strengthened and you reflect on how closed our own society can be.  I will never forget that night. It also turned out that the incredible food we had been eating was actually dog, which for the record was exceptionally delicious.

What did you take?
I have travelled for the last 5 years with my trusty 35 litre Deuter rucksack. It's pretty small, but that means that it is also pretty light.  I regularly get comments from fellow volunteers and travellers commending my attempts at travelling light, but to be honest it does have the down side of being a challenge to pack.
A few things I never go travelling without include my trusty head torch, my silk sleeping bag liner for a lightweight, small sleeping bag which provides me with a little added comfort and reassurance after a long days bus ride when the bed sheets that I'm climbing into are a little dubious.  Also a pen-knife can be incredibly useful for cutting fruit or making kindling to light fires or cutting washing lines etc. And never set off on a road trip without loo roll, particularly in China
What did you wish you had taken?
I'm always really jealous of people who travel around with hammocks and am continually on the lookout for a decent, lightweight one that I could just string up between two trees, or on a beach, or even on a steam boat sailing down a tropical river.
What Frontier project would you like to visit?
Personally I have a great love of rainforests and so any of our programmes which would give me the opportunity to rough it in the jungle such as our Costa Rica Big Cats, Indonesia Jungle Adventure or the Madagascar Expedition Management programmes.  On the flip side I fell in love with Buenos Aires five years ago and would love the opportunity to return to join our Argentina Journalism project.  I still dream about the 'beef de lomo' out there.
What would you take there?
If I was to head out into the jungle on a trek I would definitely take my new Thermarest Neo Air for some added comfort and a comfy nights sleep.