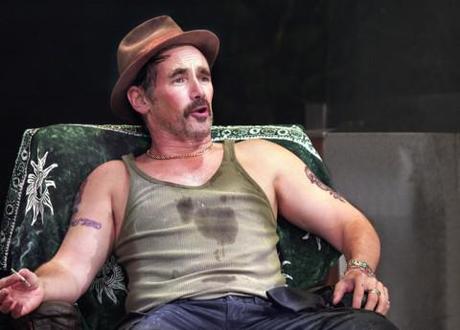 Mark Rylance as Johnny in Jerusalem by Jez Butterworth. Photo: Ayoungertheatre
The background
Jez Butterworth wowed the world with his Jerusalem, a state-of-the-nation play that was moving and funny. His new play, The River, will show at the Royal Court Theatre – but no tickets will be available, except on the day. Tickets will go on sale online at 9 am, and in person sales at 10 am from the Royal Court Theatre Box Office. There are fewer than 100 seats at the Royal Court Jerwood Theatre upstairs.
The new play brings together the same team that worked on Jerusalem, and is billed as a tale about a man and a woman in a remote cabin, by moonlight. The show will be on for a month. Better get queuing.  It starts on October 18 and runs until November 17.
It's what's best for the play
The theatre, reported The Independent, said it defended its decision to show the play in the small theater because it was more intimate. ""We are a writer's theatre," she said. "It could have gone in downstairs and more people could have seen it and it could have been more commercial, but it was what was in the play's best interests."
What an annoying decision
"How infuriating," thundered Andrew Pettie on The Telegraph. He has an office job, and a family – it's "deeply annoying." Tickets "are designed to be bought and sold in advance." In this age, "live experiences have never been so highly prized – or priced." Demand constantly outstrips supply for live events. Some approaches, like ballots and rewards for members, are sensible. But it's "unfair and unreasonable" to "deliberately inconvenience your customers" just for extra publicity – and Butterworth doesn't even need it.
It's all part of a new trend  - and we should stand up to it
It's the "newest incarnation of the gonzo booking phenomenon" across London, said John Walsh in The Independent. It used to be easy – you'd ring up and ask if tickets were available, and that was it. "Now you're likely to wind up in a rain-swept queue or using your iPhone to cudgel your brains in frustration." At loads of restaurants you can't book; in other places "bookings are gold dust." Really, it shouldn't "be like this" – "We are the masses. We're the public. It's time we complained about being treated like chickens to whom some grain is contemptuously hurled from time to time by the impresarios of modern culture."