Steph's Scribe/Stephanie Verni:
Last year I made the turkey and it was delicious. It's must have been; I am cooking it again this Thanksgiving. I am reblogging it for those who have to cook and are looking for the juiciest turkey recipe. Bon Appetito!

Originally posted on steph's scribe: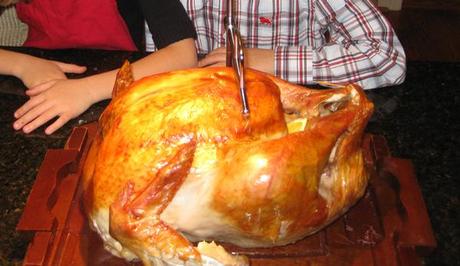 I can take absolutely no credit for this—absolutely no credit whatsoever. It's my mother's recipe, and this year I will be attempting it for the first time. Thanksgiving is at our house, and I'm the chef. But I'm kind of a thief, as well, because I'm totally stealing her recipe. I wouldn't cook a turkey any other way. My mother's turkeys are always outstanding.
Truthfully, I'm not really a thief at all. My mother wrote out the recipe for me, so she's clearly an enabler. She wants it done right for her sake, and the sake of all the guests. No one wants to eat a dry, flaky bird. I'm grateful that she did this, and she even went so far as to provide me with the bag to cook it in.
This "melt-in-your-mouth" turkey has been the talk at every year's meal. It takes center stage, as it should…
View original 271 more words