We've all seen the big guy in the small t-shirt or known that bro who only wears shirts he got a breweries. Since we're kind of fanatical about t-shirt we took the liberty of categorizing all the different t-shirt consumers we've come across in our careers as purveyors of fine t-shirts.
We published the T-Shirt Culture Index a couple weeks ago and can't be happier with the response. Laughing Squid picked it up and the rest of the internet followed. With posts on Design Taxi, loads of views on Visual.ly and Buzzfeed. It even got all the way to the New Zealand Herald! The response was overwhelming and we heard the message loud and clear: people want infographics about t-shirts!
So we took on the biggest graphic project we've attempted to date – to find and illustrate all the iconic t-shirts from movies. Of course we started with the obvious ones, "Vote For Pedro," Alan's shirts from the Hangover and Hangover 2, but we didn't stop with the obvious. We sifted through lists of movies, hundreds of screen shots, even watched a few you-tube clips to track down the best of the best t-shirts in movies.
We ended up with 55 movies, some with duplicate characters. The criteria was only t-shirts (no tank tops, no sweaters), only movies (no TV) and the t-shirt has to be somewhat memorable. The graphic isn't ready for publication just yet, but we wanted to give you a little taste and a chance to win a $30 fibers.com voucher (that's a free t-shirt). Here's the deal, if you can tell us what movies these three characters are from we'll put your name in a drawing for the voucher.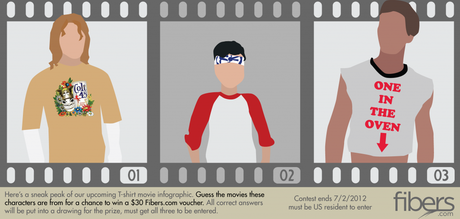 Leave your answer in the comments section or on our Facebook.