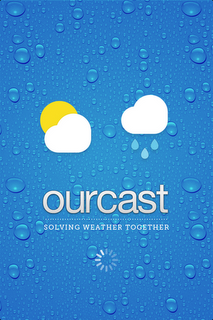 Autumn is officially here and, in Houston, that means that which I dread the most in my tennis matches - rainouts. While we don't get much in the way of cold, snow or ice here during the fall and winter, we can get plenty of rain. Ugh.
So watching the weather becomes a priority. And that's why I'm pretty happy with an app I found that gives me a very localized, very "micro" forecast of the weather right in my own neighborhood. The app is called "Ourcast" and I've put a shot of the opening screen to the left.
What can this app do? When you check in, it precisely identifies your location (using the pin drop feature) and then tells you, minute by minute, what the weather forecast is in your exact area for the next two hours. Since Houston is one of those places where it can be bright and sunny at my house but pouring rain at the tennis courts two miles down the road, this is just the kind of weather information I need.
Ourcast also allows you to broadcast what kind of weather experience you're having, letting others know just what to expect in your vicinity. It even allows you to comment on the weather - through words or through little smiley or pouty weather icons (depending on your mood, so if your tennis match gets rained out, you can choose the pouty rain cloud when checking in).
What I really like is that one of my local news stations is tied into the comments section of the app, allowing me to not only see what people like me think of the weather (with our smiley and pouty icons), but getting a little "professional" insight into what is going on.
Best thing about the Ourcast app? It's free. I always love free stuff. Especially if it might help my tennis game. You can find Ourcast in the iTunes store for your iPhone and there is also an Android app.
 


© Kim Selzman 2012 All Rights Reserved