What is the most important reason that people sign up as Diet Doctor members? We asked our members and got 1,400 answers. This is what people replied: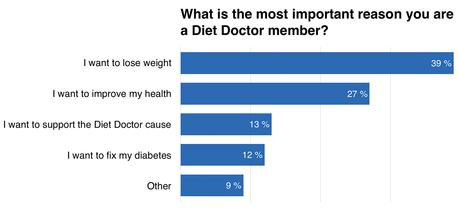 As you can see, the top four reasons why people become members are:
To lose weight,
To improve your health,
To support the Diet Doctor cause and
To reverse diabetes.
Here's how the membership helps you with these things:
1. Lose weight
Two things at the membership site help you lose weight - meal plans and videos.
The meal plans are a practical tool that shows how we would do a well-formulated low-carb diet to lose weight, and the videos provide the science behind weight loss.
Or you can check out our new meal planner (free trial).
If you're interested, here are our top videos about losing weight on low carb:
More
2. Improve your health
Eating low carb is an excellent way to improve one's health - and once again, we offer many videos on the topic as well as simple meal plans to make the transition to a low-carb diet as smooth as possible. Here are our top videos about health:
3. Support the Diet Doctor cause
We want to help people everywhere to revolutionize their health - and are very glad that people want to support our cause by becoming members. Here's a video explaining what it's all about:
You can become a member here and get immediate access to our meal planner service, our 190+ low-carb TV videos and an ask the experts section.
4. Reverse diabetes
Diabetes is a disease characterized by excessive amounts of sugar in the body - so an effective strategy to improve the disease is to cut out that sugar from one's diet and go low carb!
Once again, the delicious meal plans are there to help you with practical implementation and the videos to explain why it works.
Feel free to check out our new meal planner (free trial).
Here are our top videos about diabetes:
More
Are there any other reasons why you would become a member at Diet Doctor? Please comment in the section below.
Try the membership
Do you want more help with making low carb simple? Diet Doctor is free of ads, products for sale, and sponsorships. Instead, we're 100% funded by the people through our optional membership.
Do you want to get access to our meal planner service, check out our 190+ low-carb TV videos and ask our experts your questions? Try the membership (free for 30 days).
Everything New >Start your free trial month