For weeks – if not months – press and pundits have been speculating on the likelihood of an engagement in Kim Kardashian and Kanye West's future. After Kanye treated Kim to an Italian getaway to celebrate her 32nd birthday many thought it was all but settled that he would propose.
Just this last week, on October 24, paparazzi spotted Kim at a Christian Louboutin boutique in Miami, Florida. The curvy celeb was sporting hip-hugging jeans, a black crocodile Hermes Birkin Bag, and a suspiciously large oval-shaped diamond ring on the pinky finger of her right hand.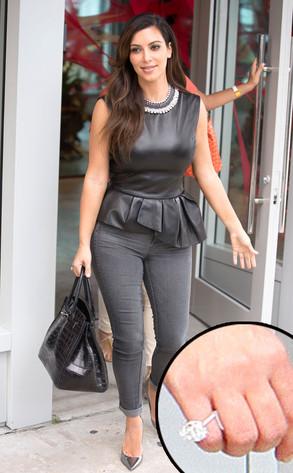 INFPhoto.com/Splash News
Speculation that Kardashian was indeed engaged to hip-hop superstar Kanye West and has opted to wear the ring on her pinkie only out of deference to the fact that she's still technically married to Kris Humphries has been more-or-less squashed by sources close to the starlet including Kardashian family matriarch Kris Jenner. Regarding whether or not the engagement rumor was true, Jenner said: "If it was, I would know about it."
The Italy trip took the pair of lovers from Rome to Venice to Florence but the only special surprise was a custom birthday cake for Kim, who blogged "What a romantic weekend! One I'll never forget."
Still, one has to wonder if perhaps there will soon be another diamond ring in Kim's future, perhaps in the next season of Kourtney and Kim Take Miami.
Matthew H for Raymond Lee Jewelers, South Florida's premiere source for buying and selling luxury watches and designer jewelry.