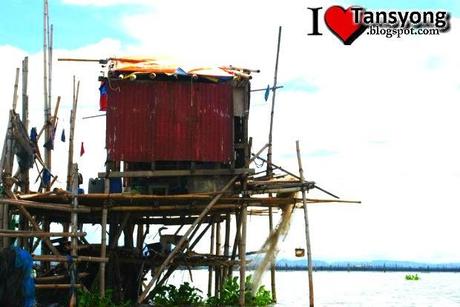 The Nipa Hut that serves as a guard house
Humans and nature interrelate in a locale where thrill and adventure combined; hence, this is evident every time a bahay kubo or simply nipa hut an old Filipino architecture is found in the local countryside.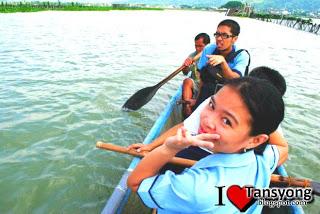 Banca : Traveling to the middle of the lake
However, it is surprisingly to discover that the traditional cubic shape house is found not at the countryside but in the core of Laguna Lake.
This picture opens the pulse of our curiosity so immediately; we ride at a paddled boat for thirty minutes and realized that he nipa hut is owned by Mang Rolly Larita, a fisherman and ten years caretaker of fishpen.
"Mahirap tumira sa lawa. Tyagaan lang talaga", his opening statement to us who were wandering.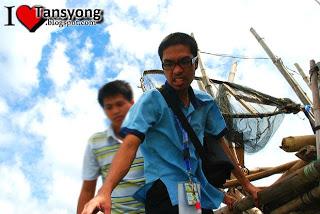 Stepping Down: as i tried to step down from the  nipa hut
As a caretaker of fish pen owned by his brother Mr. Popoy Larita, he is responsible to guard it day and night. The reason why he built hut out of bamboos afloat on the lake, this serves as his shelter when he's on guard.
Bahay Kubo at the Lake is not made of typical hut. Bamboos are the foremost materials used in building such.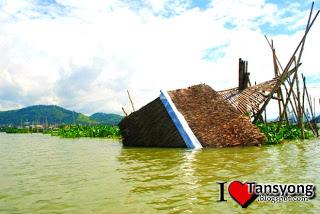 After Storm
Piled bamboos at the bed of the lake serve as the nipa's foundation while tied bamboos on the floor and walls and the "lona" served as the roof. These canes warm and dry those tired workers after a long period of sailing and fishing.
Just like a family's shelter, fishermen are sharing their foods for lunch and dinner under the refuge of this national dwelling place.
Mang Rolly considered this bamboo cabin as his guardhouse watching the entire fishpen from thefts through the use of what they called "daylight".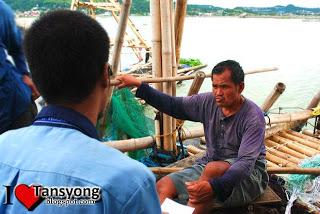 Mang Rolly narrates here Story to me.
"Uso kasi ang nakawan dito kahit na tubig ang ginagalawan, ninanakawan kami ng alagang isda sa pamamagitan ng pagbutas  nung net tapos sasaluhin nila yung mga isda na lumalabas kaya kailangan gising na gising kasi sa gabi sila umaatake" Mang rolly narrated (" Robbery/piracy is rampant here, the thefts will make a whole on the net and they will get the fishes from it. It's a must that we need to keep on watching all night long")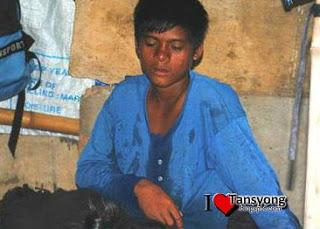 Jose , 18 years old tell his inspiring tales of dedication 
On the danger of living at the lake, Mang Rolly testified " Kapag makulimlim ang kalangitan nakatutok kami sa radio para pakinggan kung may bagyo ba. Kasi Kung meron inaalam naming Kung anong signal na, kapag signal number one, mananatili pa kami sa kubo, babantayan ang lambat na nakalatag sa lawa. Pero kapag tumaas na at inaanunsyo  na lumikas kinukuha na naming yung mga importanteng gamit tapos aalis na kami.Pagkatapos ng bagyo saka kami babalik para tingnan ang palaisdaan." In English: "If the weather is bad, we focus on listening news if storm exists. If there is a storm, we make sure to know the signal Status, if it is signal one, we are still here. If the signal gets worst, we will pack and bring our important belongings and leave right away. And we will go back after the storm."
Truly, typhoon is the worst enemy of either agricultural and fisheries' industry where it totally destroys the fisherman's living and turn their labors vain.
Jose Linaw, an eighteen year old young fisherman, visayan native, works for almost four months as caretaker, experienced life on lake to earn a living. He worked on Korean-owned fish pen but then transferred to other fish pen owner due to hardness of works but low wage earning.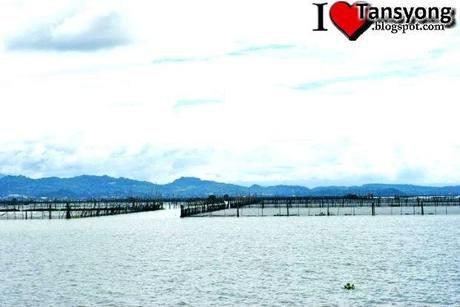 Good weather is such a gift from God. Placid lake that reflects the calmness of God
"Mahirap manirahan sa lawa kasi masyadong malayong malayo dito yung mga kailangan mo, tyagaan lang , ang kaibahan lang dito tahimik at mas presko, yun lang kalaban talaga dito ay sama ng panahon, delikado talaga, kasi dimo alam kung kailan darating" Jose said. In Eglish : It's a sacrifice staying here the fact that it is too far from the availability of your needs, it's a matter of determination. The only difference here is the placid and fresh environment, yet your primary enemy is the bad weather which is very dangerous coz you'll never knows the fortuitous event.
Built by bamboos whose characteristics is standing at firm after the storm and looks down no matter how tall, this hut standing at the lake reflects the people who subsists  in it , soaring and standing firm after storm of problems and staying as humble as they are no matter how far they've reached.
As the saying goes "Bahay mo ma'y bato , kung ang natatira ay kwago, mas mabuti pa  ang bahay kubo ang nakatira ay tao" there is no place like BAHAY KUBO.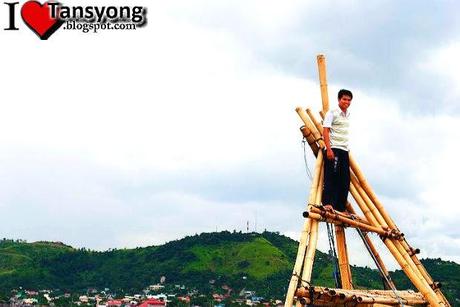 Son of Mang Rolly, shows that he is on the Top of the World