Have You Ever Really Loved a Woman?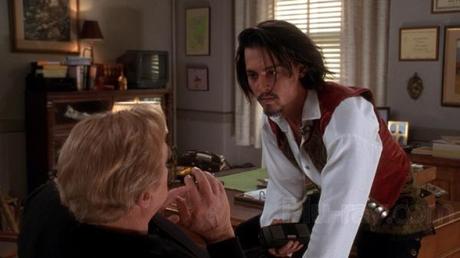 Marlon Brando & Johnny Depp in Don Juan DeMarco (www.blu-ray.com)
From my previous post, whereby I discussed actor Johnny Depp's earliest forays into the cinematic realm, one might have gathered from the evidence at hand that the recently turned half-century-old movie star enjoys playing nothing but lunatics, locos, kooks, oddballs, and all-around nut-jobs – and not necessarily in that order.
Far from it! A mere cursory look at his bulging filmography from the 1990s to the 2000s shows that decade to have been a most fertile period for the maturing Mr. Depp, one filled with challenging acting assignments and first-rate opportunities. But more significantly for his many admirers, it featured a welcome diversity and abundance of offbeat characterizations rarely encountered in the portfolio of lesser acting talents.
Take, for example, his pairing with movie veterans Marlon Brando and Faye Dunaway in the quirky romantic comedy Don Juan DeMarco (1995), about a handsome young man who believes he is the reincarnation of the notorious Latin lover, Don Juan. Depp's traversal of the delusional but amorously-inspired Señor DeMarco caused a virtual stampede at the box office, compared to his previous efforts.
His spot-on Spanish accent (quite charming, I must say), Zorro-like mask, and broad-brimmed hat – not to mention that elegantly placed earring of his – add flavor and spice and everything very, very nice to Johnny's performance. No doubt his seductive voice played a huge role in creating a convincing character, one capable of sweeping women viewers off their feet. Depp also got to show off his burgeoning swordsmanship, a skill that would come in handy on the set of Pirates of the Caribbean a few years hence.
Incidentally, the oft-repeated line, "Have you ever really loved a woman," is echoed in the theme song by the same name, sung by Bryan Adams (and co-written with Michael Kamen and Robert John "Mutt" Lange) over the closing credits and played several times throughout the picture.
On a side note, Depp's sessions with portly shrink Brando, wherein one of them has Marlon holding a cup of coffee in his hands while simultaneously reciting his lines to a seemingly attentive Don Juan – with the lines deliberately pasted onto the cup – are just one of that film's highlights. The other is seeing two over-the-hill screen stars, Brando and Dunaway, play off one another so beautifully (and dance so vibrantly, too). They actually seem to be having the time of their lives, as they waltz in time to the movie's theme.
What Johnny must have thought of all this remains an unspoken secret between him and the late Mr. Brando! It was another example of Depp's eschewing of mainstream material for more (how shall we put it?) audacious and unconventional film fare.
Time is Not on His Side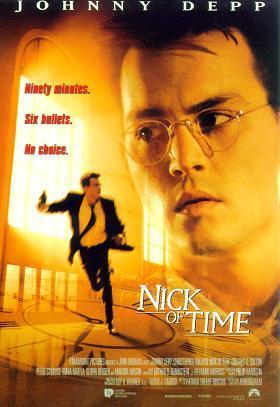 Nick of Time movie poster
Speaking of the audacious and unconventional… Depp chose as his next project the time-sensitive thriller, Nick of Time. Also from 1995, the film was steered by action-movie director John Badham (Blue Thunder, WarGames, Point of No Return). Here, Johnny gets to play a mild-mannered accountant (we know he's mild-mannered because of his wire-rimmed glasses – otherwise, how would you know it, right?), recently widowed and toting his young daughter along to a modern-day Amtrak station in modern-day L.A.
Depp meets up with two unsavory plotters, a Mr. "Smith" (vicious and no-nonsense Christopher Walken) and a Ms. "Jones" (humorless cohort Roma Maffia). The duo "enlists" him in an elaborate scheme wherein Depp is forced to comply with their plan to assassinate the state's Governor (Marsha Mason), or else risk getting his daughter killed in exactly one hour and a half. Why that specific time frame? You'll have to watch the movie to find out! 
Despite the tight deadline (and preposterous twists and turns of the plot), Johnny manages to convince a reluctant shoeshine guy, played by a crotchety and supposedly deaf Charles S. Dutton, to "aid" him in his quest at thwarting the thugs. This one boasts a reasonably high "incredibility" quotient (or, if you prefer, "What the f—k was that?"), but with Depp in charge, all turns out well in the end. Would it be otherwise?  
As farfetched as these types of convoluted story lines tend to be, Johnny played it straight throughout, sweating profusely as he watches the clock tick down to the appointed hour. So what's the gimmick? It was all shot in "real time," which neither audiences nor critics bought. The result: a big-time money-loser for all concerned.
Dead Men Tell No Tales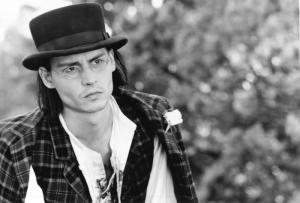 Depp in Dead Man (wallmay.net)
Johnny's next challenge (and another bomb at the box-office, by the way) was to headline a Western, of all things, by cult director Jim Jarmusch. The film, Dead Man (1995), was not the type of picture most audience members liked or even cared for, but it did draw some positive reviews from critics, including the suitably impressed A.O. Scott of the New York Times, who insisted on calling it "one of the very best movies of the 1990s." Uh, okay…
Shot in purposefully artsy-fartsy black and white, and with an earsplitting, wholly improvised electric-guitar score by rocker Neil Young, Johnny at least got to work with the independently financed Jarmusch, who in addition to his directing credits could add screenwriting, producing, acting, editing, and composing to his many and diverse accomplishments.
The picture featured a flock of celebrity participants, all of whom were working for Actor's Equity wages it would seem (the budget was a mere $9 million). Among his fellow thespians were the likes of Robert Mitchum, John Hurt, Gabriel Byrne, Crispin Glover (his face blackened by coal), Gary Farmer, Lance Henricksen, Michael Wincott, Billy Bob Thornton, Mili Avital, Alfred Molina, and (yikes!) the scandalous Iggy Pop.
Depp plays another of those passive/aggressive accountant types (with the requisite wire-rimmed glasses, no less) who, thanks to bogus advertising, heeds the ad's bad advice by going west, young man – all the way from Cleveland, Ohio! Upon his arrival in the dingy western town of Machine, he's told the accounting job has been filled and to be on his way, or else. Whereupon, Depp immediately gets into trouble by shooting the local gambler (Byrne), who happens to be the son of the owner (Mitchum) of the company that just showed him the door.
As you can tell, complications ensue, one of them being the accountant's name: William Blake. The other is a tag-along, wiseacre of a Native American named Nobody (a droll Gary Farmer), in an obvious homage to those Italian-made spaghetti Westerns starring Terence Hill. Nobody is enamored with Depp's moniker (hint: he thinks he's that William Blake, the poet and painter). You can imagine the put-ons, puns, and wordplay these two engage in! Farmer gets the biggest laugh of all, when he calls Johnny a "stupid fucking white man!" This is in addition to the frequently uttered "Have you got any tobacco?" line, which is an all-too prevalent query, to the point of annoyance.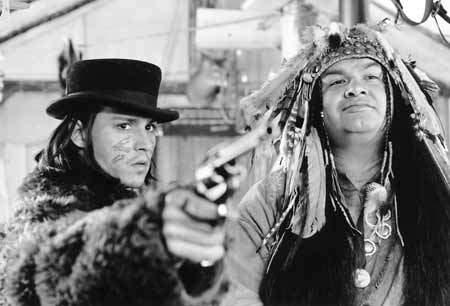 Depp & Gary Farmer in Dead Man (tvtropes.org)
In mirroring its title, the atmosphere throughout Dead Man is deadpan, while the humor (or what passes for humor) is decidedly dark and low-key. Depp, however, is always worth watching. He has a real connection to this production via his own Native American roots, or so it's been claimed. There's a spiritual side to the story, too, as well as a touch of poetry and elegance. But what's the point? The settings are stark and the skies are gray – for atmosphere, one would guess. However, the ever-present violence and one-too-many stomach-churning episodes (including throat-slashing and a head being crushed underfoot by one of the hired guns) may turn more viewers off than on.
Depp's passive/aggressive mannerisms, however – that is, of a flailing fish out of water, a character so out of the picture but who somehow manages to find himself on the cusp of his problems, getting involved in situations he'd be better off not getting involved in – would be repeated innumerable times in the films to come.
(End of Part Two – To be continued…)
Copyright © 2013 by Josmar F. Lopes