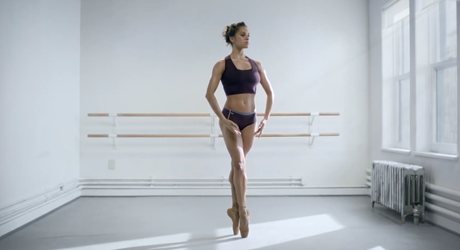 Misty Copeland in an Under Armour commercial
Misty Copeland made history on June 30th when she was promoted within the  American Ballet Theatre, becoming the first African American ballerina to reach the rank of Principal Dancer and the second-ever black soloist in the traditionally white ballet company. Considering that almost all principal ballerinas around the world have historically been white, Copeland's promotion is an immense achievement in an artistic tradition that still largely favors pale skin and extremely thin bodies.
Copeland rose to fame amid circumstances that, for elite ballet, seem at odds with her success. She took her first ballet class at her local Boys & Girls Club at 13-years-old (a relatively late start) and lived with her single mother and siblings in relative poverty during much of her training. She was undeniably gifted in technique and had a nuanced, commanding stage presence that led her to dance lead roles in shows like "Swan Lake" — her ABT New York City debut — and in "Romeo and Juliet" and "The Firebird."
Copeland hasn't just pushed back on the embedded racism in the ballet world on stage, though. The dancer also skewered this standard in her 2014 Under Armour commercial. She turns and leaps in defiance to the soundtrack of a rejection letter read aloud, which criticizes her curvy bust and waist as being "wrong" for ballet. While her skin color is never mentioned in the ad, Copeland's visibility is fantastic in promoting realistic beauty standards for women and cracks a fissure in ballet's white facade – and, most importantly, contributes to a wider acceptance of black women in the American cultural cannon.
And yet, it seems that Copeland's race hadn't been explicitly discussed too much before she earned this historic promotion, revealing a broader, lingering hesitancy to discuss race in the arts. The discomfort may arise from a question of artistic imperialism: Should a high rank in the European tradition of ballet be the ultimate goal for black artists? Or can empowerment be better found outside these traditions?
This dynamic seems to hit on the time-worn question of integration versus chosen segregation. The two schools of thought were manifested in the 1960's in dance companies that grew out of the Civil Rights Movement: Dance Theater of Harlem was formed to stage classical ballet technique with dancers of color, while Alvin Ailey American Dance Theater synthesized numerous dance styles to create a new expression of the black American experience. These companies have provided accessibility for both dancers and audience-members who would have otherwise been excluded from their rightful participation in the art form, a phenomenon seen now in the diverse attendees of Misty Copeland's performances.
"Every time I step onto that stage, it's not only proving to the audience that I'm capable but to myself," Copeland once said in a  Washington Post interview. But "belonging shouldn't mean you are like everyone else," Copeland added in the interview. "You want to feel accepted, but you don't have to look like everyone around you, you don't have to follow the exact same path as someone before you."

It is regrettable that Copeland has seemingly felt that she must prove she can dance because of misconceptions around her race. But it also seems that she views her ability to dance as an opportunity — on and off the stage. Copeland not only partnered with ABT and the Boys & Girls Clubs of America to create teaching programs and scholarships that will allow young, minority dancers to make it on stage, but also views her presence on stage as a crucial opportunity.
Dancers lead others to "envision a fantasy world," she posited in The Washington Post. The world created on stage in a ballet is an ideal for which audiences might strive, and it is certainly an improvement that this ideal includes a high-powered woman of color. Copeland's presence, however entwined with complicated racial and gender politics – and perhaps because of them – is ultimately inspirational and will hopefully empower plenty of other young dancers of color to gain the visibility and recognition they deserve.