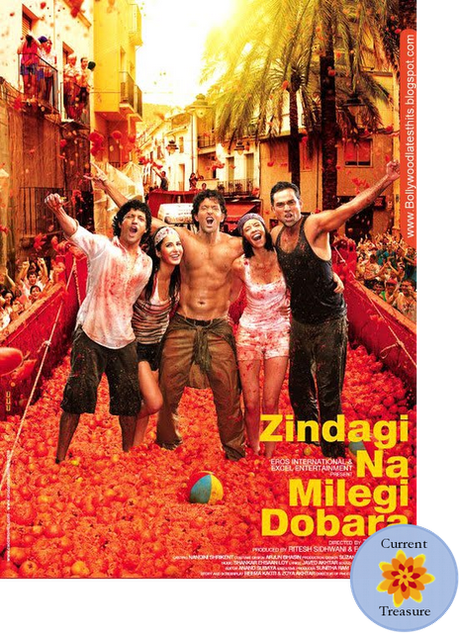 For the record: I'm perfectly aware of the fact that 1) perfection is subjective, and 2) I don't have a clue what makes a good movie. A film with similar ingredients as
Zindagi Na Milegi Dobara
might not have worked anywhere near as good, and maybe there are people somewhere in this world, who didn't fall in love head over heels with this film.
But as we continue, I want you to forget all these thoughts and look at
Zindagi Na Milegi Dobara
from the viewpoint of a summer-craving, adventure-seeking, latinophilic (there's no such word, is there?) fan, and just sense the love...
Success factor #1: Setting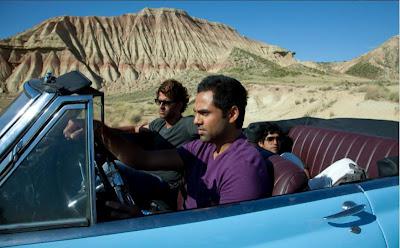 Bollywood plus spanish summer... Reminded me of the time I saw Aishwarya and Hrithik in
Dhoom:2
 for the first time -
why the hell didn't anyone come up with that combination before?!
 Making it a road trip is even greater, as we get to see both big metropoles, cosy coastal towns and the rough sandy mountains. Personally I suggest Spain as the long-awaited replacement for Switzerland.I could ramble about the India+Spain chemistry for hours, really... it's so spicy, so hot, so... Masala! And the two cultures are quite alike, you don't need to see the Tomatina festival to realize this. What I found a little sad was that there weren't many Spanish characters in the film, except for the girl Farhan falls in love with. But then again, she was very sweet - her character reminded me of the final girl from
Midnight in Paris
.As you might remember,
Zindagi Na Milegi Dobara
 wasn't the first Indian film to opt for the latino-flavour, and I'm sure that
Kites
 was an inspiration, though it was set in Mexico... Anyway, I see a trend here, and with all my heart hope that it's there to stay.
Success factor #2: Story/ Screenplay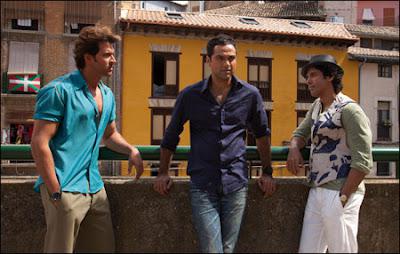 We all know that films with a screenplay or at least a good story are better than the ones without. What makes the
Dhoom
-series work is not only the action, hilariousness and sexiness, but also its, well, story. 
Zindagi Na Milegi Dobara
works even better, because it has a good story to tell
and
 a good screenplay. Admittedly, there are strong similarities to cult classic
Dil Chahta Hai
, but as I perceive it, Zoya Akhtar simply paid tribute to the fantastic directorial debut of her brother Farhan Akhtar - and who would blame her for that? Furthermore, friendship is a timeless matter, as is struggling friendship, and I personally thought the film was very different from
Dil Chahta Hai
despite their common theme. 
To get back to the road trip: it serves not only as a setting but also an important element of the film's plot. Every one of the three main character suffers from some unhappiness in his life, which is eventually solved during and because of the road trip. This is based on an old trick too, which has been used since the very origins of story-telling and film-making, but if done well it still works today - as proved by this film. I mean, I don't see the problem in treating an often-treated subject or problem, because if we really start digging, I'm sure we can label each and every film and story "used". There are no un-used themes in story-telling, it's the way you combine and treat these themes that counts. And
Zindagi Na Milegi Dobara
 just happens to do a great job at combining profound themes like dissatisfaction and search for a meaning with groovy music and adventure sports.
Success factor #3: Hot stuff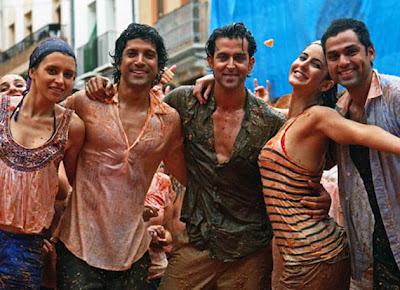 Let's be honest with ourselves: a good summer movie needs some good-looking people, period.I'm not talking about polished and photoshopped six-packs (ahem, Hrithik Roshan) and freshly operated playbunnies, what I mean is just natural sexiness that appeals to most people. Anyhow,
Zindagi Na Milegi Dobara
 fulfills the requirements more than sufficiently, starring three of the hottest actors India can offer us - and even if you don't love each one of them, I'm sure most women will find at least one more or less attractive. I like female directors.However, there is some eye candy for the male audience as well, in the form of Katrina Kaif, Kalki Koechlin and spanish Ariadna Cabrol, so there should be something for every taste here as well. And before I forget, all the actors and actresses were really good. Surprisingly, I'm beginning to grow fond of Katrina Kaif. What happened to the wooden, tedious Salman-girl I used to loathe?!
Success factor #4: Music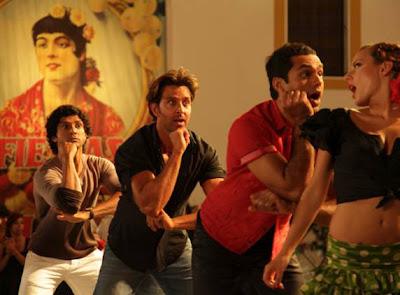 Still from song "Senorita"
Indian tunes mixed with Spanish guitar music (and whatever other Spanish instruments there are) equals phantasmagoric summer soundtrack. While the highlights are the modern-flamenco-mixed-with-actors-singing "Senorita" and Tomatina song "Ik Junoon", every single song is excellent - there are dreamy sounds, festive ones, and the poetic poems recited by Farhan Akhtar. 
Success factor #5: Meaning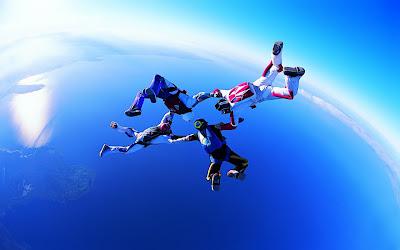 Though the most important promise of 
Zindagi Na Milegi Dobara
 is to entertain, there is a meaning - perhaps even a message - between the lines. This is already implied in the title (with great subtlety) and shows in the film at several times, though of course you need to let the film grow in your head after seeing it, in order to understand what it was telling you. Some film makers desperately try to squeeze a meaning into their films, and if they can't, pretend that it's there.
Zindagi Na Milegi Dobara
 could have been like that, because it's hard to see the difference from the outside - the posters, the title and the story could have all been fake. Exactly what makes out the meaning of the film, I don't know, but it's there and perhaps it's this tiny detail that makes this film
a perfect summer movie
.