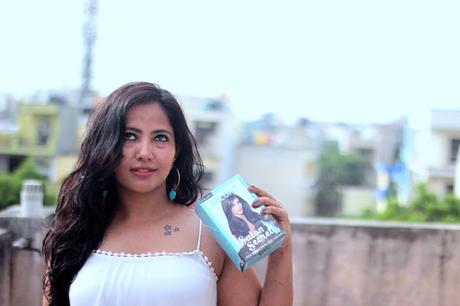 It took me a while to decide that I wanted to color my hair and when I say color my hair, it means applying the color all-over and not only the highlights because I did get it and I didn't like it because it made my hair dry. Probably that was the reason for my fear to take a step ahead and apply a hair color to treat greys.
I remember how my husband V kept telling me that he loved my highlighted hair and he would like me to get it done again. But this time, he insisted on doing it for me. As per him, this is just collecting a few strands in hands and applying the color.
You know by now that I didn't get highlights again and why!?! :D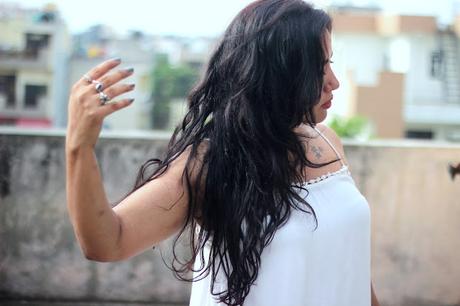 But it stuck with me. The idea of applying a global hair color on my gray hair. So, I turned myself to a WhatsApp group of friends who never answered to my questions.LOL
They probably wanted to hide that they had gray hair!
So, I turned to a blogger friend who is a sweetheart, the hottest mama I know after Malaika Arora Khan and beautiful inside out. She recommended Bblunt, an ammonia free option which is too good, according to her.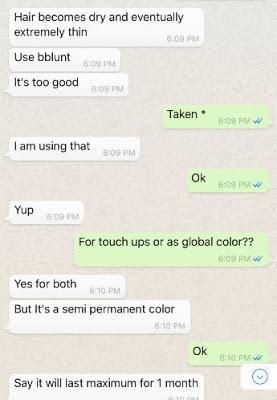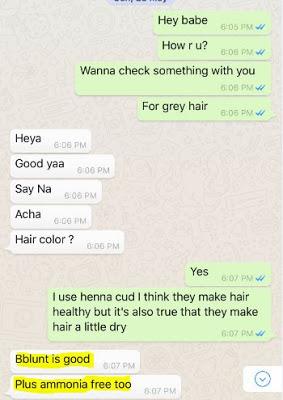 Can you say that I was still skeptical? Yes, I was but it stuck. And I made an intention that I must find a hair color which is really, really good for my hair because I don't want to damage my hair and turn it in to more greys, brittle, dry and lifeless.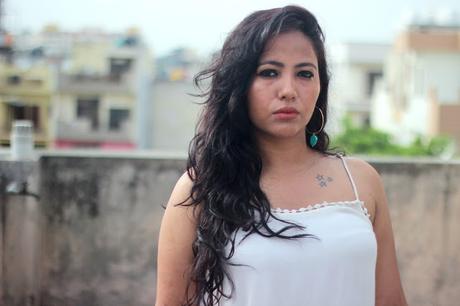 Bblunt Salon Secret High Shine Hai Color
And then a day came when I got a chance to try Bblunt Salon Secret High Shine Creme Hair Colour. It comes in 3 parts that contains a colorant, developer and shine serum. Just mix and apply. How easy does that sound!?! See the BBlunt Salon Secret Video on Youtube and deicde yourself!
SHOP NOW

I really like the Shne tonic that is-

Enriched with Silk Proteins, this special tonic is what your regular hair color had been missing for so long.
So, it's easy to apply, wash and is ammonia free and comes with Shine Tonic that no hair will say "NO" to. Plus it is good for all hair types. But, what about the shades.  
Bblunt Salon Secret High Shine Creme Hair Colour comes in 6 shades -
Wine Deep Burgundy 4.20

Honey Light Golden Brown 5.32

Chocolate Dark Brown 3

Black Natural Black 1

Blueberry Blue Black 2.10

Coffee Natural Brown 4.32

Mahogany Reddish Brown 4.56
What is the Take of the Girl With Henna Dyed Hair?
From the variety of the shades to choose from, I know we all girls are sorted here. My shade is Coffee Natural Brown 4.32 and I think best for henna dyed hair. I have applied it twice so far and it has lasted me for good one and a half month after washing it on alternate days. I think it could be more effective if I used a shampoo and conditioner made for colored hair.
Hands down, I know I am floating on self-love because of all the teachings of Law of Attraction, Positivity etc. But you feel really uplifted when someone compliments you and I have received a number of compliments on hair after coloring it - by my co-workers, friends and my Instagram friends. It's all worth-it!
Final Scoop on BBlunt Salon Secret
 I have always disliked that smell and eye-burning affect by hair colors and thank God, it is not one of them. I'd say that hair colors are still made of chemicals and this one is made of chemicals too. But comparatively less chemicals, that did not leave an adverse effects on my hair.
For the price and withover 158 written reviews on Nykaa.com, 216 5star, 126 4star and 38 3star ratings, I know I made close to a perfect choice. "Close" because there is always comething better.

Love and Light
JMS
Join Us

  :
NEWSLETTER | FACEBOOK | TWITTER |  GOOGLE+ 
*This post may contain affiliate links, products sent by brand/PR for consideration, paid content.
Disclosure Policy
.