Introduction
Alzheimer's disease is the most important of all degenerative disorders of the nervous system comprising about 50-70% of dementia's characterized by progressive impairment of the cognitive functions.
More than 90% cases of Alzheimer's disease are sporadic and occur in individuals older than 60 years. This disorder is initially thought to represent relatively uncommon pre-senile dementia, but later becomes clear that it can occur at any decade of adulthood.
It is characterized by memory impairment as a prominent and early feature and on advancing profound, cognitive impairments which leads to patient to be totally dependent.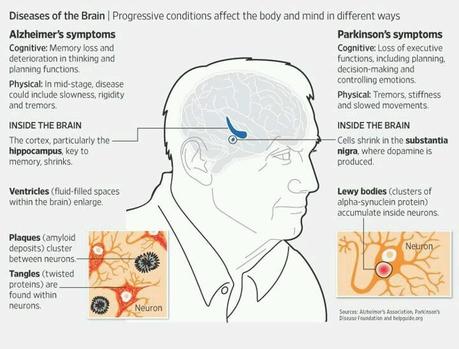 What are the causes of Alzheimer's Disease?
The cause of Alzheimer's disease is not yet understood. It may be due to the complex series of brain changes that occur over decades.
Some of the causes are:
What are the symptoms of Alzheimer's Disease?
Decline in non-memory aspects of cognition such as vision or spatial issues, impaired reasoning or judgment, word finding are the early symptoms of early stages of Alzheimer's disease.
Greater memory loss, wandering and getting lost, trouble in handling money and paying bills, repeating questions, taking longer time to complete normal daily tasks are the symptoms associated with mild alzheimer's disease.
unable to learn new things, coping with new situations, hallucinations, delusions and paranoia are the symptoms associated with moderate Alzheimer's disease.
In severe Alzheimer's disease, plaques and tangles spread throughout the brain. Therefore, brain tissue shrinks significantly. In severe Alzheimer's disease, people cannot communicate and are completely dependent on others for their care as they are on the bed all the time.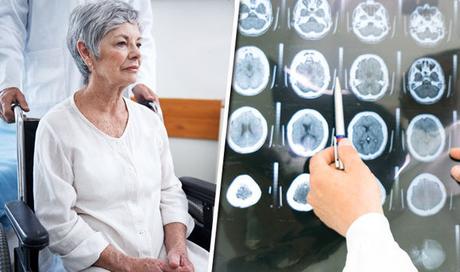 What is the treatment of Alzheimer's Disease?
Available management in modern medicine is effective in reducing some aspects of cognitive decline, but these medicines do not greatly influence the course of the disease.
But, the holistic and medicinal approach in Ayurveda offers possibilities to slow down the cognitive and pathological changes of Alzheimer's disease, thereby restoring the normal brain function in affected patients.
According to modern medicine, the management of Alzheimer's disease is difficult as well as frustrating for the patients because the main focus of treatment is the long-term amelioration of associated behavioral and neurological problems.
In contrast, Ayurveda has explained methods for specific characteristics of this disease namely authoritative, instruction, direct observation and inference.
What is the pathogenesis of Alzheimer's Disease according to Ayurveda?
Ayurveda, while explaining the effects of aging on decades, describes the loss of "Medha" (cognitive ability) and "manas shakti" (mental strength) after 60 years of age. According to Master Charak, there is a diminution of body tissues, strength of sense organs, energy, valor, power of understanding, retention etc. after 60 years of age.
There is an imbalance of Vata dosha in Alzheimer's disease according to Ayurveda. On aging, Vata gets vitiated which leads to improper functioning of mental faculties that leads to delirium. With the vitiation of Vata dosha, impaired memory develops.
Ayurvedic Treatment of Alzheimer's disease by Planet Ayurveda:
Planet Ayurveda offers best treatment for the treatment of Alzheimer's disease.
Herbal Remedies offered by Planet Ayurveda:
Brahmi Capsules
Curcumin Capsules
Gotukola Capsules
Memory Support
Medhya Churna
1.Brahmi Capsules:
Brahmi Capsules by Planet Ayurveda are prepared using the pure and standardized extracts of the herb Bacopa monnieri. Brahmi herb is considered as a strong tranquilizer. It has strong positive effects on the nervous system as well. This herb works well to enhance the coordination between the components and nervous system. Hence, this herb increases the functioning of the brain. That's why, these capsules act as brain tonic. This product is very effective in treating the patients suffering from Alzheimer's disease.
Dose: 2 capsules twice a day.
2.Curcumin Capsules:
Curcumin Capsules are the herbal formulations that are prepared by frequently used herb in Ayurveda for a number of health purposes. These capsules are prepared from the standardized extract of the herb Curcuma longa. This compound is well known to reduce amyloid accumulation which is a primary aspect of brain disorder and these capsules promotes the amyloid phagocytosis. It helps to maintain healthy functioning of brain by removing toxins.
Dose: 2 capsules twice daily.
3.Gotukola Capsules:
Gotukola capsules are made using standardized extract of the herb Indian pennywort. This herb is useful in nerve exhaustion that occurs due to stress and anxiety. This herb is useful in all kinds of nerve related disorders hence considered as an excellent herb to manage Alzheimer's disorder.
Dose: 2 capsules twice daily.
4.Memory Support:
Memory Support are the herbal capsules of Planet Ayurveda which are made by using the pure extracts of wonderful herbs. These capsules help in managing memory loss and also increase the brain power and support its healthy functioning. All the herbs that are used in memory support capsules are effective in managing Alzheimer's disease.
Ingredients of Memory Support Capsules
Dose: 2 capsules twice daily.
5.Medhya Churna:
Medhya Churna of Planet Ayurveda is an herbal powder prepared by using special combination of standardized extracts of several herbs. This herbal powder is helpful in improving memory, remembering and recollecting things. This churna rejuvenates the nervous system and brings mental clarity too.
Ingredients of Medhya Churna:
Dose: 1 gram powder twice daily with water.