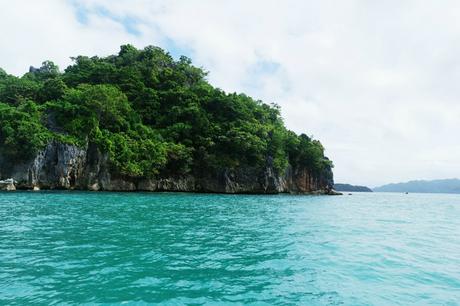 Harboring fantasies of an island hopping adventure? Consider a trip to Caramoan Islands in the Philippines.
The Philippines is composed of 7,107 pieces of paradise, and some of those are scattered just off the coast of Caramoan Peninsula. Some are uninhabited, and some are too small for Google Maps to bother with. Some islands are not as remote as I thought but still, there are no luxury hotels, no fast food chains. There's a cell phone signal but you have to be patient if you're going to post on Instagram, or need to attack on Clash of Clans. Electricity are also limited due to a previous storm that destroyed local power plant. Only generators run during the day but proper supply are back at night. But majority of the islands or islets do not have electricity at all, or even a toilet.
It is the perfect place to disconnect from the stress, hustle and pollution of the city. You won't see anything else but the wild composed of beautiful limestone, white sand and blue-green sea. It's no wonder worldwide hit reality TV show Survivor find it the perfect venue for their show. They rented some of the islands for seven years, but now it's over tourists can now enjoy them.
You can arrive on Caramoan Island by airplane or bus directly from Metro Manila, or, for even more of an adventure, you can ride a boat on Sabang Port. A three-day trip, stopping over in some of the gorgeous remote islands in the Philippines for approximately $100 or Php4700? YES, PLEASE!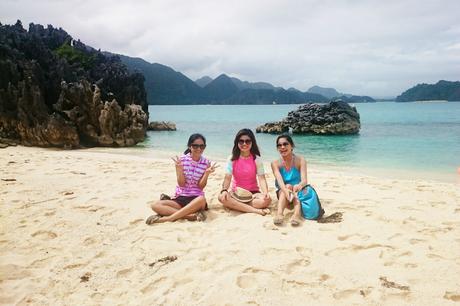 How to travel to Caramoan Island?
There are tons of travel companies that organize this trip, but one stands out above the rest: a local-owned called Caramoan Tours (you can also visit their Facebook page here). Besides accommodation and land transfers, the tour package also promises two breakfast, two lunch, two dinners, on a 3-day/2-nights island hopping adventure with a side trip in Naga City. So for an annual get-together with my high school friends we decided on a trip to Caramoan. We book our reservations, paid the deposit, and hold our breaths.
Unfortunately it was August, the start of wet season of the Philippines. A typhoon landfall on the country on the day we were scheduled to leave. All sea and air travels in Southern Luzon were cancelled. Fortunately, cancellations due to natural occurrences are allowed by the travel company to be reschedule with no extra fees. So we rescheduled it on mid-September, but it was cancelled AGAIN. This time there was an Earthquake in Chile. The epicenter was from the Pacific Ocean and coincidentally the Caramoan Peninsula is facing the Pacific. So obviously, a tsunami alert was raised. Once again, all sea activities were cancelled, our trip was cancelled.
We were planning to reschedule it by October or November but due to another series of unfortunate natural events, it seems like faith –or rather nature is stopping us from going, we decided to reschedule the trip on the following year. LESSON LEARNED: The best months to travel in the Philippines are from January to July ONLY. Please, take note of that.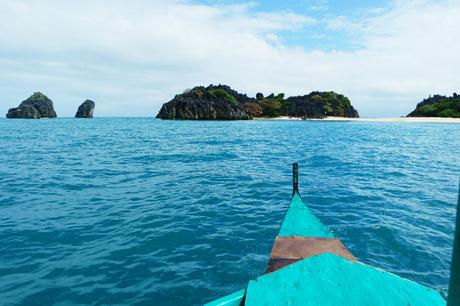 Well they say third time's a charm, and indeed it is! On a cold Thursday night of January 28, 2016 our much awaited trip FINALLY happened. We traveled to Turbina Bus Terminal in Calamba City where the shuttle service picked us up around 8pm. Traveling from Turbina to Sabang Port is approximately a nine-hour LONG drive. And I must say, I think I know what Matt Damon felt when he was stuck in Mars with only 70's disco pop music. That "interesting" era of music was on-loop on our van's radio! It was torture to my ears, but my fellow passengers doesn't seem to mind since most of them came straight from work so they're dead tired. I've never been so much thankful for my Spotify Premium subscription. It helped me survived a long road trip and a 70's disco medley.
By 5am –cold and sleepy with stiffed necks– we finally arrived at Sabang Port. From there we rode a boat for Php120 or approximately $3 per person. Prior to our trip in Caramoan I've never rode a huge wooden boat before. They look like a yachts, but aesthetically it's far from yachts I often see in Manila Yacht Club, or those you see in Ibiza. But the rustic charms of those boats just adds excitement for an adventure ahead. And I'll assure you that they are safe and have enough life vests for a two-hour travel.
Around 7am we arrive at Guijalo Port in Caramoan Peninsula, but the travel doesn't end there yet. Another shuttle was waiting for our tour group to take us to Victoriapress Guesthouse, a beachfront inn were we stayed. It was only a half-hour or less travel from the port. But we're too excited, we couldn't even stopped ourselves to ask the universally annoying question "are we there yet?" But when our tour guide said "we're here" all exhaustion from a long travel were vanished in a second especially when we saw the beach and the islands beyond the horizon that we're going to explore for the next two days.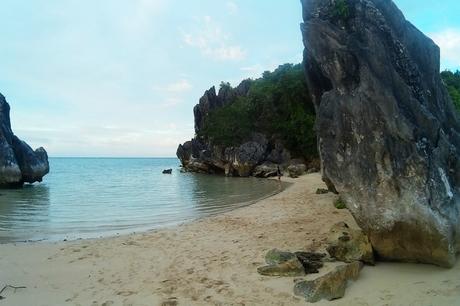 ON MY NEXT POST…
We had an unforgettable three-day Caramoan island hopping adventure and short side trip in Naga City. I'll tell all about it on my upcoming posts. It will be a tale of getting stuck in the sea, pee, puke and chili ice cream. But I promise you it's all fun! For now,  follow me on my personal Instagram to see the unforgettable moments immortalized by photos.
**This post was originally posted on my now defunct travel blog MondayProjects.com