Don't get any ideas anti-Ben Affleck Batman, fans, but it turns out over-zealous fans got their way with another franchise.  After the crap that has gone down with 50 Shades of Grey this past week there is suddenly very recent precedent for an actor in a high-profile role many thought he was wrong for apparently eventually agreeing with the fans and leaving the project altogether.
As revealed by The Hollywood Reporter this past Saturday, Pacific Rim/Sons of Anarchy star Charlie Hunnan vacated the title role of Christian Grey in 50 Shades of Grey.  The official reason cited at the time was that his shooting schedule on Sons of Anarchy would not allow him time to properly prepare for the role, with around a week or so separating the end of his Sons of Anarchy shooting schedule and beginning of shooting on 50 Shades of Grey.           
–>Don't know what 50 Shades of Grey is?  Have never heard of Charlie Hunnan?  Check out our prior coverage for a breakdown of the plot of 50 Shades of Grey and backgrounds on Hunnan and Dakota Johnson, who has been cast to play the female lead.  
After his starring role in this summer's Pacific Rim failed to click with domestic audiences and the running jokes that it's a miracle Sons of Anarchy show creator Kurt Sutter is able to get as much in way of performance out of the otherwise inert Hunnan there has to be more to this, right?  After all, Hunnan's departure three weeks prior to production on a film that absolutely cannot afford any delays if it is to meet its August 2014 release window has left Universal and Focus Features pretty severely screwed (and this is after Focus Features just hired a new President of Production and revamped most of their executive board).  They are now quickly approaching rumored new candidates for the role like Jamie Dornan and Christian Cooke.  One hopes for the sheer sake of comedy that Hunnan burned a literal bridge (perhaps a small one over a koi pond or something) on his way out the door.
So, it's to no one's surprise to hear that there is indeed more to this story.  It starts with the script.  There simply is not much in the way of plot to the novels, and E.L. James writing is notoriously grammatically-challenged.  The adaptation duties have been handled by Kelly Marcel, a relative newbie with only staff writing for Terra Nova and a co-writing credit for the forthcoming Tom Hanks film Saving Mr. Banks to her name.  Well, it turns out Hunnan is a bit of a writer himself, having sold a vampire-centric screenplay to Brad Pitt's production house.  He is said to have offered such extensive notes to the studio on the 50 Shades script that he asked to be brought on as an official screenwriter to perform formal re-writes, a request which was denied.  However, the studio apparently agreed with the need for re-writes, hiring Patrick Marber (Notes on a Scandal) to perform re-writes on the day that Hunnan's departure was announced.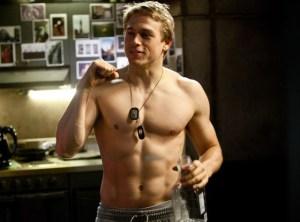 Well, get ready to say goodbye to these!  …. these being his abs of course
Beyond all of that, the attention Hunnan received was such that Universal had to hire bodyguards for him at a recent Sons of Anarchy premiere event, and Hunnan subsequently canceled appearances at two similar events.  You hear that, 50 Shades of Grey fans?  You loved/hated Hunnan too much.  All he wanted to do was to sexually and mentally dominate Dakota Johnson, show off his abs, probably wear some leather pants, perhaps take a whip of some sort to Johnson's posterior for some S/M fun.  But, no, you just had to go and scare him away.
Please, Batman fans – do not get any ideas about ways to unroot Ben Affleck from the role of Batman.
It should be noted that we are not fans nor haters of 50 Shades of Grey around these parts.  This movie is just such an extreme curiosity – novel began its life as Twilight fan fiction, the director (Samantha-Taylor Wood) is a 46-year-old woman married to a 23-year-old man, etc.  There are incredibly popular novels that are translated into movies that make a lot of money, like the Dan Brown-Tom Hanks-Ron Howard Da Vinci Code/Angels & Demons).  Then there's 50 Shades of Grey in which the entire plot is hinges upon a young woman's rather kinky, S&M-related sexual awakening.  It will be an erotic film in an age where those films simply do not play, either domestically or overseas (see our discussion of that here; here for our comparisons to The Girl with the Dragon Tattoo). These are films which end upon MrSkin.com now to forever provide easy access to those who simply enjoy the novelty of a semi-known actress showing off her naughty bits – not ones aiming to be a cultural phenomenon like 50 Shades.  The question remains how the hell they are going to pull this off, and now we know they'll have to do it without Charlie Hunnan.
Frankly, we can't wait to see what happens when this comes out, but that's jumping too far ahead.  They now need to find a new leading man who is willing to take a huge risk on the project AND has palpable chemistry with Dakota Johnson, whose casting was contingent upon her chemistry with then-already-cast Charlie Hunnan.  Universal and Focus Features, you're on the clock.  Go!