Hey dear ladies. I've been kinda gone from my blog for nearly a week, I'm sorry about that. If you've read my About Me Page, you'll know that I divide my time between two cities- my home and my college+hostel. Right  now I'm back at home(Mumbai) and it feels awesome, I'll be here till the end of June! I reached here on Saturday, 7th. My 3rdyear results came out on Friday, the night I was leaving my hostel to go home. Let's not talk about studies here, but in case you're interested I scored 8.5. Mumbai is SO hot and humid, 10thJune was actually the hottest ever, my hair is really suffering. My laptop is being a world class b*tch at the moment, so I had to back it up and give it to the service center, god knows when it will be back. I spent a good amount of time backing up all my files, which are, alarmingly, 600GB :O
On Saturday, I watched X-Men: Days of Future Past. Amazing movie, y'all!!! I was literally biting my nails, and I never do that! I don't actually remember the story word-for-word from the comics, but when I do my opinion will probably change. If you haven't been regular with the X-Men movies, it might be hard for you to understand the characters, because there's absolutely no introduction of them and their powers here. My favorite mutant: Blink (played by Fan Bingbing), just for her powers. Fan Bingbing has signed up for 5 more X-Men movies, I'm so looking forward to Blink, her mutation is awesome. This movie doesn't really need 3D though. Sunday was the day the Mumbai Metro finally, finally started. I didn't go for a joyride though, and that was a good idea, because 2 lakh people tried it out, imagine the crowd! Here's a pic I had posted to my Instagram.
I spent Sunday trying to put together my summer wardrobe
. Here's a sneak peak of what it looks like. I don't like wearing neon colors for my outfit, I find pastels much more wearable and cute and pretty and fun and…I can go on, but you get the point. I prefer neons in my accessories and makeup.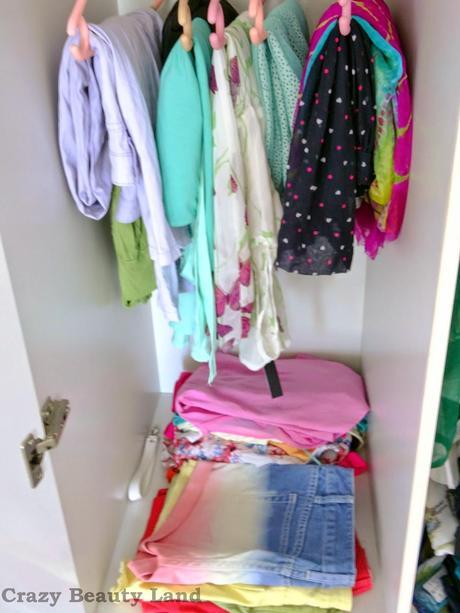 I went to the Second Infinity at Malad, 

also known as Infinity 2
, because it has a larger
+Forever 21
 store and it's the kind of store that has everything you need for a complete outfit-clothes, shoes, accessories, makeup tools. This time though, I was really disappointed because they didn't have the cute wedges I wanted, and their heels are too freaking high for my height! I brought an adorable cropped top and a pastel coral skirt(looks darker in pics). Call it coincidence or destiny; both the pieces were picked up from different floors but I realised they're meant for each other in the dressing room, while trying them on! Both of them together cost me less than Rs.1000. The coral roses on the top are the exact same color as the skirt, although it doesn't seem so in this pic, it is so in reality :P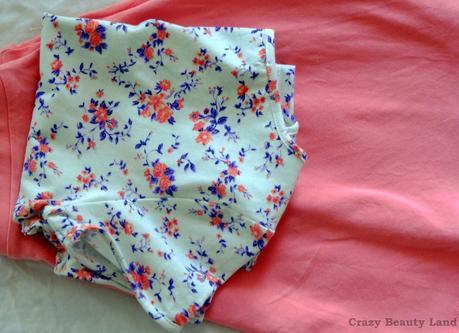 (Names) Skirt/Short/Salmon:Rs.369, Crop Top Cream/Coral:Rs.559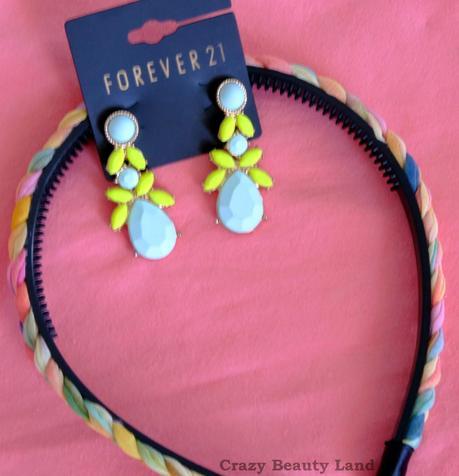 (names) Headband Peach/Multi Colored:Rs.179, Earings Medium Gold/Seafoam:Rs.409
 I also brought this headband which screams summer to me, and neon earrings. The earnings are kinda expensive, Forever 21 doesn't have the best quality accessories, they break off and get dirty soon. I should have shopped more because Malad is so damn far from my house and I won't be able to go back anytime soon, but I was tired :( All I need is a perfect pair of wedges now!
I also swung by the Marks & Spencers at Infinity, and its soo huge! It also has M&S beauty which I've only read on blogs and never actually seen
. After a little enquiry with the SA I discovered that as of now, only two stores of M&S in Mumbai have a beauty section, the other one is in Bandra. There are two ranges: Limited and Autograph. Autograph is expensive…too expensive. Limited is more of  a budget friendly type. Their bronzer was on my wishlist but I after swatching I felt it would be light for my medium skin tone. They had some really good blushers for Rs.449 only. I'll definitely pick one up next time. I have this new rule that I'll only buy the makeup if after first sight it haunts me, if it doesn't, its not worth it :P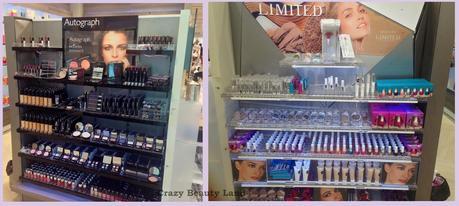 Music that I'm currently obsessed with:
Me and my broken heart ~ Rixton
Favorite lines: All I need's a little love in my life
All I need's a little love in the dark
A little but I'm hoping it might kick start
Me and my broken heart.
Birthday ~ Katy Perry
Favorite line: So make a wish
I'll make it like your birthday everyday
I'll be your gift
Give you something good to celebrate
I Can't Make You Love Me ~ Priyanka Chopra
It has really good beats.
This vacation is one of the most important one in my life actually. First off, it will be my penultimate Looong holiday, if I take up a job after my 4th year. Secondly, I have to prep for campus placement and other tests! I will be blogging regularly though, because its like a distress regime for me! Posts that will be up soon:
My take on the Revlon Matte balm.

Rimmel Stay blushed liquid blushes- this review is way overdue

Summers time nail colors.

A shine caresse lip color, a lip polish etc..

…not necessarily in that order!
What have you been up to ladies?