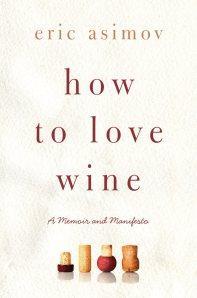 How to Love Wine – A Memoir and Manifesto, by Eric Asimov
"Great wines don't make statements, they pose questions.' – Hugh Johnson
Recently, binNotes finished reading Eric Asimov's How to Love Wine – A Memoir and Manifesto. Another title might be 'The Zen of Wine.'
binNotes purchased the book at the 2013 International Pinot Noir Celebration in McMinville, Oregon after listening to Asimov speak. The wait in line proved time well spent.
In How to Love Wine – A Memoir and Manifesto, Asimov recounts his personal love affair with wine with the humility of  'beginner's mind', while razing  industry shibboleths with the thoughtful restraint of a Samurai warrior.
Asimov tackles such topics as 'The Tyranny of Tasting Notes' (including his own), 'Drinking by Numbers' (wine scores don't tell the true story of a wine), 'Seeking Higher Learning' (learning by drinking  vs. geeking out) with unflinching candor,  while admitting that "achieving an objective view of wine is exceedingly difficult."
Along the way, Asimov offers insights into his own personal journey as unabashed food and wine lover.
Asimov's passion for food and wine sparked long before his stint as wine critic. The inciting incident proved a trip  to France that  a teenage Asimov reluctantly attended with his parents. In a scene similar to the one recounted in Julia Child's memoir My Life in France, Asimov vividly recounts his introduction to authentic French cuisine, a lunch with his father at  Alain Ducasse's Parisian bistro Allard:
"To this day I can't remember anything in my life that tasted better than this simple meal – rib steak with sublimely delicate, flavorful green beans and sliced potatoes oozing with cream and cheese. More than a delicious lunch, it was a revelation, a turning point - like the time a friend played a record for me of the abstract, seemingly abstruse music of Charles Mingus – crazy jazz-when suddenly it clicked and made perfect, soulful sense to me."
Perfect sense indeed. Yet Asimov didn't aspire to become a food and wine critic.  He started out intent upon a college professorship. Reaching a 'rueful conclusion'  in graduate school at the University of  Texas, Austin that he was more 'sponge than faucet,'  Asimov  left academia to pursued a career in journalism, first as an editor at the Hartford Courant, then foreign editor at Chicago Sun-Times, before landing at the New York Times in 1984.  He's been there ever since, eventually earning the vaulted position of wine critic after  Frank Prial's retirement in 2004.
As wine critic at the New York Times, Asimov considers wine an 'expression of culture.' However, he also counsels: "Though an expression of culture, wine differs significantly from those fields we consider as arts."
Okay, this is when binNotes' viewpoint may differ slightly from the author.
However, Asimov does proffer: 'The art of producing wine, if we can call it that for a moment, is much more of an interpretive performance, and so the vigneron  - the  French term, which has no English counterpart, for one who oversees both growing grape and making wine-has more in common with an orchestra conductor, or a classical musician, say, than those who create or perform their own works."
As a freelance writer, I find Asimov's observations about the subject of 'objectivity'  required of wine writers especially trenchant.  How to Love Wine – A Memoir and Manifesto provides insight into that slippery slope between wine writer as participant and observer, between personal, emotional investment and professional, objective detachment. Between writing as tool and writer as 'tool.'
Ultimately, Asimov concludes that wine 'does has the capacity to move us.' As does this book. Wax on, wax off. Snatch the grape seed from my hand, grasshopper. How to Love Wine – A Memoir and Manifesto abides.
☂☂☂
Copyrighted 2013. All Rights Reserved.
Follow binNotes:      Facebook      Twitter      Pinterest
Filed under: Wine Tasting