Political Cartoon History Comes Alive With 
What Fools These Mortals Be: The Story of PUCK!
The Most Important U.S. Political Satire and Cartoon Magazine Gets Collected
San Diego, CA (June 26, 2014) – Published from 1877 to 1918, Puck was America's first successful humor magazine. It was also the most influential American humor magazine ever. It was also the first American magazine to publish color lithographs on a weekly basis. And, for nearly forty years, it was a training ground and showcase for some of the country's most talented cartoonists, led by its co-founder, Joseph Keppler.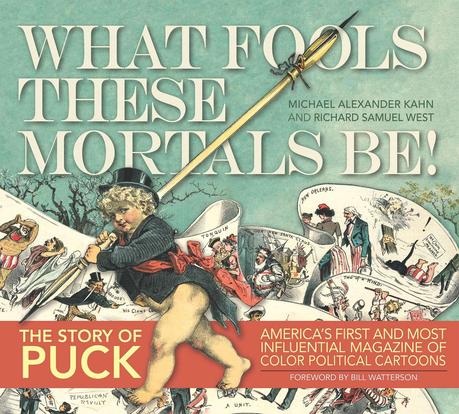 This October, IDW and The Library of American Comics will release an important contribution to political and political cartooning anthologies. What Fools These Mortals Be: The Story of Puck is a lavish coffee table book retrospective that beautifully displays why Puck is considered the most important political satire and cartoon magazine in American history. It's all about the art — lavish color full-page and two-page centerspread cartoons.
 
With nearly 300 full-color plates in a oversized 12" x 11" format, What Fools These Mortals Be: The Story of Puck is the first opportunity for most readers to see so many cartoons from Puck reproduced in color and at a large size.
 
Stephen Hess, in his seminal history of American political cartooning, The Ungentlemanly Art, said, "It is hard to overestimate the political influence of Puck…during the last two decades of the 19th Century.  It was greater than all newspapers combined."  It is often said that the magazine was single-handedly responsible for thwarting the third-term ambitions of Ulysses Grant in 1880 and electing Grover Cleveland to the presidency in 1884. 
  
Written by Michael Alexander Kahn and Richard Samuel West with reproductions made from their unique collections and supplemented by the Library of Congress, the book is organized by subject matter, reflecting the most important issues of the day. Each cartoon is accompanied by an explanatory caption, placing the work in historical perspective.
 
Bill Watterson (Calvin & Hobbes) provides the foreword to this important piece of American history. Take this special peek into the past and see how much, or in some cases, how little, things have changed.
Share on Tumblr