A while back Taiwan made headline by announcing their plans to provide free Wi-Fi to its citizens and foreign tourists. I immediately thought about the many benefits Mzansi could reap from such roll out.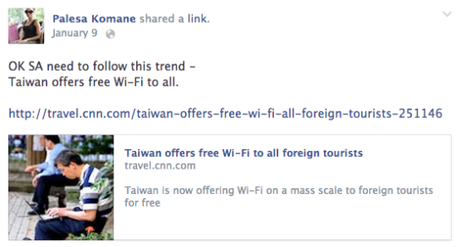 My FaceBook post to friends about Free Wi-Fi
The following week I saw a Facebook post the importance of Wi-Fi in society and he included the article "ANC manifesto promises South Africans free Wi-Fi".

As a Digital Content Marketer I have come to realize that South African has made leaps and bounds in the digital space. However I have come to realize that at time I still have a lot of challenge with reaching people in poor communities. This means that the effectiveness of my campaign is not at a desirable or optimal level.
Free Wi-Fi would make selling client education campaign or products an easier sell and ultimately heaven to me.
Please tell us how would your community benefit from having free WiFi? How would your industry benefit with the availability of such technology in the market? How would it help you to have such a resource available 24/7? Do you even this that such a resource would be used as its intended?