Alexis Z. wrote this piece in response to a question I've been asking for a while now: "What does being a girl mean to you?" If you've got a different opinion about what "being a girl" means to you, type it up and send it to me at

[email protected]

! See the official submission guidelines here.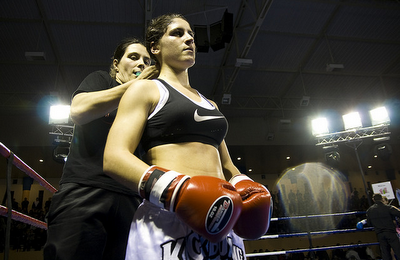 Women are fighters. Even without the gloves.
[Being a girl] means that I can do whatever I want. I can wear what I want and not be criminalized because of it. Though today some men think that it's okay to rape a woman because she is wearing a short skirt . . . being a girl means that I can wear pants, shorts,
or
a skirt. It means that . . . when I turn 18 I can vote, I can join the military. It means that my fore-mothers fought for equality and they fought hard. We don't have perfect equality today and it would be nice to have it, but we do have some. 
Being a girl is a sense of freedom that I can be myself. [But it also] means that whenever I am in a bad mood it's [automatically] "my time of the month." That isn't fair. 
Being a girl means that I have to fight for what I want . . . Being a girl means that I have to prove myself in whatever I do and I have to do it right, because if I don't then it will be said that "women can't do that." Being a girl is a blessing and a curse. Everyone says that women are equal, but being a girl means that I am a minority, even though women are 52% of the world's population.
Being a girl is wonderful. I may have to fight for my beliefs, but the fight is worth it. Even if I get shot down once, I am going to keep trying . . . Being a girl means that I am never going to change my opinion on anything that is dear to me. I thank all of my ancestors who fought for the rights that I have today, and I will keep fighting for the equality that all women still have to gain. 
Being a fighter, a mother, a lover, a pusher, and being
stubborn
is what being a girl means to me.
Other posts in this series: