Have I mentioned my love for flowers? I love seeing them, smelling them, growing them, getting them and I love giving them! I haven't lived near enough to anyone to hand deliver flowers for decades, so sending them has always been my method. My beautiful 100-year-old grandmother has been the recipient on many occasions and will be yet again next week when she turns 101!!! Can you believe it?
This year I'm using a Vancouver Flower Delivery service because they have such a fantastic selection and they don't just deliver in Canada, but also anywhere in the US. My flowers are headed to Michigan! Straight to my Grams.
Basking in the warmth of my own little sun room (called a conservatory here in Britain), I explored the website looking for just the right selection. I could almost smell them! The conservatory smells like a greenhouse when the sun is shining and it is a gorgeous day today. I always look for a beautiful bunch of flowers that will put a smile on my recipients face and at a great price. I found the perfect item.
It is bright, beautiful and  reminds me of a ray of sunshine - just like my Grams. I can already hear her delighted laugh and see her smooth pink cheeks lift into a huge smile.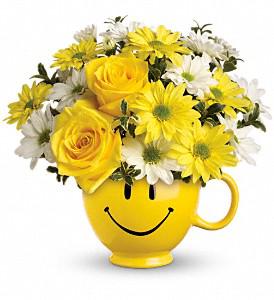 Don't you think she'll love it? And after the blooms fade she'll have a cheerful cup for her coffee and the daily reminder that she is my favorite person in the world.