Shiny, thick and voluminous hair is something that every woman wants. Hair is one of the most important assets in the human body as it decides the appearance of the person to a great extent. People facing the problem of hair loss or receding hairline, try various ways to get back their lost hair so that the appearance is not hampered by any means.
There are innumerable factors that contribute to the problem of hair loss. Some of the most important ones include stress and anxiety, pollution, poor eating habits, hormonal imbalances, allergies, use of excessive or wrong hair care products, hereditary factors and most importantly lack of proper hair care routine.
Since the problem of thinning hair and hair fall is on the constant rise, various cosmetic brands have come up with different kinds of shampoos, conditioners and other hair care products, which can restrict hair fall and provide nutrition to the hair as required. However, these products contain chemicals in some form or the other and might cause side effects. Instead of looking for artificial and cosmetic ways of thickening your hair, seek natural methods for the same.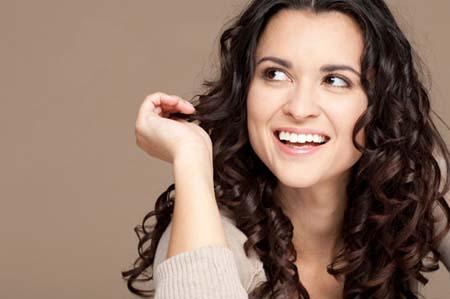 Mentioned below are some natural ways for thickening hair:
1. Coconut Oil Massage
The good old coconut oil in your home can prove to be very effective if you are suffering from the problem of hair loss or receding hair line. Not only this, this oil has also shown great hair thickening effects. Pouring the oil directly from the bottle and using might not bring the best results. Take some quantity of oil in a small bowl and heat it slightly. Now massage the scalp so that the oil enters the pores in the scalp. The hair follicles are stimulated by this and hair growth and thickness is improved. Hot turban therapy after the massage proves to be all the more beneficial.
2. Henna
If you go through ancient and historical remedies for hair thickening, you will surely find the mention of henna in them. Henna not only helps in making the hair thick, it also imparts abundant volume to the hair. You can have lustrous and bouncy hair with the application of henna on hair. The hair has a healthy sheen and effect with the use of henna. Henna powder is readily available in the market. Take the powder and soak the same in water for one night. Next morning apply the paste on the hair. Leave it for an hour and then rinse off with normal water. Never shampoo your hair after applying henna. Instead, apply some oil on the hair so that conditioning properties of henna are added. Try this every month for getting thick and lustrous hair.
3. Gelatin
Another strange but wonderful ingredient for hair thickening is gelatin. Application of gelatin gives hair natural thickness and volume. The overall appearance of the hair gets amazingly beautiful. It is recommended to purchase a tin of unflavored gelatin. It is extremely easy to use the product as well. Take 2 teaspoons of gelatin and mix the same with the shampoo. While shampooing hair, massage the hair with the made mixture. Let it remain like that for about 5-7 minutes. Use cold water for washing off the gelatin mixed shampoo. You can easily skip using the conditioner as that work is already done by gelatin. This remedy can be used every time you shampoo your hair. You are sure to get thick and dense hair in no time at all.
4. Honey
Honey is extensively used in different kinds of beauty treatments and is used for enhancing beauty and thickness of hair as well. Applying honey on thinning hair can repair the damage to the hair. Along with getting great volume, honey also makes the hair lustrous. Apply honey to the head, scalp as well as to the hair tips. Make sure that you apply honey gently so that hair strands do not break. Use a shower cap or a towel to cover the head so that the honey can be absorbed well. Let it remain like this for about 20 minutes. Use warm water for rinsing off the hair. Then follow the process of shampooing and conditioning as usual. Apply honey regularly to hair to make it thicker, shinier and stronger.
5. Baking Soda
Baking soda is a magical ingredient, which is used for various kinds of natural treatments for skin. If you are looking to give your hair fuller and voluminous appeal, applying baking soda can be of great help. Every strand of hair gets thicker with this natural remedy. Take 2 teaspoons of baking soda and mix it with the amount of shampoo that you use for your hair. Once the ingredients, mix well together, apply the same to your hair. Leave it like that for 5-10 minutes and then use cold water for rinsing it off. Give the conditioner a break. Instead of blow drying your hair, let it dry naturally in the air. If you are looking to clean hair thoroughly, you can use a paste of baking soda. Massage the hair with the paste like shampoo and rinse off with water later.