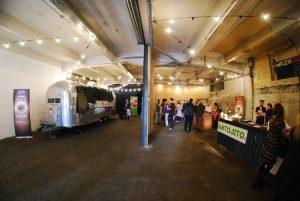 SWG3 got back into Street Food Cartel mode again recently, this time welcoming something a bit different, a Scotch Lamb Street Food Festival – so all the vendors supplied a lamb dish each with influences from Thailand Morroco, Mexico and Italy. We love lamb so headed along…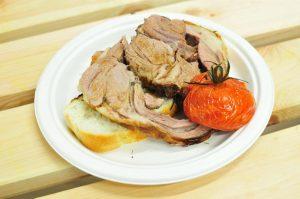 SWG3 Scotch Lamb Festival – So La Ti Dough
First up, located partially inside and outside of the warehouse was So La Ti Dough who had a lamb shoulder slow roasted in a wood fired oven with vine tomatoes, rosemary and garlic with a slab of focaccia. Simply but oh so delicious, and it may not look it from the photo but the portion was huge!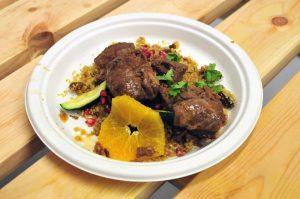 SWG3 Scotch Lamb Festival – Scoop Silver Bullet
Scoop, in their shiny aluminum wagon, provided a braised neck fillet with ras el hanout, pomegranate & sultana cous cous, which was really sweet and fruity. I'm not used to eating neck so the texture of the meat was a bit odd to me, and again it was a large portion so I had to leave some.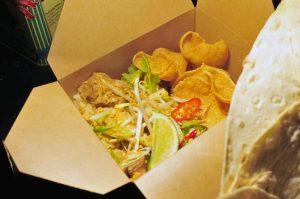 SWG3 Scotch Lamb Festival – Pad BKK
Pad BKK provided a lamb massaman curry with jasmine rice, Thai prawn crackers, crispy shallots, peanuts & herbs. A really tasty curry with all the fresh flavours that make Thai food great.
Regretably I never got to try the tacos from Antojito Cantina as my belly was full!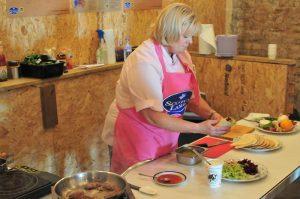 SWG3 Scotch Lamb Festival – Jacqueline O'Donnell of Sister's restaurant
Aside from the food there were also coconut & Oreo and fruit smoothies which were amazing!
We were also treated to 3 cookery demonstrations from Jacqueline O'Donnell who provided samples of her cooking (if you had room in your stomach!)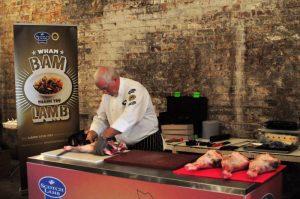 SWG3 Scotch Lamb Festival – butchery lesson
And that's not all…you could also try your hand at butchery! But there was a bit too much hacking and sawing for my liking, I'll stick to buying it from the butchers!
Wham Bam Thank You Lamb: website
Enjoy Quality Meat: Facebook