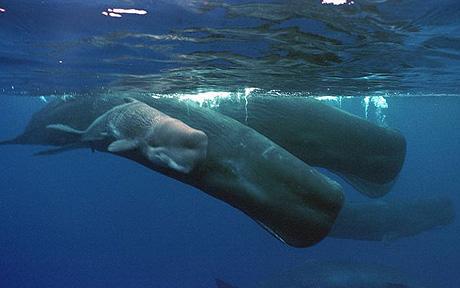 When they aren't singing whale pop songs to each other, sperm whales are chatting away just like we do. And just as we find it difficult to understand Paul's dulcet northern tones in the office sometimes, it has been discovered that whales also speak in various dialects.*
A whale from the Caribbean will have a different "accent" to its counterparts from the Atlantic or the Pacific. The team from the Dalhousie University in Nova Scotia have also discovered that baby whales talk "gibberish" much like human infants as they are unable to communicate properly.
Whales speak to each other using patterns of clicks which the scientists call codas. You can identify which whale is speaking by studying the sound of the coda.
"Just as we can tell our friends apart by the sounds of their voices and the way they pronounce their words, sperm whales can identify each other by the different accents of the clicks. We also discovered that Caribbean and Pacific whales have different repertoires of codas much like regional dialects." Said PhD student Shane Gero.
If you are interested in pursuing a career in marine conservation research then why not take a look at our website and find out more about our projects and our dissertation options.
*There is no data to suggest whether or not sperm whales are partial to a pork pie with pickle.