The last global tournament of the stroke play season will see an unprecedented number of newcomers rewarded for their wins with a place at the WGC-HSBC Champions. There's also a good chance that, for the first time in golf history, the season will end with all the Major titles and WGC trophies in the hands of first-time winners. Tim Maitland reports.
As the world's best golfers descend on Shanghai for the WGC-HSBC Champions, the world of golf has never been so wide open.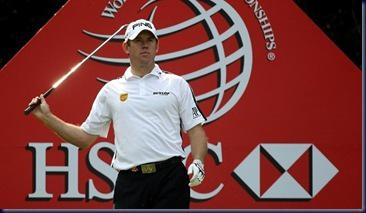 photo credit: GolfCentralDaily.com

At the moment all of the big trophies have pride of place in their winner's display cabinets, because none have won at such lofty levels before. The PGA Championship and US Open Championship belong to relative youngsters in 25-year-old Keegan Bradley and 22-year-old Rory McIlroy. The Masters belongs to Charl Schwartzel, 27, making first-time Open Champion Darren Clarke look like a grizzled veteran at 43.
This year's WGCs belong to a group of thirty-somethings – England's world number one Luke Donald (WGC-Accenture Match Play Championship), American Nick Watney (WGC-Cadillac Championship) and Australia's Adam Scott (WGC-Bridgestone Invitational) – while 28-year-old Italian Francesco Molinari returns to Shanghai to defend the WGC-HSBC Champions.
Thirteen different players have won the last thirteen Majors and only three of them (Mickelson, Cabrera and Harrington) have won Majors before. The last nine World Golf Championships events have also been won by nine different winners; a spell unprecedented since the stable of elite tournaments was introduced in 1999.
There have been six different winners of the last six European Tour Orders of Merit (more recently the Race to Dubai). Compare that to the period between 2005 and 1993 when Colin Montgomerie (eight times), Ernie Els (twice), Retief Goosen (twice), and Lee Westwood (once) shared thirteen titles.
It's the same on the PGA Tour, where democracy reigns after the duopoly of Tiger Woods and Vijay Singh who were the only players to lead the PGA Tour money list at season's end or record the most wins between 2009 and 1999. The PGA Player of the Year award and the Jack Nicklaus Trophy (The PGA Tour Player of the Year), with the exception of Padraig Harrington claiming both in 2008, also belonged to Woods or Singh.
This season there have been twelve first-time winners during PGA Tour regular season and an almost unprecedented parade of rookie winners. Compared to the stability of previous years, even the FedEx Cup and Tour Championship winner Bill Haas – a two-time PGA Tour winner in 2010 – could be described as coming from relative obscurity.
The reason would seem to be obvious: the decline of Tiger Woods. Arguably the greatest golfer ever (although some will deny him that claim unless he rebounds and overtakes Jack Nicklaus's record of eighteen Major triumphs), Woods was so dominant that through to the end of 2009 he'd won almost thirty per cent of his starts on the PGA Tour.
If you combine his two hottest periods, from 1999 to 2002 and from 2005 to 2008, he claimed thirteen of the twenty-seven Majors he played.Up until the end of 2009, he triumphed in sixteen of the twenty-nine WGC events in which he competed.
What we're seeing now, with Tiger so far down the rankings and so far removed from his last big victory that he hasn't qualified to play in China, is not just young talent, but several generations of golfers figuring out how to win.
Part two in Tim Maitland's article coming soon: Why should learning to win matter?
Voice your opinion on Twitter @Golf4Beginners and friend us on Facebook.