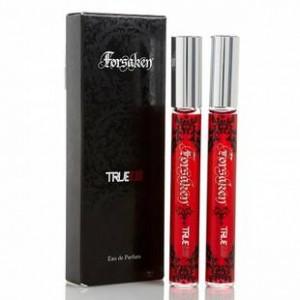 WetPaint.com have just announced a fabulous competition giving one fan of HBO's True Blood the chance to win a Forsaken Eau de Parfum roll on. This easy to use item has the wonderful multi-layered scents of sweet berries, sensual jasmine, mysterious amber and vanilla. Sounds delicious and just the way I imagined fairies would smell to a vampire!
So if you want to be the lucky winner, all you have to do is email WetPaint at [email protected] and tell them who you think Sookie Stackhouse (Anna Paquin) belongs with. All entries must arrive by Saturday, Feb. 2, 2013 at 11:59:59 PM PT. WetPaint will pick one (1) winner at random and notify them via email after Feb. 8, 2013. Full details can be found on the WetPaint website here.
Good Luck everyone!
Alternatively, if you don't win, you can purchase Forsaken Eau de Parfum straight from the HBO website. If you order it from HBO's Valentine's Day Boutique and use the code BEMINE at the checkout you are also entitled to 20% off your purchase – it's a win-win situation for everyone!
Sources: WetPaint.com - Want to Smell Faerie Good Like Sookie Stackhouse? Enter to Win True Blood Perfume!
HBO.com – Valentine's Day Boutique
(Photo Credit: HBO Inc.)