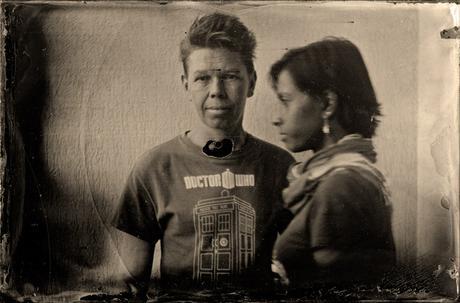 The Magic One and the Grumpy Old Time-Lord – Photo by Darko Ilic. To demonstrate the process for us, Darko made the first wet plate and I saw a chance to get a portrait of us on wet plate, love this one – thank you Darko!
Collodion process – wet plate photography – was invented back in 1851. As it turns out, if you take a bus from Belgrade you can actually travel back in time and try this yourself! Charlene and I, together with Belgrade photographer Marija Konjikušić, boarded a bus bound for 1851. Well, not quite, we were going somewhere in the hills outside of Belgrade where chemistry technician and photographer Darko Ilic lives – to attend a collodion process – wet plate photography – workshop.
We arrive and are greeted by Darko and his wonderful dog Oči (like Chewbacca, a bit of a walking carpet!). Darko first presents us with some facts and history about the collodion – wet plate – process. I must admit to knowing very little of the process beforehand except for the name and some of Sally Mann's images so it is very interesting to learn about the process. Turns out, not only can the silver nitrate make you blind, if you use potassium cyanide as a fixer (we did not) it can kill you!
There is nothing like seeing the actual process in action though and Darko sets up a shot of us so he can demonstrate the whole process. The collodion must be done fast in one uninterrupted process, so you need the lab close to your shooting location. First, you setup your shot on the large format camera. Then prepare the glass plate with the chemicals. Now you only have a short time to make the picture before the collodion dries. So you shoot and get back into the lab to develop the plate. This is where true magic happens as the piece of glass is transformed into an image! In just 15-20 seconds, the milky chemical coating on the glass plate gets developed into an image.
My two wet plate pictures
After Darko's run through of the process we got to try the process ourselves. For my first attempt I spilled a lot of collodion on my hand but apart from that I did almost everything right – except I forgot to lock the focus on the camera! This meant I probably bumped it a bit while swapping out the focus glass for the wooden holder box with the glass plate and the result came out somewhat out of focus. I love the image though, got a creepy dreamy David Fincher feel to it so I am going to say I did it on purpose!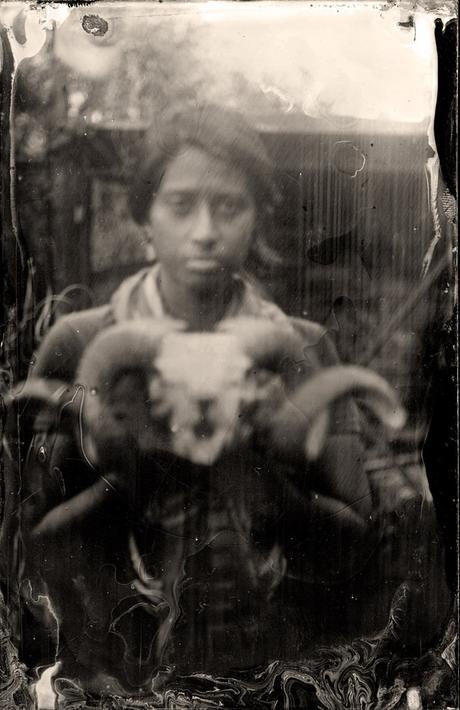 My first ever wet plate photograph. I almost got everything right, except the old Jedi here forgot his reading glasses and forgot to lock focus on the camera. So focus moved a bit and the result is a soft-focus version that I actually really like. There is a David Fincher Se7en creepy feel to this image, so I am going to go ahead and say the soft focus is on purpose!
In the second attempt I spilled less collodion and I remembered to lock the focus: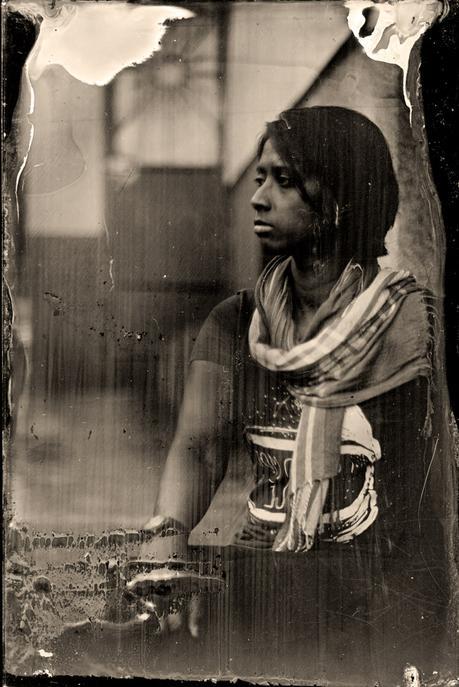 My 2nd wet plate shot. 20 second exposure.
I am really happy that I actually got two pictures out of my first two attempts.  We made 5 pictures all in all over a few super fun hours. Completely high on this wonderful experience, it was time for a wonderful Serbian lunch and some rakia.
This was a fantastic workshop by Darko. It is one of the most amazing things I have ever tried, and some of the most amazing pictures I have ever created. Why? Because I created the images by hand from start to finish. I set up the shot on the large format camera and then prepared the glass plate with collodion and silver nitrate. Then ran down to the camera with the plate inside the wooden holder, double checked the shot and made the exposure – which again is entirely manual. Ran back up to the lab to develop the plate to watch the image come alive. Then, after rinsing, drying and varnishing the plate (Darko kindly did this part) I could hold in my hands a glass plate with an image on top of it. Created entirely by hand using nothing but a wooden box, a piece of glass and chemicals. Truly, truly mind boggling and awesome.
I shoot digital 100% and since I live as a nomad I do not even have access to print my pictures very often (a printer is hard to fit in the bag). I make a lot of images from around the world every year but they are never tangible. I do not create them by hand and they are usually viewed as pixels on a screen. At best, on a nice big display, at worst on tiny phone screens via stuff like Instagram. Digital photography is incredibly powerful and convenient, especially as a nomad, but there really is a hands-on creation aspect missing from it.
We spent 4-5 hours completely engulfed in wet plate photography doing nothing but manual creation of images by hand. Not once was I online, not once did I look at a screen. Whether I like it or not I belong in the digital nomad category and I generally spend too much time looking at screens on a laptop, on my camera or on my phone. It is how I live and how many of us live in this digital age and I love "digital" and the internet, I could not do what I do, live as I live and making a living without it. But I was actually born a while ago (not quite in the 1850s like the collodion process) and grew up with no digital life whatsoever. We had a black and white TV when I was born, with one channel. The phone had a dial on it. Computers were something in sci-fi movies. Dinosaurs ruled the earth (well, almost). I spent so much time as a kid making things by hand out of wood, metal, paper, Lego etc.
Making creative things with your hands is I think fundamental for human beings, going back to making fire, making tools. It is something I miss and I realise just how much I miss when I am given a chance – like the wet plate – to make something creative by hand, not using a digital tool. How to incorporate this more in my digital lifestyle? Food for thought, for myself.
Conclusion: These are not the best pictures I have ever made, but some of the most satisfying pictures – and photography – I have ever done. If you ever get a chance, he does workshops in Serbia and sometimes other places in Europe, doing a collodion process with Darko Ilic is an absolute must – extremely highly recommended!
Thank you so much Darko for a truly amazing workshop (and wonderful food and rakia!), and thank you Marija for arranging it all.
§
Links: find Darko on Facebook, and on 500px. 
Pictures from the time-travel trip to 1851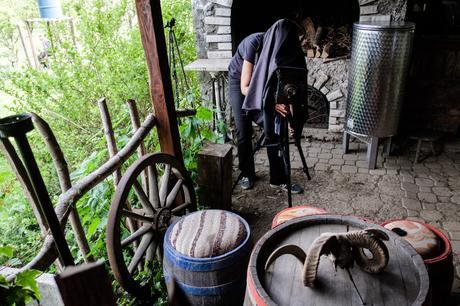 Charlene has gone to the dark side to compose her first shot.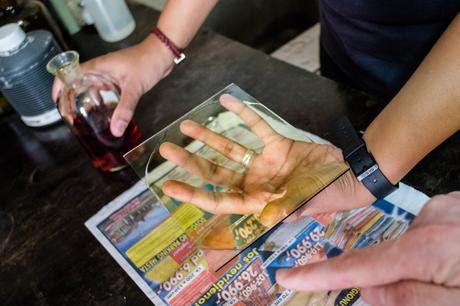 Charlene has just poured the collodion (in her right hand) onto the glass plate and now the trick is to move it evenly around the glass and then pour off all excess. If you are me, you spill a lot at this part!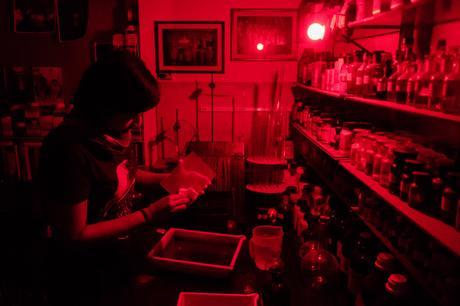 Charlene wipes off excess silver nitrate from the backside of the glass.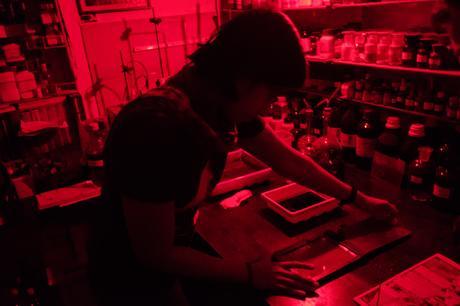 One of the trickier parts, getting the ready-to-shoot glass plate into the wooden holder.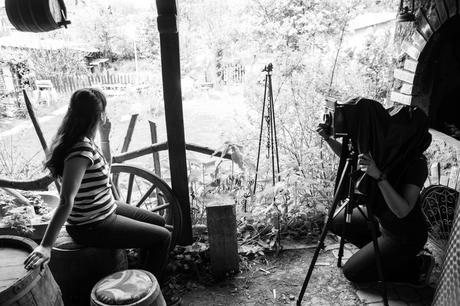 Charlene is back in 'da hood' (great joke!) and lines up a really cool portrait of Marija.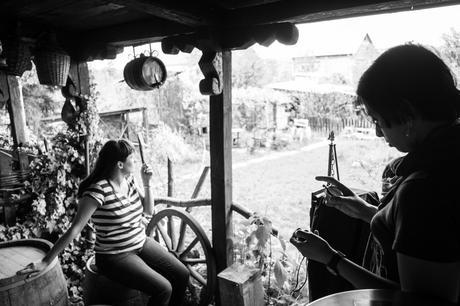 Exposure is simply measured on a stop watch, this one was about 15 seconds I think.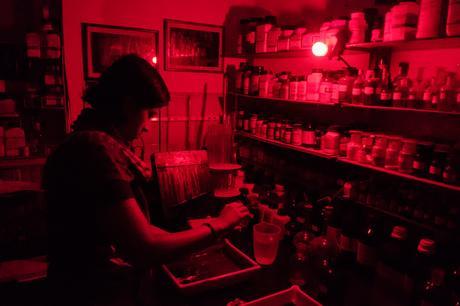 Charlene pours developer over the milky white glass plate and after 15-20 seconds an image is formed on the glass. It really feels like magic!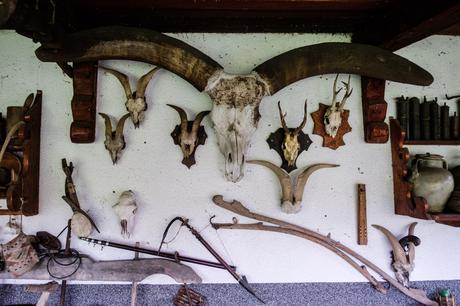 The garden terrace at Darko's place is a haven of interesting skulls and historical artifacts and tools. He even has a mammuth tooth, and I am sure this big skull is a dinosaur (ok it's a cow, but one bloody big cow!)
"Look how long my arms are". Charlene and Oči the dog looks suitably impressed, Darko clearly thinks I am the best student ever judging by his body language! (picture by Marija Konjikušić)
The "viewfinder" on a large format camera is amazing. It is dim, must be viewed under a black hood and upside and flipped – but it is an almost augmented reality to look at the large image. On the left is a shot of the ground glass where you can just make out Charlene upside down and flipped – on the right I inserted a shot of the focus glass from under the black hood and a good representation of what you see when composing.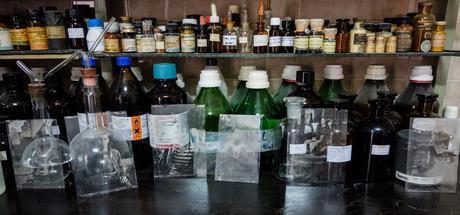 The 6 plates of the day and some of the chemicals in Darko's lab.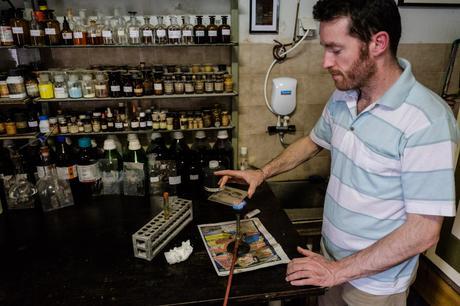 Darko offered to do the varnishing of the plates for us, the last part of the process. We happily agreed as it is a difficult process and it is easy to destroy the image completely here. Also, since it involves fire and flammable chemicals, I would probably burn down his house!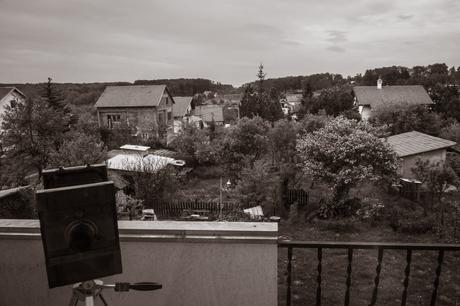 A view from the balcony outside Darko's lab. It was really wonderful to spend a day in the countryside.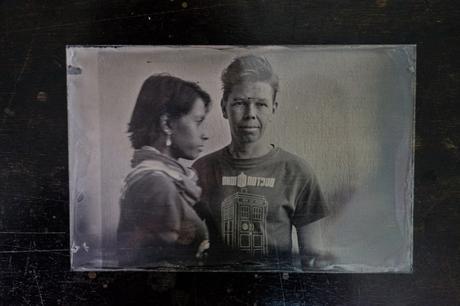 The image is a negative but as the image and the glass is transparent, if you put it on a black background such as here, it becomes a positive – again, magic!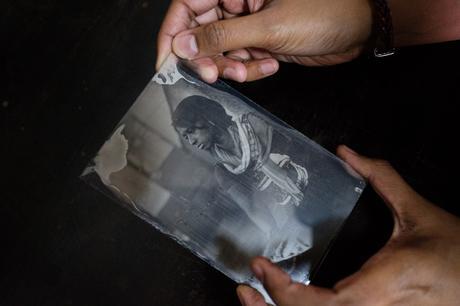 My portrait #2 of Charlene. It is truly a fantastic thing to see an image, made entirely via chemicals on a piece of glass.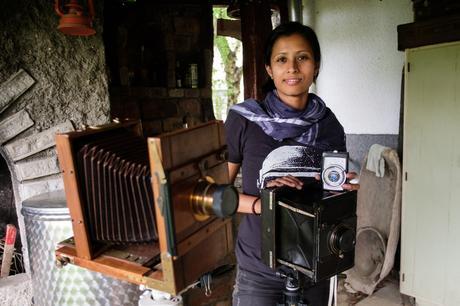 The cameras, The Magic One and a geiger counter (ok it's a light meter – or a Star Trek medical tricorder)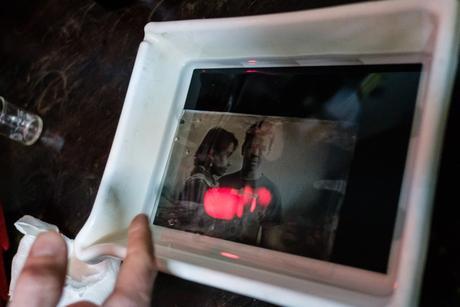 The Magic One and The Old Grumpy Time-Lord in a bath of fixer liquid. Watching the piece of glass turn into a picture is nothing short of magic.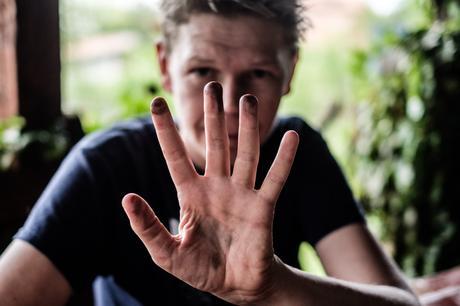 Proof of making images by hand – when you spill collodion you get silver hands and it sticks around for a few days too. (picture by Marija Konjikušić)