Today I am reviewing Wet n Wild Mega Shield Lip Color Barely Legal with SPF 15. I have been using this lipstick from past few months and I just realised I havent reviewed it on my blog and I knew I had to.
What Wet n Wild says about these lipsticks:
This luxurious lipstick delivers hours of sheer-to-moderate coverage that glides on buttery-soft for a moist-looking pout. Lips are comforted with vitamin E, amino acids, avocado oil, and rice bran oil that moisturize and condition. And with SPF 15, lips are cared for and protected from harmful UVB rays. 
Price: $2.99 USD
I love the fact that these lipsticks have SPF in them as not all lip colors have that. So any added protection from the harmful UBV rays is always good.
Barely Legal is a everyday wearable nude lipstick which is perfect for medium to tan complexion. It will be darker as a nude lipstick on fair complexion. It has a very mild fragrance which goes away few minutes after application.
The packaging isnt the best because the bullet doesnt go down all the way into the plastic case and I always end up nicking up the lipstick to the cap, so I dont personally enjoy the packaging. In the picture below the lipstick hasnt been retracted from the bullet.

WetNWild Mega Shield Lipstick Barely Legal
Now coming to the texture and pigmentation I would say Barely Legal is not a sheer to moderate coverage lipstick, even on my pigmented lips it provides opaque coverage in one swipe, it glides on the lips smoothly, its butterly soft and pretty moisturizing on the lips. Because of its smooth and butterly texture you cant really add on too many layers on your lips but the pigmentation is great so you dont really need to layer it up on your lips.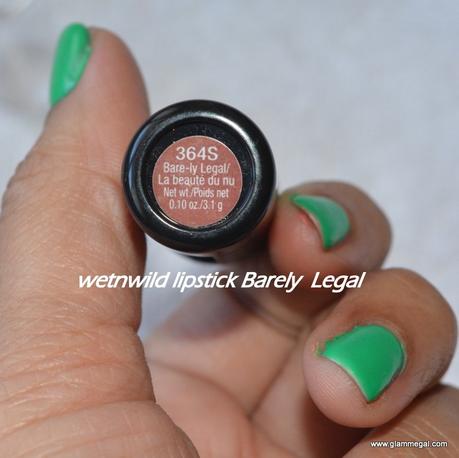 Wet n Wild Mega Shield Lipstick Barely Legal
Now the staying power isnt the greatest, it stays up to 3 hours on my lips and it will not survive a meal.  And the color goes away completely and doesnt leave a stain behind.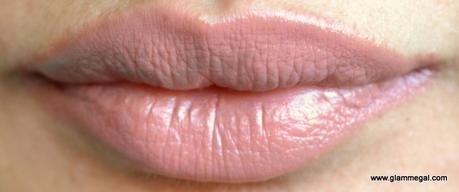 Wet n Wild Mega Shield Lipstick Barely Legal
I love to pair this lipstick with my more heavier smokey eye makeup looks. With barely legal I also use it to lighten up my dark lipstick too, like for example I will just dab it on the center part of my lips to create a subtle ombre and create more of a pouty lips look.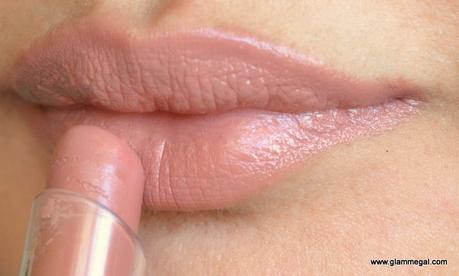 WetNWild Mega Shield Lipstick Barely Legal
Wetnwild Barely Legal lipstick is also a very nice MLBB shade, my lips but  better for tan skin and olive skin tone. I love how versatile this lipstick
Related
You Might Also Like
GLOW IN THE DARK LOUNGE WEAR: ENAMOR REVIEW
ZOUTONS.COM REVIEW : MUST VISIT BEFORE YOU SHOP ONLINE NEXT
RUDRAKSHA PUNE HOSTS ACCESSORIES WEEK
AISHWARYA RAI CANNES 2014 MAKEUP
SONAM KAPOOR CANNES 2014 MAKEUP BROWN/BLACK SMOKEY EYES
DEEPIKA PADUKONE VOGUE JUNE 2014 INSPIRED MAKEUP TUTORIAL
BOURJOIS BLUSH 15 ROSE ECLAT REVIEW AND SWATCH
Maybelline Pink Alert Lipstick POW 4 Review and Swatches
Tags:
barely legal wet n wild lipstick, lipstick for olive skin tone, lipstick for smokey eyes, lipstick review, mlbb llipstick. mylips but better lipstick for Indian skin tone, smokey eyes lipstick, wet n wild, wet n wild lipstick barely legal swatches, wet nwild mega shield lipstick, WetNWild Mega Shield Lipstick Barely Legal review