Nine year old Chloe Noelle, the cutiest werepup on True Blood, spoke with MSN TV about her role of Emma on True Blood.
MSN TV: Do you ever read the scripts and flip out? On a recent episode, a man tried to give your character V.
Chloe Noelle: Who would do that? Who would give a child V? That was horrible. But I only get to read my parts of the script. In the scene that you're talking about from Sunday, I had to listen to people swearing. I was like "Oh my gosh!" My mom DVRs the show and lets me see only my scenes but she watches it first. I hope I come back next season. My friends don't even know about this show, because they're kids, but their parents do. They say "Oh my goodness. You're on 'True Blood'!"
What are some things you can tell us about Emma this season. We know that she's a werewolf now and not a shifter, or do we?
The last we saw her, she turned into a wolf. So we still don't know if she's shifted into a wolf or if she's a wolf.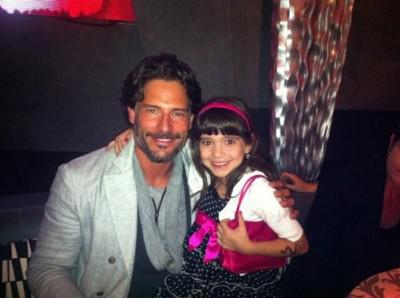 You work with some really handsome actors. Do you ever look at them and think which one you want your husband to look like someday? 
I either want my husband to look like Sam (played by Sam Trammell) or Alcide (Joe Manganiello). I have huge crushes on both of them and can't decide who I like more. Both of them are so nice to me and I seem to work with them the most. Everybody on that set is so nice, it's ridiculous.
Read the complete interview at the source.