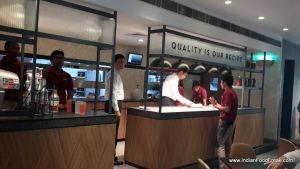 America's third largest fast food chain, already operating in 29 countries around the world, opened in Sec 29, Gurgaon on May 6. Wendy's was so named after the founder Dave Thomas's fourth daughter. It seeks to differentiate itself from other quick service restaurants (QSR) by offering a casual dining experience at a QSR price.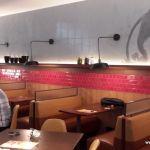 A quick tour of the kitchen impresses me no doubt. They use the freshest of ingredients sourced locally and their non-veg is sourced from Godrej to maintain quality. There is a clear demarcation between the vegetarian and non-vegetarian work stations, the chefs wear red/green aprons respectively, different oil is used for the two, there are different assembly areas of the veg and non- veg burgers and even the tooth picks used for the burger have a red/green bead attached at one end.
As a customer, I go order, find a table and sit down. I get a table locator number, which the server locates for serving my order. This saves me the trouble of standing in queues to order, waiting for my order and then doing the balancing act of carrying my food laden tray, pushing through people hoping to be lucky not to drop my drinks and making my way to my table. Unlike McDonalds where food is served on a plastic tray, food is served in bone china here which is a pleasant change.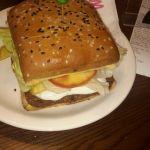 For the burgers, they use three different buns – chili brioche (which is turmeric and chili flake infused), regular burger bun and black and white sesame seed topped bun. They use square buns and square patties so that the patty is the same size as the bun as far as possible and also because a square patty cooks better when you press it down.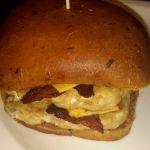 Unfortunately, Wendy's will not be selling beef burgers in India and their offerings are currently limited to veg, chicken and mutton with plans of introducing pulled pork burgers in the future. As far as the chicken burgers go, the Double Baconator which has a double chicken patty and double layering of bacon, cheese and mayonnaise all sandwiched in a chili brioche spicy bun, hits the right chords. Soft buns, juicy patties, crisp bacon – what more could you ask for. The Smoky Chipotle Chicken burger has a crisp, fried chicken chunk with a robust sauce.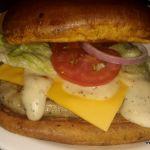 The Ultimate Mutton burger has a mutton patty, pickles, lettuce, tomato, onion, cheese and garlic aioli – while I quite enjoyed the burger, the chilliness of the brioche bun and the garlic aioli tend to overpower the taste of the patty. The Greek Mutton burger has tzatziki sauce and a lovely subtle flavor.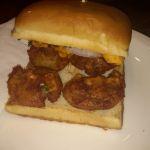 The hero of the veg burgers is the Spicy Aloo Crunch (which, for me, was love at first bite) where four baby potatoes are boiled and then fried whole with skin on and tossed in a spicy masala (very much like the fried aloo chat minus the chutneys). You can't stop at one and this is a non-aloo fan saying that. Then there are some unheard of veg ones which no fast food chain is serving like Spinach and Corn, Greek Falafel and a Mushroom burger. The Ultimate Paneer has a thick slab of paneer in them so you get paneer in each mouthful. One can definitely say that the two years that were spent by Wendy's in researching the market to get new veg burgers were well spent. The range of their veg burgers is totally different and pretty huge.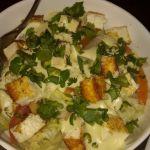 In the sides, the French fries served in Wendy's are natural cut fries with sea salt and not the McCain's French fries which almost all the food chains use and which we have so gotten used to eating. The fries are totally limp and a bit too under salted for my palate. The Chicken Chili can be avoided as it totally lacks the robustness of mutton/beef. The Bacon and Cheese Baked Potato was loaded with cheese but made me miss sour cream. One must be warned that in their Chicken Ranch Salad, they use chopped green chillies which I discovered to my dismay on my second visit. They were so sharp and I was so unprepared for them.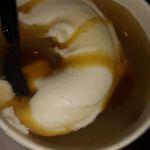 Don't miss the yummy Fruitails especially the Lychee and Watermelon cooler and the Banana and Caramel Frosty Ice Cream.
To eliminate human errors in the kitchen, Wendy's has a fully mechanized kitchen. But on my second visit within 6 days of the opening, the coffee machine had conked off and they had run out of baked potato. Hope they don't face problems with the rest of the machines.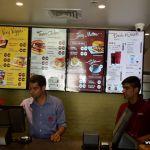 The place was running to packed houses with a huge waiting crowd outside. But there was order in mayhem. Wendy's had organized two big benches on either side of the entrance, a thoughtful gesture. The security guard made sure that the waiting crowd outside each had a copy of the menu – saves time inside and gives one something to do. To make things easier for first timers, they have a digital display of pictures of each item listed on the menu outside the restaurant. When I reached, there would have been around twenty people waiting but the confident reply from the guard that it would take ten minutes to clear out made me wait – and we were seated in the next ten minutes. However, at this rate, Wendy's, with only a 70 cover restaurant, will have to look into hiring a bigger place.
Rating out of 5
Food: 3.5 | Ambience: 3.5 | Service: 4 | Overall: 3.5
Meal for two: Rs. 500 | Alcohol: No | Credit Card: Yes | Timings: 10AM to 11PM |
Address: Wendy's, Sec-29 Market, Gurgaon | Telephone: 9540889988
Disclaimer: This review was done on the basis of an invitation from the restaurant and a subsequent visit made by the author at her own expense. Due judgement and care has been applied by the author to remain objective and unbiased in the review, but readers need to consider this review keeping these facts in mind.