Wendy Williams Says Menopause It To Blame For Her On-Air Halloween Faint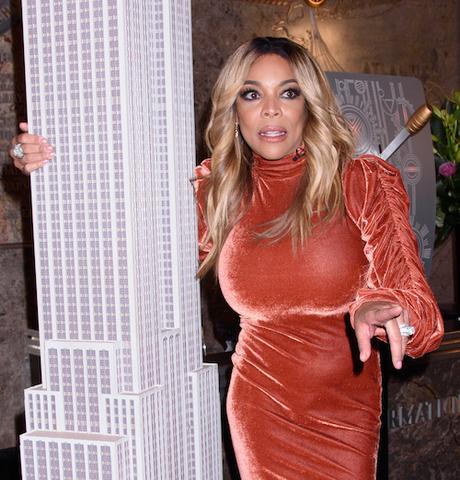 Yesterday, Wendy Williams flat out fainted in her Lady Liberty costume just as her show was beginning to wind down, and it wasn't because she finally finished running numbers over how much of her husband/manager's commission is going to house his side piece two towns over. Instead, she says it's from a certain life change.
Wendy came back from commercial break revived from her fainting spell yesterday to show the audience that she was able to roll forward. E! News reports Wendy said the ordeal came from being overheated and working too hard.
Wendy first started out by saying how she was trending all day before addressing the naysayers (aka me) who thought it was a big stunt. Wendy said she's too old to risk breaking shit, so she would never do a trick like that for ratings treats. She said it wasn't a heart attack, stroke, or anything related to her head, like some people online were speculating. Instead, she explained why she reached for that Lady Liberty crown:
"If it's gonna go down, it's going to be as cute as I can make it. I'm going down with the crown."
Meanwhile, if something like that happened to me, I want to make it look as messy as possible so I can get as much short-term disability and time off from my boss as I can, so I guess snaps for that work ethic, Wendy! She got choked up talking about the understandably spooky situation and said she was hit by hot flashes;
"I'm a 53-year-old middle-aged woman going through what middle-aged women go through if you know what I mean. The costume got hot. All the sudden right before passing out, I felt like I was in the middle of a campfire."
She also took some time to have some totally non-rehearsed conversation with her producer to remind people Al Roker fainted once and didn't exactly go back to the weather board the same day. Wendy was back saying, "How you doin'?" after a brief sojourn backstage where Jerry O'Connell was apparently in his tightie whities! SoI guess with have Jerry O'Connell to thank for reviving daytime TV with his Fruit of the Looms!
Pic: Wenn.com
Source: Wendy Williams Says Menopause It To Blame For Her On-Air Halloween Faint
5 total views, 5 views today